Fourth-quarter sales strong at Best Buy, Kohl's and others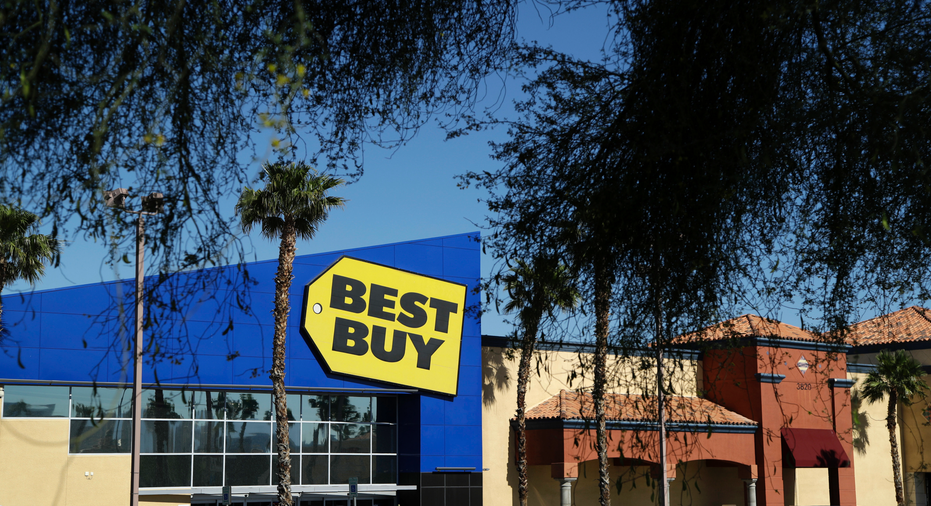 Best Buy, Kohl's, Gap and Nordstrom all reported strong sales during the quarter that includes the holiday season, a sign of success as retailers learn to steady themselves — and work with — online companies.
At Best Buy, sales at established stores rose 9 percent. That's a big turnaround in a key measure from a year earlier, when they dipped 0.9 percent. The consumer electronics retailer also topped Wall Street's profit and revenue expectations, and gave an upbeat outlook.
Meanwhile, Kohl's enjoyed a 6 percent increase in sales at established stores, its largest such gain since 2001. Business was helped by more customers both coming into the stores and shopping online. Its profit also was better than expected as it offered fewer discounts. Kohl's, based in Menomonee Falls, Wisconsin, also said Thursday it has teamed up with no-frills grocery chain Aldi to lease space in five to 10 stores.
Nordstrom, which has said that members of the founding family are looking into a buyout of the department store chain, reported profits and overall revenue Thursday that fell short of expectations for the quarter that includes the holiday season. The missed targets overshadowed Nordstrom's healthy 2.6 percent increase in sales at established stores, which is a key measure of a retailer's health.
Gap's fourth-quarter profit fell 7 percent, but the clothing retailer reported strong holiday sales and increased its dividend. The company's overall sales at established stores rose 5 percent, fueled by a 9 percent gain at its low-price chain Old Navy. The Gap brand, which saw its CEO resign last month, saw the measure unchanged from a year ago.
The results follow a decent showing from many other retailers over the past few days. Macy's broke out of its three-year sales funk, and a strong home-improvement market pushed Home Depot's profit higher. At rival Lowe's, though, healthy same-store sales were overshadowed by a profit miss and lower overall revenue
As shoppers spend more online, retailers have revamped their businesses, from closing poorly performing stores to changing their product lineups to expanding their online services. Stores are also benefiting from an improving economy — and sometimes from the struggles of some rivals.
While outside factors are helping, retailers are also getting better at serving the customer.
"What's driving the result is us — I'll say, it's our strategy and our execution," Best Buy CEO Hubert Joly said during a conference call Thursday.
Best Buy has been rolling out new services, while making its stores easier to shop at. It's launched an at-home consultant service in key markets. It plans a new app feature so customers can tell the store when they're on their way to pick up some items. It's also testing lockers and curbside pickup at the stores, and adding more interactive experiences.
The company also said it's shuttering all 250 of its small-format mobile phone stores in the U.S., saying the locations have become less profitable.
For the fourth quarter, Best Buy earned $364 million, or $1.23 per share. Earnings adjusted for one-time gains and costs were $2.42 per share, blowing past the per-share projections from analysts. Revenue for the Richfield, Minnesota-based company was $15.36 billion, well above projections. Online revenue was up 17.9 percent for the period.
The company's overall revenue increase "speaks to the strength of Best Buy's brick-and-mortar footprint, as well as reinforces our view that consumers still value the store experience," said Moody's lead retail analyst Charlie O'Shea.
Kohl's earned $468 million, or $2.81 per share. Earnings adjusted for pretax gains came to $1.87 per share, which surpassed Wall Street expectations. Revenue of $6.78 billion also beat Street forecasts. Online sales rose 26 percent.
The company has been testing small-concept stores and last year started accepting returns from Amazon.com in 82 of its stores. It also has dedicated areas in 10 stores that sell Amazon Echos, Fire tablets and other gadgets.
"In our view, this kind of thinking also shows that Kohl's understands the need to give customers reasons to visit stores and is not afraid to experiment to achieve this," said Neil Saunders, managing director of GlobalData Retail.
But rising costs related to new initiatives caused investor concern, and Kohl's shares fell 5 percent to $62.75 on Thursday. Best Buy's shares rose more than 3 percent to $75.30. Nordstrom fell nearly 4 percent and Gap gained 9 percent in extended trading.
_____
Elements of this story were generated by Automated Insights using data from Zacks Investment Research. Access a Zacks stock report on BBY at https://www.zacks.com/ap/BBY
_____
Follow Anne D'Innocenzio at http://www.Twitter.com/adinnocenzio