Four Takeaways From Wal-Mart's Latest Quarterly Results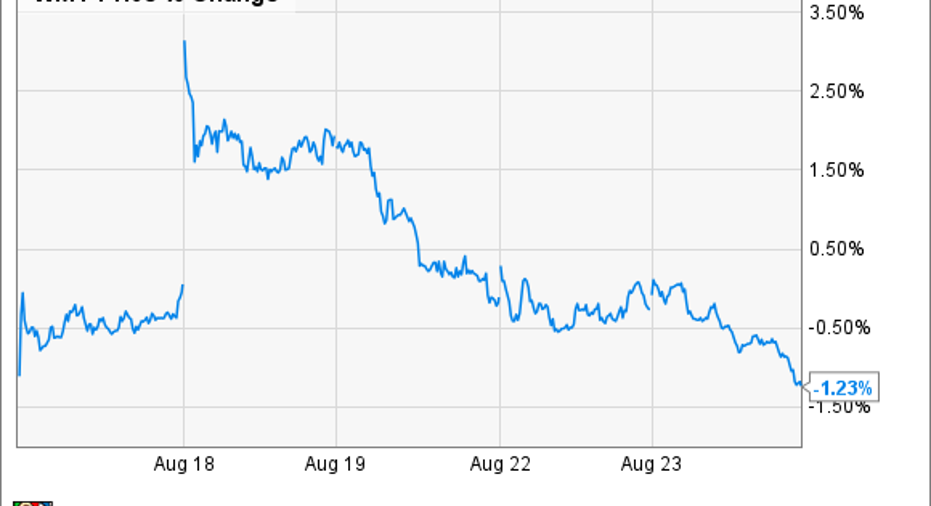 Image source: Wal-Mart.
Retail giantWal-Mart Stores(NYSE: WMT) reported second-quarter earnings last week and had lots of details for investors to digest. Besides the health of the giant itself, what have we learned from the company's report?
1. Sales growth is stalling (outside of internet sales)
Wal-Mart and other traditional retailers have been struggling against internet retail. July's retail sales report showed e-commerce grew by 14% year over year, a trend that has been in force for years now. By comparison, general merchandise stores saw a mere 0.2% year-over-year growth, with department stores showing a 3.9% contraction.
Such is the case for Wal-Mart, posting just a 0.5% increase in revenue last quarter. However, Wal-Mart didhave solid growth from certain areas, likeits new neighborhood market concept.Comparative sales at the small-format grocery-centric stores were up 6.5%,a positive sign that convenient locations and quicker access to shoppingcould bea winning strategy with consumers. Comparative sales for Wal-Mart as a whole were 1.6%.
Other brick-and-mortar retailers have begun to experiment with smaller formats in an attempt to win back market share. Department store chain Kohl's (NYSE: KSS), for example, is rolling out smaller-footprint locations and small specialty stores to see if they gain traction with digitally minded and time-strapped consumers.
But don't bet on physical stores being the answer. Wal-Mart is reporting success with its neighborhood market concept, but internet sales growth remains the focus.Revenue generated from the online store is stilla small share ofthe company's totalbusiness, even thoughe-commerce sales were up 11.8% in the quarter. The company has stated numerous times its focus is on fostering growth in that segment,backing those statements up with the recent purchase of online shopper jet.com.
Other traditional retailers, and investors in them, should therefore take heed. Growth can still be eked out of physical store formats, but the key to long-term growth lies with internet selling.
2. Retail stocks look like a bargain
Wal-Mart's latest quarter was ultimately pretty lackluster, posting flat top-line growth as the retailer struggles to find the answer to fight changing consumer shopping habits.However, the stock popped the day of the earnings release anyway. In an environment where retail has been struggling, any good news whatsoever is refreshing for investors.
Throughout second-quarter earnings season, many other retailers have noted difficulties with thebusiness of selling merchandise.Wal-Mart's big-box rival Target (NYSE: TGT) stated discounting was and will continue to be a necessity to keep customers coming in.
Even with this situation being the case, Wal-Mart's report was enough to lift shares as much as 3% the day of the report. The earnings release showed flat sales growth and 8.6% growth in profits coming from falling cost of sales and the sale of the Yihaodian business in China. With the one-time sale item having a big impact on quarterly profits, the report really was just meh.
With all of the downbeat news many retailers have enduredin the last year, many stocks in the industry look like a bargain.I think Wal-Mart has demonstrated it's time for investors to start researching retailers with an eye for making a purchase.
3. Traffic and comp growth is key
Cost-cutting can only carry profit growth so far. Cost of sales during the quarter dropped 0.6% year-over-year, but what Wal-Mart and other merchants really need is traffic and comparable-sales growth to keep up with internet retailers.Wal-Mart in the U.S. posted growth during the quarterin each measure of 1.6% and 1.2%, respectively.
This growth came mostly from the aforementioned neighborhood market and e-sales figures, offsetting declines at Wal-Mart's supercenters. The positive momentum is a good sign, but the company will have to do better to stave off Amazon.
As mentioned before, Wal-Mart's e-commerce efforts yielded an 11.8% growth rate. But with e-commerce in general averaging 14% growth, the company actually ends up losing market share to the competition. If foot traffic declines can't be offset more aggressivelywith neighborhood markets and e-commerce, the company will continue to be stagnant.
This situation is being mirrored at other retailers. Developing an omnichannel sales model, one that incorporates online and physical store sales,is proving difficult for some big-box and department stores. Investors, if your merchandiser is suffering from this problem, it's time to take a look at other stocks that are having greater success.
4. The pain of being a multinational organization
Since the summer of 2014, the U.S. dollar has gained in value against most other global currencies. This situation is weighing on profits of U.S.-based multinational corporations, Wal-Mart included.
When Wal-Mart sells goods in another country, it collects payment in that country's currency. When the company brings the proceeds back to U.S., it has to convert them to dollars. If the dollar has strengthened against the other country, the value of the money collected drops.
Because of this situation, Wal-Mart and other businesses that operate in multiple countries have seen profits affected. For the retail titan, revenue was negatively impacted by $2.7 billion dollars in the quarter, representing a 2.2% hit on the top line.
It has been a tough two-year stretch for big corporations dealing with currency issues, but some respite might be in store with the recent pullback in the dollar. Even with the recent decline, though, the dollar is riding high.
A secret billion-dollar stock opportunity The world's biggest tech company forgot to show you something, but a few Wall Street analysts and the Fool didn't miss a beat: There's a small company that's powering their brand-new gadgets and the coming revolution in technology. And we think its stock price has nearly unlimited room to run for early in-the-know investors! To be one of them, just click here.
Nicholas Rossolillo owns shares of Target. The Motley Fool has no position in any of the stocks mentioned. Try any of our Foolish newsletter services free for 30 days. We Fools may not all hold the same opinions, but we all believe that considering a diverse range of insights makes us better investors. The Motley Fool has a disclosure policy.