Former Malaysian leader Najib grilled by anti-graft agency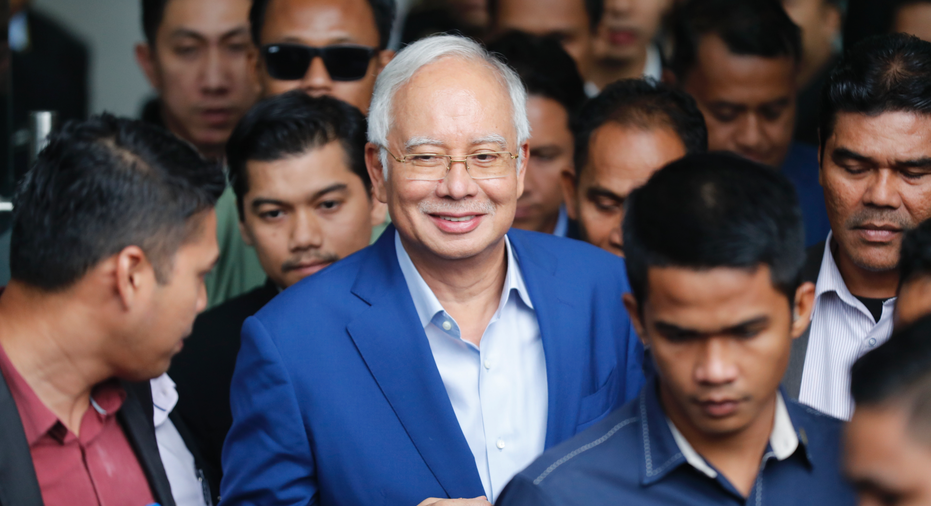 Former Malaysian Prime Minister Najib Razak was grilled for more than four hours Tuesday over a corruption scandal that could lead to criminal charges against him, while the country's new anti-graft chief said investigations into the case were suppressed by intimidation during Najib's rule.
Najib was summoned by Malaysia's Anti-Corruption Commission nearly two weeks after the defeat of his long-ruling coalition in national elections amid public anger over alleged graft at the 1MDB state investment fund that Najib set up. U.S. investigators say Najib's associates stole and laundered $4.5 billion from the fund from 2009 to 2014, some of which landed in Najib's bank account.
New Finance Minister Lim Guan Eng said Tuesday that Najib's government had conducted "an exercise of deception" over the 1MDB issue and misrepresented the country's financial situation to parliament.
Swarmed by reporters, Najib looked calm and smiled as he was escorted into the commission's offices. He told reporters after he came out that he will return on Thursday to continue giving his statement.
New commission chief Mohamad Shukri Abdull said criminal charges against Najib could come "very soon."
Shukri led investigations in 2015 of suspicious money transfers into Najib's bank account. But he flew to the U.S. after Malaysia's attorney general, who was planning to press charges against Najib, was sacked and Shukri heard rumors that he himself would be arrested for an alleged conspiracy to topple the government.
Najib has denied any wrongdoing since the scandal erupted in 2015. As prime minister, he sacked critics in his government and muzzled the media to try to survive the fallout.
"Let the law take its course," Shukri told a news conference.
He said the collection of evidence for the domestic money trail has been completed, but that it could take "a long time" to investigate the money trail abroad and talk to witnesses. The findings of Malaysia and U.S. investigations are "almost similar," he said.
Najib and his wife were barred from leaving the country after the new government reopened an investigation into the scandal. Police have raided Najib's home and other properties linked to him, seizing hundreds of expensive designer handbags and luggage stuffed with cash, jewelry and other valuables.
Finance Minister Lim told a separate news conference that government debt had ballooned to more than 1 trillion ringgit ($252 billion), partly due to the 1MDB saga. He said the finance ministry had bailed out 1MDB by helping to service nearly 7 billion ringgit ($1.77 billion) in debt obligations since April last year, contrary to 1MDB's claim that the money came from its rationalization exercise.
Lim said he was shocked to learn that officials from the treasury and auditor general's department were blocked from accessing certain files. He said the ministry was still assessing the full extent of damages and finding ways to resolve 1MDB debts amounting to some 950 million ringgit ($239.6 million) due this year.
Malaysia will go through some short-term pain to clean up the 1MDB financial mess, but Lim said it can overcome the crisis, with economic fundamentals remaining strong.
New Prime Minister Mahathir Mohamad, who had been premier for 22 years until 2003 and was spurred out of retirement by the 1MDB scandal, has vowed there will be "no deal" for Najib, saying he will "face the consequences" if found guilty of wrongdoing.
Najib's questioning at the anti-graft agency Tuesday was specifically over why 42 million ringgit ($10.6 million) was transferred into his bank account from SRC International, a former unit of 1MDB, using multiple intermediary companies. The money was in addition to about $700 million that U.S. investigators said landed in Najib's bank account.
A new attorney general in 2016 cleared Najib of wrongdoing, saying a particular transfer of $681 million was a political donation from the Saudi royal family and that most of it was returned.
Shukri said anti-graft investigators were referred to a "questionable prince" from Saudi Arabia who claimed he donated the money to Najib but couldn't produce any supporting documents.
He related the pressure he faced in 2015, saying he was threatened as witnesses disappeared. He declined to say who issued the threats. Just a day before Abdul Gani Patail was sacked as attorney general by Najib in July 2015, Shukri said they met and Gani asked him if he was ready for charges to be filed against the prime minister.
In an emotional moment, he said he felt guilty for fleeing to the U.S. as his men in the agency were removed or transferred.
The U.S. Justice Department said in a statement earlier that it looks forward to working with Malaysian law enforcement in investigating the 1MDB case.
"The Department of Justice is committed to ensuring that the United States and its financial system are not threatened by corrupt individuals and kleptocrats who seek to hide their ill-gotten wealth," it said. "Whenever possible, recovered assets will be used to benefit the people harmed by these acts of corruption and abuse of office."