Forget Whole Foods Market: Here Are 2 Better Stocks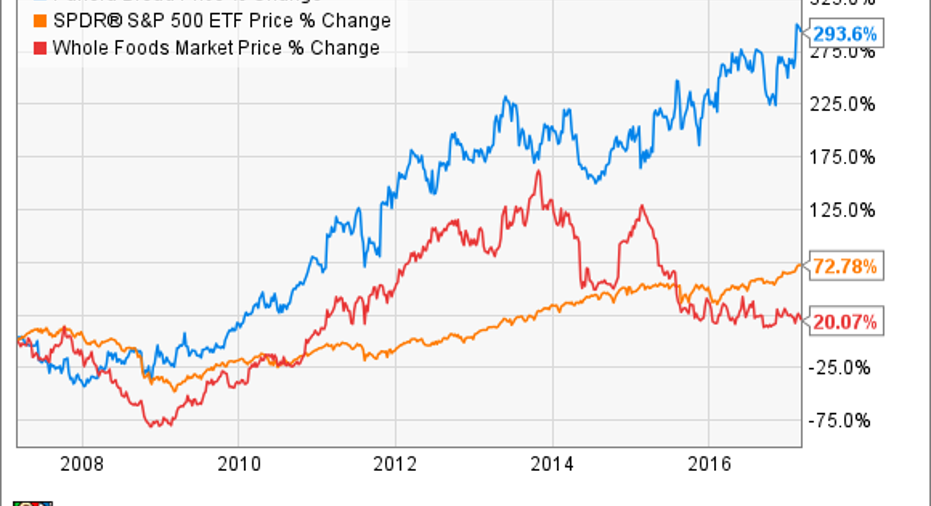 I love Whole Foods Market (NASDAQ: WFM), but as other grocery stores expand their selections of organic items, Whole Foods' growth potential has quickly diminished.
If you're looking for a "healthy" substitute for Whole Foods stock, consider Panera Bread (NASDAQ: PNRA) and Zoe's Kitchen (NYSE: ZOES).
Panera Bread
Panera Bread has been a long-term winner for shareholders. IMAGE SOURCE: PANERA BREAD.
Panera Bread has been one of the best-performing restaurant chains for the last few decades, and this is reflected in the stock's more than 3,000% gain since January 1997.In the last few years, though, Panera has experienced a dramatic slowdown in its business.
To address the issues, management successfully transformed the company's restaurant cafes to a more digitally oriented customer experience. Panera Bread's mobile app is one of the best you will find among retailers and restaurant companies. The app has led to 24% of company cafe sales occurring digitally, which has helped increase Panera's cafe-level productivity. Panera's Rapid Pick-Up, which allows customers to place and pay for an order on the app and pick it up at a local cafe, now accounts for 9% of cafe sales.
The recent initiatives across digital access, order delivery, and Panera's ongoing commitment to offering food free of artificial ingredients have started to take effect. Panera generated the highest comparable-store sales growth since 2012 with 4.2% in 2016, and management believes this level of growth is taking market share from slower-growing competitors.
Panera CEO Ronald Schaich said, "In Q4, our comps again strongly outpaced the industry, reflecting real market share gain. Indeed, our gap to the Black Box all-industry composite widened in Q4, coming in at a very robust 540 basis points better than the industry."
Going forward, management is not focused on maximizing the number of cafes they can open, but instead on maximizing the return on investment within a given ZIP code. Panera is not the small, fast grower it was 20 years ago, so this is exactly what Foolish investors should want to hear.
Management is guiding for 11% to 14% earnings-per-share growth in 2017, or $7.45 to $7.70 per share. As the company continues with its digital access initiative and further expands its delivery service, management believes Panera can achieve double-digit earnings growth over time.
Zoe's Kitchen
Zoe's Kitchen offers tasty Mediterranean cuisine delivered with Southern hospitality. IMAGE SOURCE: ZOE'S KITCHEN INC.
The market hasn't been kind to Zoe's Kitchen stock lately, but this small, growing Mediterranean chain has a lot of growth opportunity still ahead. Like Whole Foods Market, Zoe's management sees the Mediterranean restaurant chain as a lifestyle brand. On the last investor conference call, CEO Kevin Miles said, "As we look ahead, our mission's clear. We aim to be the dominant Mediterranean fast casual brand inspiring all guests to live Zoe's."
Zoe's growth hit a speed bump in 2016 due to a slow growth environment that has been a drag on growth in recent quarters. In the fourth quarter of 2016, total revenue increased 17.6% year over year to $62 million, mainly because it opened more stores in 2016 compared to 2015.
The stock has fallen more than 50% over the last 12 months as comparable-store sales growth has decelerated from 8.1% in Q1 2016 down to 0.7% in the fourth quarter. This slower growth did not help the bottom line as the company reported a net loss of $1.4 million for the fourth quarter.
However, management expects comparable sales growth to recover to 1% to 2% in 2017, helped by several initiatives. As we move through the year, management will be launching new menu items, web and mobile projects, a new online catering service, and expansion of a delivery service that is expected to positively impact comparable sales growth in the second half of 2017. In the last earnings release, management noted that catering comparable sales outperformed total comparable sales.
As we already saw with Panera Bread, convenience is an important element for a successful restaurant chain in today's environment.
Zoe's management is currently working on a lot of the same initiatives Panera has been doing in recent years. CEO Kevin Miles said:
Zoe's has a significant opportunity to drive higher growth through catering and small order delivery. Last year, it tested small order delivery in about 30 stores. After encouraging results, management plans to expand the test to about 100 stores, or 50% of the company's base by the end of the first quarter of 2017.
Zoe's has 207 restaurants opened as of Feb. 23, 2017. Management plans to open another 38 to 40 restaurants in 2017, which is about 19% growth over 2016. The brand is showing signs of nationwide appeal as its 20 top-performing restaurants are spread across seven states.
While the restaurant chain doesn't report much profit, Zoe's has been able to finance the growth of the business through its cash flow of $26 million in each of the last two years without issuing debt or significantly more shares.A slow growth environment and a big discount in the stock price may be offering investors a great opportunity to buy into a good growth story.
10 stocks we like better than Panera BreadWhen investing geniuses David and Tom Gardner have a stock tip, it can pay to listen. After all, the newsletter they have run for over a decade, Motley Fool Stock Advisor, has tripled the market.*
David and Tom just revealed what they believe are the 10 best stocks for investors to buy right now...and Panera Bread wasn't one of them! That's right -- they think these 10 stocks are even better buys.
Click here to learn about these picks!
*Stock Advisor returns as of February 6, 2017.
John Mackey, CEO of Whole Foods Market, is a member of The Motley Fool's board of directors. John Ballard has no position in any stocks mentioned. The Motley Fool owns shares of and recommends Panera Bread, Whole Foods Market, and Zoe's Kitchen. The Motley Fool has a disclosure policy.