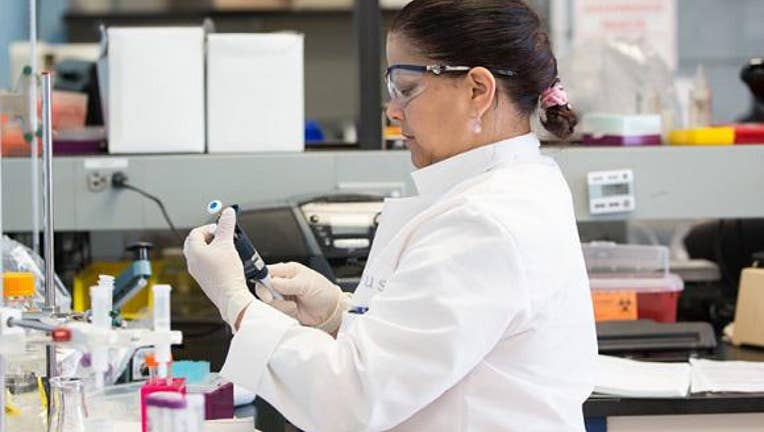 3D Bioprinter. Image Source: Organovo Holdings
Investors' fascination with Organovo Holdings is understandable. The company is truly a pioneer with its 3D bioprinted human tissues: It has the potential to be a game-changing kind of company. But are there other biotech stocks with similar market caps that could shake things up as well -- and possibly be better picks for investors? Yep. Here are two such stocks to consider.
Agenus Like 3D bioprinting, cancer immunotherapy has the potential to bring about a revolution in the medical world. While there are several biotechs with immunotherapy drugs in development, Agenus stands out as a notable up-and-comer.
Agenus is focusing on two different approaches to induce patients' immune systems to fight cancer cells. The biotech's Prophagevaccines, currently in phase 2 clinical trials, are customized, containing the neo-epitopes (the parts of an antigen that are recognized by the immune system) of each patient's specific cancer. These vaccines spur the immune system to attack cancer cells containing the neo-epitopes.
Image Source: Agenus
The more recent buzz, though, has been about Agenus' checkpoint modulators. As the company explains in its description of the treatment, "to appropriately manage the power of the immune system, the body has evolved a complex series of immune 'checkpoints,'" which appropriately stimulate or inhibit various immune responses. Checkpoint modulators attempt to either block or activate these checkpoint processes, inducing the immune system to battle cancer cells that would otherwise escape attack.
On Jan. 21, Agenus announced that the FDA had approvedinvestigational new drug (IND) applicationsfor two checkpoint modulators: AGEN1884 andINCAGN1876. The latter immunotherapy is being developed in partnership with Incyte.Of course, IND approval is just the beginning of a long clinical development process.
Bad news for longer-term Agenus shareholders could be good news for those looking to buy shares now. Agenus' stock has plunged more than 60% since last July. I think shares were overpricedprior to the broader biotech pullback, with a market cap of more than $750 million for a company that's several years away from any meaningful revenue. Now, though, Agenus looks to have plenty of upward potential.
Sorrento Therapeutics Another small-cap biotech to keep your eye on is Sorrento Therapeutics . Like Agenus, Sorrento is developing several immunotherapies. However, Sorrento's initial path to success is most likely to come from biosimilars, which are copycat versions of branded biologic drugs.
Four of Sorrento's biosimilars have completed late-stage clinical trials in China. Three of those are biosimilars to blockbuster drugs Erbitux, Remicade, and Xolair. Sorrento refers to its versions as "biobetters," because the company thinks its products offer advantages to patients over the original drugs.
Image Source: Sorrento Therapeutics
Sorrento's partner, MabTech, found in a phase 3 study that the incidences of adverse events from biosimilarSTI-001 were significantly lower than those previously reported for cancer drug Erbitux. Phase 3 testing of STI-002 found greatly reducedimmunogenicity and anti-drug antibody formation than Remicade.
What about immunotherapy? Sorrento has a couple of phase 1 clinical trials under way for chimeric antigen receptor T-cell (CAR-T) therapydrugs. The biotech also is in pre-clinical stage testing with both CAR-T therapies and what it calls CAR.TNK -- chimeric antigen receptor tumor-attacking natural killer cells.
Sorrento's stock chart looks quite similar to that of Agenus. Since July, its shares have dropped more than 60%. That slump has made Sorrento much more attractive for investors with high tolerance for risk than it has been in quite a while.
Forget Organovo?Agenus' immunotherapies could eventually generate perhaps $300 million or more annually -- and could possibly make the company a ripe buyout target in the future. Sorrento could have big biosimilar winners on its hands relatively soon. But should investors just forget Organovo altogether? Not really.
Organovo's exVive3Dbioprinted human liver tissue is just starting to gain momentum. The company expects to begin rolling out its bioprinted human kidney tissues in the third quarter of this year. Organovo's executives assert that annual revenues of over $100 million are attainable.
All three of these companies have relatively close market caps right now. However, Agenus' and Sorrento's stocks have been beaten down much more than Organovo's, which would seem to give them more room to run on any good news. Checkpoint modulators and biosimilars might not be quite as fascinating as 3D bioprinting, but the technologies could ultimately produce bigger winners for long-term investors.
The article Forget Organovo Holdings Inc.: These 2 Stocks Are Better Buys originally appeared on Fool.com.
Keith Speights has no position in any stocks mentioned. The Motley Fool has no position in any of the stocks mentioned. Try any of our Foolish newsletter services free for 30 days. We Fools may not all hold the same opinions, but we all believe that considering a diverse range of insights makes us better investors. The Motley Fool has a disclosure policy.
Copyright 1995 - 2016 The Motley Fool, LLC. All rights reserved. The Motley Fool has a disclosure policy.