Forget Facebook These 2 Virtual Reality Stocks Are Ridiculously Cheap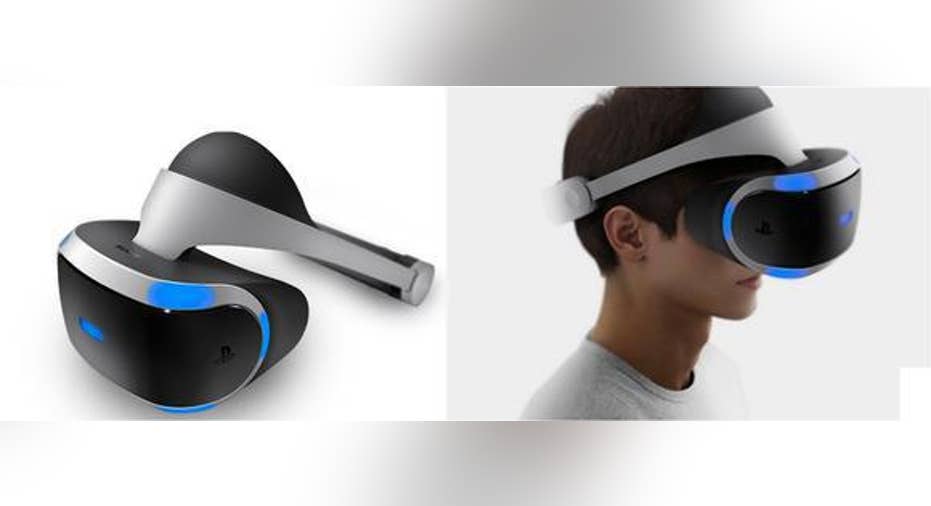 Many companies consider virtual reality to be the next frontier for hardware and software growth. Tech M&A advisory firm Digi-Capital claims that the fledgling market will grow from practically nothing today to a $30 billion market by 2020, while Goldman Sachs estimates that the market could be worth $80 billion by2025.
Facebook's Oculus Rift. Image source: Oculus.
To tap into that growth, many investors are seeking out companies with exposure to VR hardware and software. The most obvious choice is Facebook (NASDAQ: FB), which sells the Oculus Rift, but sales of the headset and its related software will likely only account for a single-digit percentage of the company's sales this year. Facebook also isn't cheap, with a trailing P/E of 72 in an industry that generally trades around 32 times earnings. Therefore, let's look beyond the Oculus Rift to find two cheaper and more meaningful ways to invest in the VR market.
AMDShares of AMD (NASDAQ: AMD) have fallen nearly 90% over the past decade, due to the loss of both x86 chips to Inteland high-end graphics cards toNvidia. However, shares rallied more than 50% over the past 12 months on hopes that the company can turn its business around.
AMD considers VR to be a big part of that strategy. Its APUs combine CPUs with GPUs on a single chip, making them ideal all-in-one solutions for devices that require major graphical processing horsepower in slimmer packages. Sony's PlayStation 4 and Microsoft'sXbox One both use AMD's semi-custom, low-power APUs, which are sold through its EESC (enterprise, embedded, and semi-custom) business. These APUs will likely be used in stand-alone VR headsets in the future -- and here AMD has a clear advantage over Nvidia because it dominates the market for custom APUs.
On the PC front, AMD has worked with PC manufacturers to create "Oculus Ready" PCs designed to meet the high requirements for Rift gaming. Selling add-in boards into these rigs could boost AMD's market share against Nvidia. On the software end, AMD offers LiquidVR, a suite of technologies that reduces delays (latency) in VR image processing, which can cause motion sickness. Several partners, including Facebook's Oculus and HTC, have already integrated LiquidVR into their devices and software.
High-end "Oculus Ready" PCs. Image source: Oculus.
AMD stock only trades at 0.7 times trailing sales, compared to the industry average P/S ratio of 1.9. That makes it fundamentally cheap. The chipmaker's sales are still declining, and it isn't profitable -- but its new Polaris GPU, Zen x86 chips, and custom SoCs for new consoles could turn things around.
SonySony stock has fallen more than 20% over the past 12 months due to slowdowns in its smartphone and camera businesses, a brand-tarnishing cyber attack on Sony Pictures, and a general downturn in Japanese stocks. However, Sony's gaming business remained strong, posting 12% sales growth in fiscal 2015 and accounting for nearly a fifth of the company's top line. The unit's operating income growth of 84% also helped Sony post its first full year of profits in threeyears. That growth was driven by robust sales of PS4 hardware and software.
Looking ahead into the rest of 2016, VR could boost the gaming unit's sales in two ways. First, Sony will launch its PlayStation VR headset for the PS4 inOctober. The stand-alone headset will cost $399, while a bundle (including two Move controllers, headphones, the PS Camera, a game, and a demo disc) will cost $500. Combined with the $350 PS4, the PlayStation VR will likely be the cheapest "high end" VR experience, available for $850. The Rift, by comparison, costs $600 and requires a PC which costs around $1,000.
Sony's PlayStation VR. Image source: Sony.
Second, Sony is expected to refresh the PS4with the "PS4.5/NEO" hardware update, which should add 4K support and better support for PlayStation VR games. If Sony convinces enough gamers to buy both the PlayStation VR and the PS4.5/NEO, its gaming business could get a healthy boost in hardware sales. If the gaming unit continues to drive bottom line growth, Sony stock might bounce back as the VR market matures.
But the VR market has a lot to proveAMD and Sony will benefit if the VR market's growth meets industry expectations. However, the market could also struggle to grow beyond hardcore gamers if efforts to reach more mainstream users -- like Facebook and YouTube's 360-degree videos -- fall short of expectations. High price tags for first generation VR headsets could also throttle the market's growth.
Therefore, investors shouldn't buy AMD or Sony simply because they are exposed to the VR market. Instead, they should only invest if they believe that their core businesses can still grow -- with or without VR. That being said, these two stocks are a great way to incorporate VR into a portfolio for a fair price.
The article Forget Facebook These 2 Virtual Reality Stocks Are Ridiculously Cheap originally appeared on Fool.com.
Leo Sun has no position in any stocks mentioned. The Motley Fool owns shares of and recommends Facebook and Nvidia. The Motley Fool owns shares of Microsoft. The Motley Fool recommends Intel. Try any of our Foolish newsletter services free for 30 days. We Fools may not all hold the same opinions, but we all believe that considering a diverse range of insights makes us better investors. The Motley Fool has a disclosure policy.
Copyright 1995 - 2016 The Motley Fool, LLC. All rights reserved. The Motley Fool has a disclosure policy.