Forget Bluebird Bio, Inc.: These 3 Stocks Are Better Buys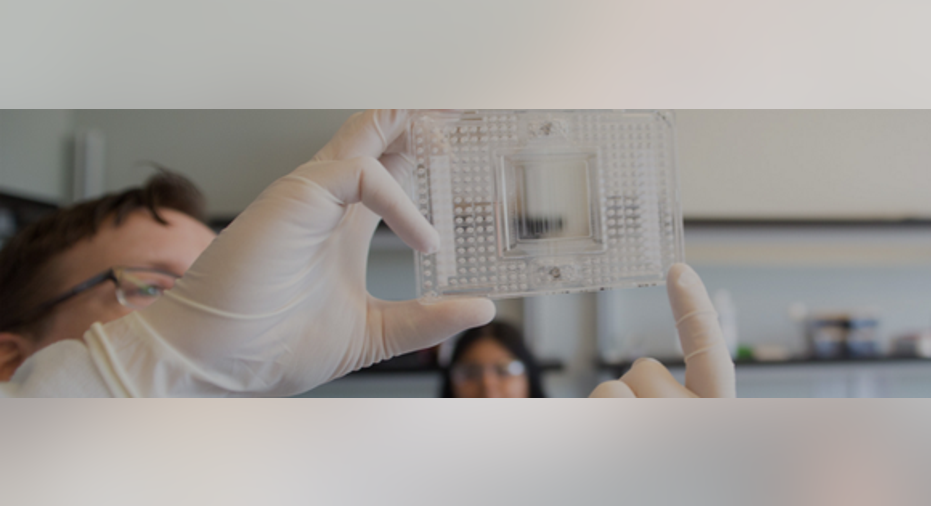 Image source: bluebird bio.
Against the mosaic of young, clinical-stage, gene-editing, cellular-therapy biotechs, bluebird bio (NASDAQ: BLUE)stands tall, despite its disdain for uppercase consonants. It has produced some amazing results in small groups of patients with life-threatening diseases. As a result, it's raised enough cash to fund operations through 2018 before it might need to raise more.
I have argued that that Bluebird might sway the FDAto approve a lentiviral-vector derived product without data from a single, randomized, blinded, and controlled study -- the sort of data it always demands when considering new therapies for diseases with existing treatments -- but it's in an extremely limited indication. The odds of subsequent approvals for larger indications that could launch the company into profitability, before it requires more financing, are awfully long for my level of risk tolerance.
Warren Buffett has two golden rules of investing:
If you follow those rules, you'll want to forget bluebird bio for the moment and focus on companies that are already producing steady profits.
If Bluebird's explosive potential is what caught your fancy, the good news is that moon-shootersMerck & Co, (NYSE: MRK)andBiogen (NASDAQ: BIIB) are producing profits, and Vertex Pharmaceuticals (NASDAQ: VRTX)is nearly profitable. An investment now in any one of these three could lead to big gains if their moonshots reach their targets. More importantly, they probably won't lead to long-term losses if they happen to miss.
Merck: Collaborations galoreMerck's Keytruda blocks tumor cells from using the PD-1 pathway to "hide" from the immune system. Since winning approval in September 2014, it's expanded its label twice. The latest expansion approved last December made it available to all advanced, yet untreated, melanoma patients.
Merck isn't about to stop here. It has the drug in more than 200 clinicaltrials and more than 100 combinations in over 30 tumor types.An example of such combinations is a phase 3 study of Keytruda in combination withIncyte's IDO1 inhibitor, epacadostat, in melanoma last October.
While the two agreed not to combine PD-1 blockers and IDO1 inhibitorsin melanoma,this January, Merck used some of the $11.1 billion in free-cash-flow generated last yearto buy a private U.K. company with an IDO1 inhibitor among other candidates.Now Merck has its own IDO1 inhibitors to combine with Keytruda in whatever indication it likes, except melanoma, and doesn't have to share sales with anyone if it gets them to work.
Keytruda sales reached $524 million in its first full year on the market, and I'll be surprised if it doesn't at least double this year. If just a handful of those combination studies in other tumor types lead to further label expansions, Keytruda could boost the company's annual sales of $39.5 billion last yearby more than $10 billion in the years ahead.
Biogen: Alzheimer's ambitionsWhile Merck is the safest alternative to Bluebird, the $3.3 billion Biogen generated in free-cash-flow over the past yeargives it plenty to spend on its Alzheimer's disease moonshot, without breaking the bank if it fails.
Its best shot at the moment are a pair of phase 3 trials under way with aducanumab, a protein that binds to small bunches of amyloid-. This very short amino acid sequence has big implications in Alzheimer's disease progression when it aggregates into dense plaques -- at least that's the prevailing hypothesis.
Should the aducanumab trials fail, there's a chance combining it with Eisaipartnered BACE inhibitor E2609 may provide a solution.
From an investor's standpoint, a win for Biogen's Alzheimer's programs would be a lot of icing on an already big cake. First-quarter earnings per share grew 27%, compared with the same period last year, to $4.43 per share. The Alzheimer's Association estimates that the disease, and other dementias, will cost the U.S. $236 billion this year. Launching the first treatment that slows progression of Alzheimer's disease could double Biogen's annual sales of about $10.8 billion last year.
Vertex: Thriving in a space that scared others awayThere are about 2,000 known mutations in the CFTR gene that leads to more than 75,000cases of cystic fibrosis in patients throughout North America, Europe, and Australia. In decades past, big drugmakers avoided complex diseases such as these. About 27 years ago, that mentality pushed Joshua Boger to leave Merck and begin a new kind of pharmaceutical company undaunted by such challenges.
Image source: Vertex Pharmaceuticals.
He watches from the boardroom these days, but Boger's spirit lives on. Over the past few years Vertex has brought Kalydeco and Orkambi -- the only drugs that treat the underlying cause of cystic fibrosis -- to over 25,000 patients.
It aims to treat them all and is largely unopposed. Orkambi, indicated for 20,500 patients, didn't hit pharmacy shelves anywhere until approved by the FDA last July, but annual product sales more than doubled to over $1 billion last year.
Even though Vertex is spending immense sums to speed treatments to the remaining 50,000 cystic fibrosis patients, the company is largely expected to reach a level of sustainable profitability this year.
With Vertex shares trading at about 52-times forward earnings, it's the riskiest of these three alternatives to bluebird bio. Given its dominance of the cystic fibrosis space and room to grow, I'd say it's a far safer bet in the long-run.
If they failBluebird is swimming in uncharted waters surrounded by similar early-stage competitors, and it has no positive revenue with which to calculate traditional valuation metrics. If its lentiviral-vector based programs fail to impress regulators and/or healthcare providers, you might never recover the losses.
At about 15 times forward earnings, Merck and Biogen are trading lower than the average stock in theS&P 500.If their moonshots fail, they only need to become "average" and you'll still outperform the market.
The article Forget Bluebird Bio, Inc.: These 3 Stocks Are Better Buys originally appeared on Fool.com.
Cory Renauer has no position in any stocks mentioned. The Motley Fool owns shares of and recommends Vertex Pharmaceuticals. The Motley Fool recommends Biogen and Bluebird Bio. Try any of our Foolish newsletter services free for 30 days. We Fools may not all hold the same opinions, but we all believe that considering a diverse range of insights makes us better investors. The Motley Fool has a disclosure policy.
Copyright 1995 - 2016 The Motley Fool, LLC. All rights reserved. The Motley Fool has a disclosure policy.