Forget Alliance Resource Partners LP: Here Are 4 Better Dividend Stocks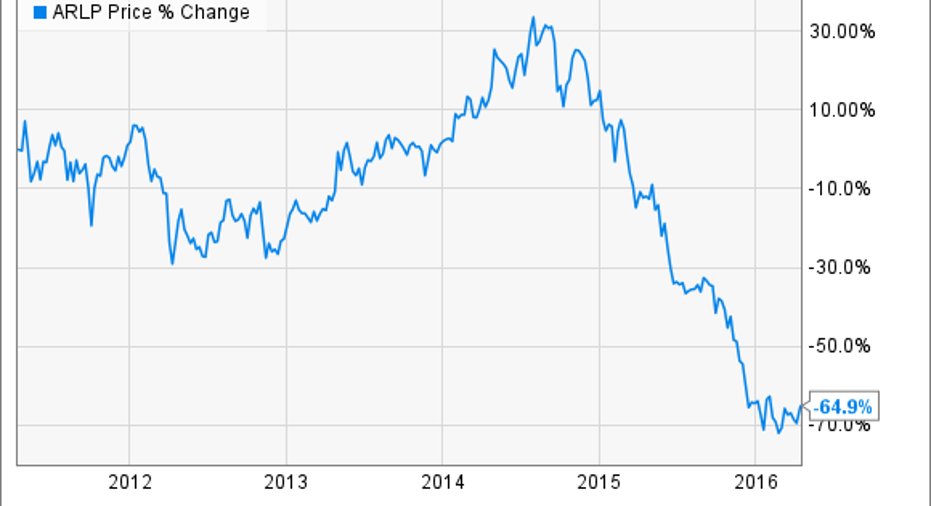 Image source: Alliance Resource Partners.
Alliance Resource Partners LP is one of the better positioned coal miners. That, however, isn't saying much, since so many major coal miners are now working their way through bankruptcy. If you're looking at Alliance's high yield, you might be better off considering these four better dividend stocks.
Another carbon bugabooThe trouble with Alliance is coal; one of the dirtiest carbon-based fuels around. Environmental groups have targeted it for a long time, and now, with low natural gas prices and advances in solar and wind power, the world's view of coal has really begun to dim. While competitive alternatives were probably more of an issue than the environmentalists in coal's downturn, that doesn't change the fact that everyone is hating on coal today.
That's a good reason to avoid the space. One alternative you should consider is oil. True, ExxonMobil is taking some environmentalist heat right now, but that doesn't change the big picture: Cars last a long time, and every new gas or diesel car that gets sold ensures demand will remain strong. The alternatives to gasoline just haven't made enough inroads yet.
ExxonMobil's 3.3% yield is probably too low to interest you if you are looking at Alliance, but you might findRoyal Dutch Shell's 7% and ENI's nearly 6% yield a bit more enticing.
Shell's yield is so high because there's a risk that it could cut its dividend, even though management has, so far, expressed its intentions to support it through the current oil price downturn. The problem goes beyond just oil prices, however. That's because Shell is in the middle of integrating BG Group, a $50 billion acquisition. It's highly likely that Shell will need to take on more debt to cover the dividend, pay for the deal, and continue to invest in the future. That said, Shell now gives shareholders the option of recieving dividends in cash or in shares of stock, which should help ease the cash outflow over the near term.
Still, there are dividend risks here, but Shell is increasing its focus on natural gas, where demand is expected to increase. In other words, it looks like Shell is making the right strategic moves. Speaking of strategy, ENI is an interesting story in the oil patch. For starters, it's already slashed its dividend. While that doesn't mean it won't cut again, the current payout is more in line with what ENI can afford to pay than before.
Image source: Royal Dutch Shell.
But the really interesting thing about ENI is that, unlike many peers, it has a history of venturing into riskier countries for deals. Although dealing with global bad actors may not be a low-risk investment approach, ENI has created important relationships in key markets before others have dared to enter them. That helps explain some of the relatively high yield, even after a dividend cut. But if you were looking at coal, which is probably the world's least loved fuel, ENI's ventures with politically unstable countries may not bother you so much.
If you are looking for even bigger yieldsAnother pair of companies you might want to consider are propane players Suburban Propane (NYSE: SPH) and Ferrallgas Partners (NYSE: FGP), which yield around 11% and 10.5%, respectively. That compares a bit more favorably with Alliance's lofty distributionthan any of the oil stocks mentioned. But why? Some of the yield is probably based on a misunderstanding of the partnerships' businesses -- providing a highly portable fuel to areas that either don't have good alternative options or where portability is key.
Image source: Suburban Propane.
You see, Suburban and Ferrallgas are both middlemen. They get paid to deliver propane, generally just passing the cost of the fuel on to customers. But they still have to buy propane, which has left the top line weak, since propane prices have been low. Only that's a net benefit for this pair, because it reduces the desire of customers to switch to alternative fuels, such as natural gas, fuel cells, or batteries. In fact, weather is a much more important metric to watch than propane prices. (The past couple of winters have been warm, so that's a problem, but a good, cold winter would quickly fix that.)
To give you an idea of what's going on, Suburban's top line fell nearly 27% between fiscal 2014 and 2015. But its net income declined only 10% or so. That's not a great bottom-line result (remember, the winter was a warm one), but it highlights the fact that the top line isn't the best way to track these middlemen. And that helps explain why both companies have long and strong distribution histories.
Suburban, for example, has increased its distribution in nine of the past 10 years. And while Ferrellgas only just started to increase its distribution last year, it held the rate steady, in good times and bad, over a decade before that point. So both are fairly reliable on the income front, which means the current price decline could be a good time to grab these high yielders.
Forget Alliance?For a really adventurous contrarian investor, Alliance's coal focus and high yield might be too good to pass up. But if you aren't willing to take on the risk that coal is really heading to the dustbin of history, you might want to switch gears to two fuels that appear to have longer lives ahead of them. In the oil patch, Shell is a high yielder worth looking at, and so is ENI, especially since it's already cut its dividend to a more manageable level.
Suburban and Ferrellgas, meanwhile, are key players in propane distribution. That's a misunderstood area, and the pair currently offer high yields because of it. If you're willing to do a little more homework to understand this duo, you'll find their yields are a step above what you'll come across in the oil patch and don't look to be at risk since both have increased their distributions recently.
In the end, if you're looking for alternatives to Alliance, these four stocks are all worth considering.
The article Forget Alliance Resource Partners LP: Here Are 4 Better Dividend Stocks originally appeared on Fool.com.
Reuben Brewer owns shares of ExxonMobil. The Motley Fool owns shares of ExxonMobil. The Motley Fool recommends Alliance Resource Partners. Try any of our Foolish newsletter services free for 30 days. We Fools may not all hold the same opinions, but we all believe that considering a diverse range of insights makes us better investors. The Motley Fool has a disclosure policy.
Copyright 1995 - 2016 The Motley Fool, LLC. All rights reserved. The Motley Fool has a disclosure policy.