Forget Alcoa Inc.: Here Are 3 Better Dividend Stocks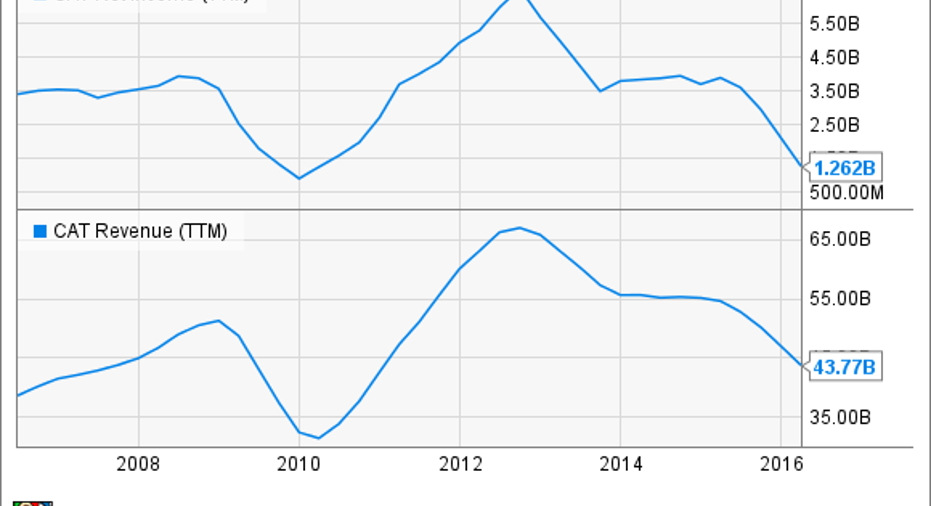 Image source: Alcoa
Alcoa used to be a bellwether for the market as a whole, its performance indicating whether consumer and industrial demand were rising or falling. But after years of losses and a long downward trend in revenue (even before its Arconic spinoff), the stock just isn't what it once was anymore. And with a dividend yield of just 1.1%, there are definitely better stocks out there for income investors.
AA Net Income (TTM) data by YCharts
A better industrial dividend stock If you really want a company in the industrial space, Caterpillar provides exposure to things like mining, but with a more flexible business model than Alcoa's. Instead of building manufacturing plants that lose money of they aren't running constantly, Caterpillar has shown over the years that it can adjust its cost structure to demand, maintaining profitability along the way.
CAT Net Income (TTM) data by YCharts
Right now, the company is in one of those down periods, but it's still generating a profit, and its dividend payout currently yields 3.9%. It won't be an easy road investing in a company like Caterpillar, but if you love the industrial space, it's a much better bet than Alcoa.
This stock is garbage Garbage and recycling are two businesses where there doesn't seem to be any end in sight for demand. And for Waste Management , that's great news.
Waste Management has taken a sector that was very fragmented across the country with public and private players, and made a very profitable business out of it. It won't ever be a massive growth business, as indicated by the 4.5% growth in first quarter 2016, but it's about as stable as can be, and it's profitable. Free cash flow for the quarter was $433 million, and less than half ($183 million) was used to pay dividends.
There are higher dividend yields than the 2.9% Waste Management pays, but with a rock solid business behind it, I think it's a solid buy for investors.
The company you've never heard ofDonaldson Company is not a business with wide public recognition, but its products are vital for everything from power plants to mining equipment. The company makes high-end filters that have become increasingly important as performance of engines and turbines increases. Even a small decrease in air purity going into, for example, a gas turbine can affect performance.
It's not a sexy business, but you can see below that it's an incredibly stable and profitable one. The dividend payout has jumped more than 35 times since the mid-1980s.
DCI Net Income (TTM) data by YCharts
Again, a dividend yield of 2% isn't the highest you'll find on the market, but filters are a business where there's little chance of major disruption from new technology, and customers demand the high-end products Donaldson provides. If you're looking for a dividend better than Alcoa, Donaldson is a great place to look.
The article Forget Alcoa Inc.: Here Are 3 Better Dividend Stocks originally appeared on Fool.com.
Travis Hoium has no position in any stocks mentioned. The Motley Fool owns shares of Waste Management. Try any of our Foolish newsletter services free for 30 days. We Fools may not all hold the same opinions, but we all believe that considering a diverse range of insights makes us better investors. The Motley Fool has a disclosure policy.
Copyright 1995 - 2016 The Motley Fool, LLC. All rights reserved. The Motley Fool has a disclosure policy.