Ford's Sales in China Slip Amid Signs of a Slowing Market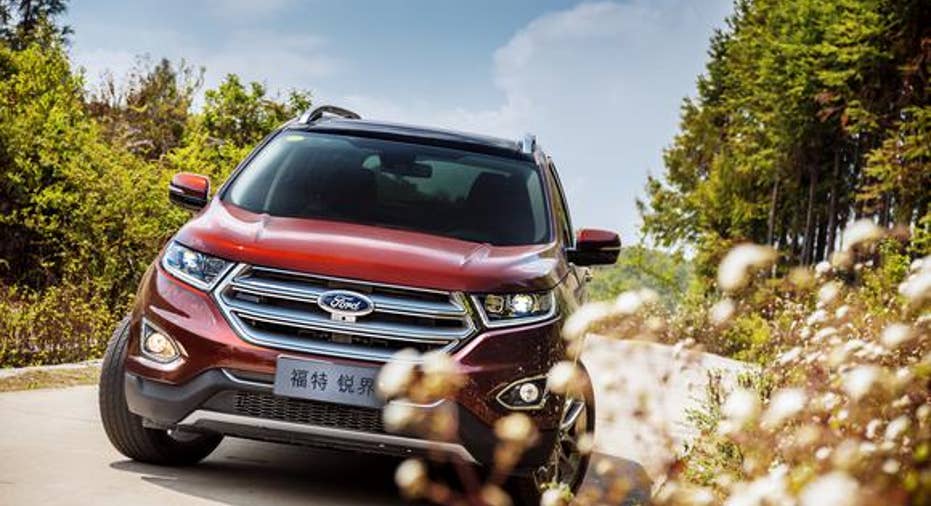 The latest Ford Edge has been a big success in China, where it's offered in a unique three-row version. But Ford's sales slowed in April. Image source: Ford Motor Company
In a setback for the Blue Oval in the world's largest new-car market, Ford Motor Company said on Thursday that its sales in China fell 11% in April.
What Ford said: Ford has two joint ventures in China. It said that sales at Changan Ford Automobile (which Ford abbreviates as "CAF"), its passenger-vehicle venture, sold 58,802 vehicles in April, down 11% from April of 2015. Sales at its commercial-vehicle venture, Jiangling Motors Corporation (JMC), fell 7% last month to 22,165 vehicles.
Ford's statement emphasized that year-to-date, its overall sales in China are up 7% from the same period last year, with a total of 391,294 vehicles sold through the end of April.
Ford also said that CAF's Chongqing Assembly Plant, which builds the Ford Focus, Mondeo (twin to the Fusion), and Ecosport (a Fiesta-based crossover SUV), will "take downtime during the remainder of the second quarter due to planned maintenance."
Signs of weakness in China's mainstream market segments Ford's statement emphasized the ongoing success of its SUV models. As in the United States, sales trends in China have favored SUVs over sedan models, and more buyers seem to be trading in sedans for the latest car-based "crossover" SUVs.
With its strong global SUV lineup, Ford has been well-positioned to benefit from that trend. It noted on Thursday that combined sales of the five SUV models it offers in China were up 27% in the first four months of 2016. But Ford didn't say how well the group performed in the month of April, and a comparison with March results suggests that year-over-year growth in Ford's SUV sales slowed considerably in April.
Is China's overall market slowing? We won't know for sure until we have more complete data in a few days. But it's worth nothing that rival General Motors also reported its April sales results in China on Thursday. The General managed to sell 277,979 vehicles in China in April, a 7.5% year-over-year increase that came on strong demand for GM's SUVs and premium models.
But, GM noted, sales of Chevrolets were down 29% last month. That suggests that there may be growing weakness in the middle levels of the Chinese new-car market. In China as in the U.S., Chevy and Ford are direct competitors.
New Fords should help drive growth longer-term Ford has been setting the stage for longer-term growth in the Middle Kingdom. Ford China chief John Lawler said at last week's auto show in Beijing that the company will be launching more "electrified" vehicles in China, including a hybrid version of the Mondeo sedan and the plug-in hybrid C-Max Energi. The Chinese government offers incentives to buyers of plug-in hybrids and electric vehicles that are built in China, as Ford's will be.
Ford is also planning to import its high-performance F-150 Raptor off-road pickup. While the Raptor will likely sell in tiny numbers, its presence in China might be a test to see if Ford's mainstream pickup models could find a ready market there.
But in the near term, it's possible that sales growth could elude Ford's existing lineup for a while.
The article Ford's Sales in China Slip Amid Signs of a Slowing Market originally appeared on Fool.com.
John Rosevear owns shares of Ford and General Motors. The Motley Fool owns shares of and recommends Ford. The Motley Fool recommends General Motors. Try any of our Foolish newsletter services free for 30 days. We Fools may not all hold the same opinions, but we all believe that considering a diverse range of insights makes us better investors. The Motley Fool has a disclosure policy.
Copyright 1995 - 2016 The Motley Fool, LLC. All rights reserved. The Motley Fool has a disclosure policy.