Ford's Long-Troubled European Unit is Finally Starting to Shine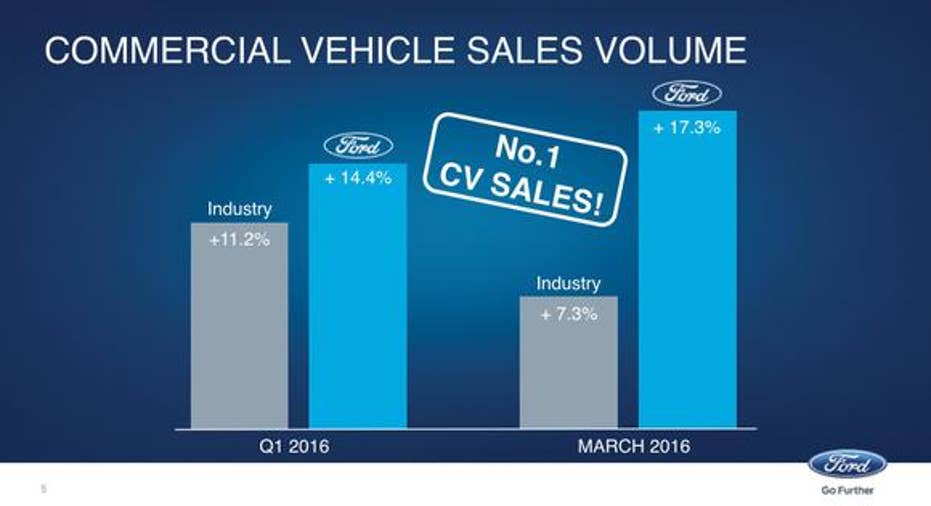 Germany's best-selling sports car is made in Michigan: Much to the delight of Ford officials, the new-to-Europe Mustang out-sold the Porsche 911 in its home market last month. Image source: Ford Motor Company
In Europe, 2015 was a breakthrough year for Ford . After years of losses running into the billions, Ford Europe posted a $259 million profit last year.
That was a good result. But CEO Mark Fields and Ford Europe chief Jim Farley have made it clear that Europe has to do better. The company is making more changes to its European operations in an effort to boost the unit's slim profit margin to something more sustainable.
How's that effort going? At least through the first quarter of 2016, things are looking pretty good for Ford in Europe.
Ford is outpacing the European market on several key frontsFord posted its best first-quarter sales results in Europe in six years. While the European new-car market is finally growing after years of sluggish performance, Ford Europe sales chief Roelant de Waard pointed out in a presentation to reporters and analysts last week that the company's sales gain in the first quarter was well ahead of the overall European market's increase.
Source: Ford Motor Company
In particular, de Waard noted, Ford is making gains in commercial-fleet sales in Europe. Ford is a leader in commercial-fleet sales in the United States, selling lots of trucks and vans to commercial operators in what the company often notes is a good, profitable line of business. Thanks to Ford's well-regarded Transit line of commercial vans, that same strategy is working well in Europe, too.
Source: Ford Motor Company
That outsized sales increase translated into a market-share gain. In what Ford refers to as the "Europe 20" market, meaning the key markets of Western Europe, Ford had a 13.7% share of the commercial-vehicle market in the fourth quarter, up 0.4 points from a year ago.
But commercial vans were far from the only good story for Ford in Europe last quarter. Sales of the small and compact EcoSport and Kuga SUVs were up substantially, and large sedans and minivans did well. Better yet for the bottom line, more buyers are choosing higher-level trims. Ford said that sales of top-of-the-line Titanium models represented 41% of total sales in the "Europe 20" markets, up from 34% a year ago. That's good: Those top-line models have fatter profit margins.
Ford's high-profit "performance cars" are also posting sales gains in Western European markets, with good sales for the high-performance versions of the small Fiesta and Focus as well as the new-to-Europe Mustang. Ford officials cheekily noted that the Mustang was Germany's best-selling sports car in March, beating out the vaunted (and to be fair, much more expensive) Porsche 911 in its home market.
What this means for Ford shareholdersEurope has been a source of pain for Ford's bottom line for the last several years. What this first-quarter report tells us is that now that Europe's market has finally started to turn up, Ford is in position to capture an outsized percentage of the gains.
That may or may not mean a big profit for Ford Europe in the first quarter: CFO Bob Shanks warned us that the ride for Europe's bottom line could be bumpy in 2016. But over the course of the full year, Ford's recent sales successes in Europe should translate into a nice year-over-year profit gain.
The article Ford's Long-Troubled European Unit is Finally Starting to Shine originally appeared on Fool.com.
John Rosevear owns shares of Ford. The Motley Fool owns shares of and recommends Ford. Try any of our Foolish newsletter services free for 30 days. We Fools may not all hold the same opinions, but we all believe that considering a diverse range of insights makes us better investors. The Motley Fool has a disclosure policy.
Copyright 1995 - 2016 The Motley Fool, LLC. All rights reserved. The Motley Fool has a disclosure policy.