Ford's Latest Recalls Will Put a $295 Million Dent in Profits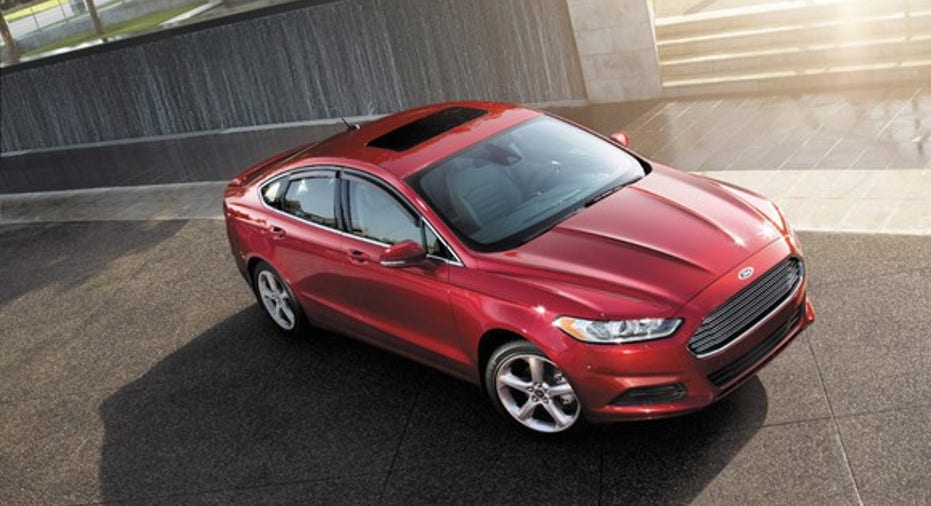 Ford Motor Company (NYSE: F) announced two new recalls on Wednesday, affecting over 440,000 vehicles in North America.
Automakers' recalls are often no big deal for investors. But this one will hurt: The Blue Oval said that these new recalls will have a $295 million negative impact on its first-quarter results.
2014 model-year Ford Fusions are among the latest batch of Ford products to be recalled for door-latch issues. Image source: Ford Motor Company.
What Ford said: Door latches and engine-cooling issues
There are two separate recalls in today's news:
First, 211,000 vehicles are being recalled for potential door-latch failures. The affected vehicles are 2014 model year Ford Fiestas, and Ford Fusions and Lincoln MKZs made for the 2013 and 2014 model years. Ford has received nearly 11,000 warranty claims related to door-latch failures on these models, but it said that it is not aware of any crashes or injuries associated with the defect.
Second, 230,000 vehicles are being recalled for a defect in an engine-coolant system that could potentially lead to an under-hood fire. The affected vehicles include 2013 through 2015 model year Ford Escape, Ford Fiesta ST, Ford Fusion, and Ford Transit Connect models equipped with 1.6 liter "GTDi" engines. Ford said that it has received reports of 29 fires that were potentially related to the issue, but it has received no reports of injuries.
The door-latch recall is the seventh that Ford has issued for door-latch defects since 2014. So far, about 4 million vehicles in North America have been recalled over the issue.
What it means for investors
First and foremost: Recalls are a normal part of business for automakers. Every automaker has recalls from time to time. All of the automakers that do business in the U.S. work with the National Highway Traffic Safety Administration to determine when reports of problems rise to the level of a safety concern that should be addressed with a recall. Most automakers, including Ford, set aside reserves on their balance sheets to cover the costs of warranty claims and recalls.
In this case, the door-latch recall is an expansion of a series of recalls that has already cost Ford a considerable amount of money -- $591 million in the third quarter of 2016. The details of the recalls announced today are new, but the cost isn't exactly a surprise: Ford already disclosed it, albeit indirectly.
In a presentation to analysts last week, Ford CFO Bob Shanks guided to a significantly lower profit in the first quarter. Ford expects its first-quarter profit to come in between $0.30 and $0.35 cents a share, down from $0.68 in the first quarter of 2016.
Shanks said last week that the year-over-year profit decline would be due to four factors:
Higher product costs, mostly related to last year's launch of Ford's all-new Super Duty pickups.
Higher engineering expenses, primarily related to "emerging opportunities" such as electric vehicles and self-driving systems.
Year-over-year increases in the costs of certain commodities.
Higher "warranty expenses."
Shanks said that further details on the "warranty expenses" would be provided in Ford's first-quarter earnings report. But the $295 million cost of the recalls announced on Wednesday is probably what he meant.
What's next for Ford investors
Ford will report its U.S. sales results for March next Monday, April 3, and its first-quarter earnings result on April 27.
10 stocks we like better than Ford Motor CompanyWhen investing geniuses David and Tom Gardner have a stock tip, it can pay to listen. After all, the newsletter they have run for over a decade, Motley Fool Stock Advisor, has tripled the market.*
David and Tom just revealed what they believe are the 10 best stocks for investors to buy right now... and Ford wasn't one of them! That's right -- they think these 10 stocks are even better buys.
Click here to learn about these picks!
*Stock Advisor returns as of February 6, 2017
John Rosevear owns shares of Ford. The Motley Fool owns shares of and recommends Ford. The Motley Fool has a disclosure policy.