Ford's China Sales Get Help From a Brawny SUV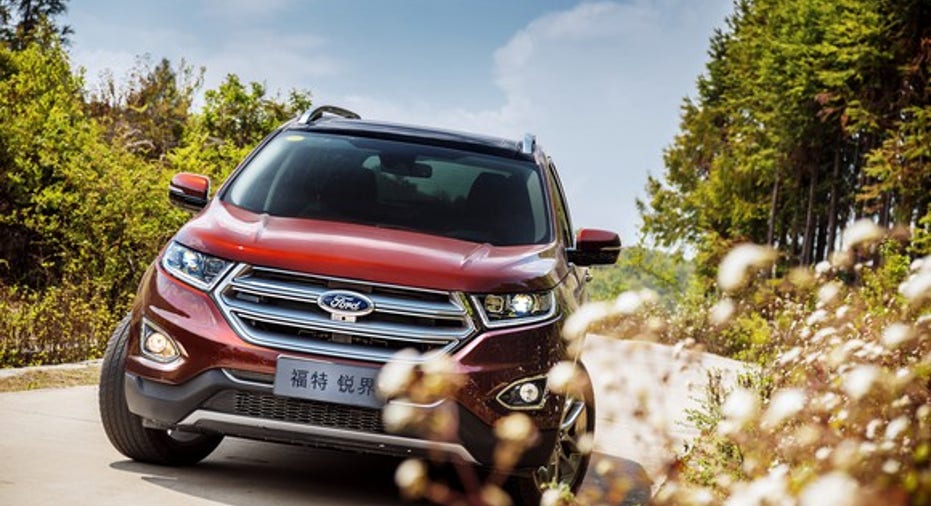 Ford Motor Company (NYSE: F) said that its sales in China rose 2% in February, thanks mostly to a quirk of the Chinese calendar.Year to date, the Blue Oval's sales in China are off 21%, as it struggles to regain momentum after an expiring tax break pulled many sales forward to the end of 2016.
Ford's China sales: The raw numbers
The vehicles that Ford sells in China come from three different sources. The company has two separate joint ventures with Chinese automakers, and it also imports some Ford-brand vehicles from other countries, including the United States.
The first joint venture, called Changan Ford, or CAF, builds and sells a range of Ford cars and SUVs drawn largely from Ford's global product portfolio. The other is Jiangling Motors Corporation (JMC), which builds Ford's Transit vans, the midsize Ranger pickup, and a Ranger-based SUV called the Everest.
The vehicles that Ford imports include the Mustang, the Explorer, and high-performance versions of the Fiesta and Focus, among others.
All numbers shown in the chart are retail sales, not wholesale shipments to dealers. Sales of Lincoln-brand vehicles are reported quarterly and are not included here.
Data source: Ford Motor Company.
Chinese buyers are still flocking to the Ford Edge SUV: Sales were up 20% last month. Image source: Ford Motor Company.
A note about that calendar quirk
In China, the New Year's holiday is a major celebration, and businesses typically close for several days around it. Those businesses include car dealers and, not surprisingly, car sales typically fall dramatically during the holiday period. But Chinese New Year is a lunar holiday, meaning its calendar date isn't consistent: Sometimes it falls in late January, and sometimes in early February.
Last year, the New Year's celebration fell on Feb. 8, meaning that the sales lost were in February. But this year's celebration fell on Jan. 28.
Long story short, the year-over-year sales comparison for January was very unfavorable. But because of the yearly variation in the timing of the holiday, most analysts combine January and February sales and compare the combined number to the year before. Those are the numbers to focus on in the chart above.
So what happened with Ford in China last month?
Two different, parallel stories are emerging.
On the one hand, Ford's sales of commercial vehicles have been very strong so far in 2017. JMC's sales are up 31% year to date on the strength of Ford's Transit commercial van line and on good sales of the Everest SUV. Ford didn't break out sales numbers for each of its individual models, but it did say that sales of the Everest were up 34% from a year ago. (The Everest is a 7-passenger SUV based on the midsize Ranger pickup's underpinnings.)
The Ford Everest is a midsize truck-based SUV sold in China and some other overseas markets. Image source: Ford Motor Company.
On the other hand, sales of the Ford passenger vehicles built by CAF have struggled as a group. CAF sales are down 32% year to date, hurt in part by the reduction of a tax incentive on small cars that took effect on Jan. 1. Many small-vehicle sales were "pulled ahead" to December as customers rushed to take advantage of the higher tax break before it expired. That led to a sales slump in the first two months of 2017.
But Ford's larger passenger vehicles are faring better. Sales of the Edge SUV rose 20% in February, while sale of the large Taurus sedan (a different, newer model than the U.S. version) rose 9%.
Ford's imported vehicles represent a small number of total sales. But they're profitable models, and growth has been good. Sales of the imported-from-Michigan Mustang more than doubled last month, and sales of the high-performance Focus ST and RS were up 67% from a year ago.
The upshot: We'll have to wait and see how the year goes
Ford isn't the only global automaker to take a sales hit in the first two months of 2017. General Motors' (NYSE: GM) China sales were down 15% and Toyota's (NYSE: TM) fell 4% over the same period. But some did better: Honda's sales jumped 18%, Nissan's rose just over 3%, and Volvo Cars' deliveries increased 18% in the period.
Ford said in a statement that it expects CAF's sales to pick up as the year goes on. If so, 2017 could turn out to be another good year for the Blue Oval in China despite the early decline -- but we'll have to wait and see.
10 stocks we like better than FordWhen investing geniuses David and Tom Gardner have a stock tip, it can pay to listen. After all, the newsletter they have run for over a decade, Motley Fool Stock Advisor, has tripled the market.*
David and Tom just revealed what they believe are the 10 best stocks for investors to buy right now... and Ford wasn't one of them! That's right -- they think these 10 stocks are even better buys.
Click here to learn about these picks!
*Stock Advisor returns as of February 6, 2017
John Rosevear owns shares of Ford and General Motors. The Motley Fool owns shares of and recommends Ford. The Motley Fool recommends General Motors. The Motley Fool has a disclosure policy.