Ford teams with Domino's on self-driving pizza delivery test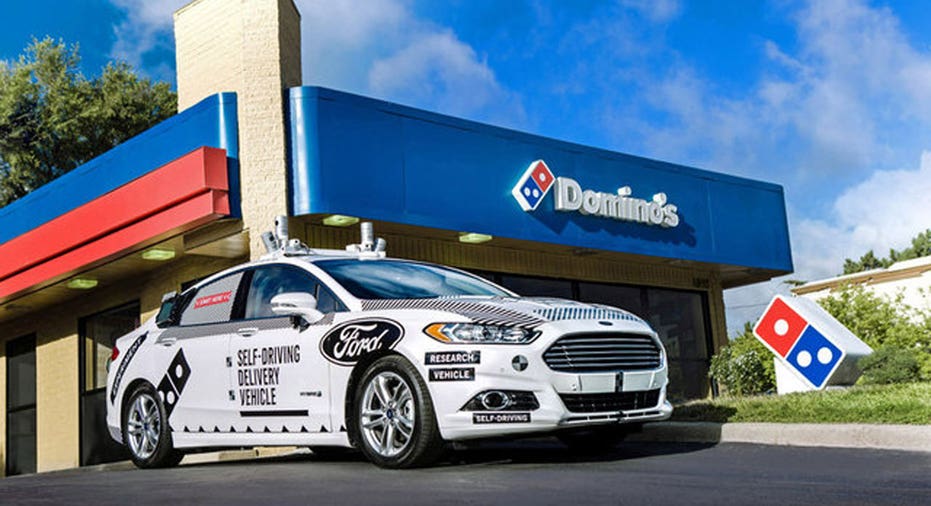 Ford Motor and Domino's Pizza in September will begin testing Michigan consumers' reactions to having their pies delivered by self-driving vehicles, the companies said on Tuesday.
It will not be the first experiment with advanced pizza delivery technology. Australia-based Domino's Pizza Enterprises, the Ann Arbor-based company's largest independent franchisee, has tested delivery to customers in New Zealand via drone and self-driving robot.
In a blog post last week, Sherif Marakby, head of Ford's autonomous and electric vehicles, signaled the automaker's broader ambitions, saying Ford planned to cooperate "with multiple partners" in deploying self-driving vehicles "designed to improve the movement of people and goods."
Previously, Ford executives had said the company expected to launch a self-driving shuttle for commercial ride-sharing fleets in 2021.
Domino's and Ford will deliver pizzas to randomly selected customers in the Ann Arbor area in a Ford Fusion Hybrid equipped with self-driving technology. The delivery vehicles initially will be piloted by human drivers.
Customers will be able to track the delivery process via GPS and will receive text messages on how to retrieve their pizzas once the delivery vehicle has arrived.
A number of start-up delivery services, many of them funded by venture capital, have been experimenting with on-demand delivery of different packages, including groceries, prepared food and beverages. So have larger companies, from Uber Technologies to Amazon.
Opinion is still divided, however, on whether automation can help solve some vexing delivery problems, such as how to deliver pizzas economically to the fifth floor of a college dorm.
The Ford-Domino's test vehicle will not attempt to resolve that conundrum. It will stop outside the customer's house, so it will not provide true door-to-door delivery service.
"We're still focused on the last 50 feet," said Domino's spokeswoman Jenny Fouracre. "That's a big challenge - getting (the pizza) from the curb to the door."
(Reporting by Paul Lienert in Detroit; Editing by Dan Grebler)