Ford: Mulally Remains Focused on Us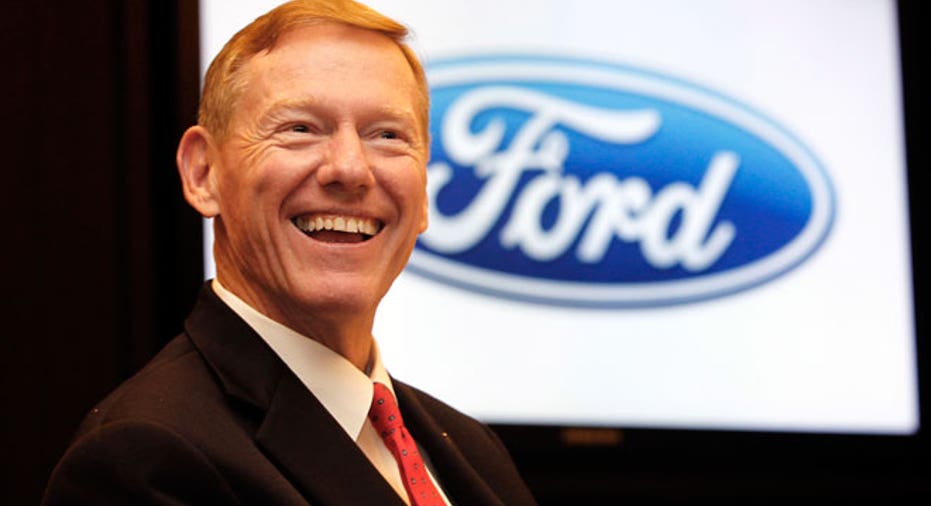 Ford Motor Co (NYSE:F) Chief Executive Alan Mulally, a turnaround expert who is being mentioned as a candidate for Microsoft Corp's top job, remains "absolutely focused" on crafting the No. 2 U.S. automaker's long-term strategy, a top executive said on Friday.
Mulally attends Ford's weekly executive meetings "pretty regularly," Chief Operating Officer Mark Fields told reporters at a fundraising event in Detroit for the charity United Way.
"Alan is still very involved," Fields said. "He's focused on some of the strategic, long-term issues and also managing the governance in the company."
Mulally, who was hired in 2006, successfully led the automaker's turnaround and is credited with overhauling Ford's corporate culture. In November 2012, Ford said Mulally intended to stay at Ford through at least the end of 2014.
But, as sources told Reuters earlier this month, Mulally has been exploring other high-profile roles to follow up his successful tenure at Ford and the automaker's board is open to his leaving sooner than planned.
Mulally has emerged as a top candidate to succeed Steve Ballmer as CEO of Microsoft, Reuters and technology news website AllThingsD have reported.
On Thursday, AllThingsD reported, citing sources, that Mulally was now in the lead of the race to become Microsoft's CEO. Ford has repeatedly said there is no change to the plan the company outlined in November, a point Fields reiterated Friday.
Fields, a longtime Ford executive, is widely expected to succeed Mulally as CEO. In December, he became the company's COO, a role that involves running Ford's weekly business plan review, or BPR, meetings, at which executives air issues.
"That BPR process is what has literally changed the culture of the company and that's what's going to power us in the future," Fields said.
"Collectively, we have helped change the culture. It's not just relegated to one particular individual," he added.
Since his promotion, Ford's board has increasingly warmed to Fields, who led the company's North American operations during the financial crisis, people familiar with the matter have said.
But Fields said he was focused on serving as COO, a role he described as "energizing." He added that he has not made any big changes to the way those meetings are run since taking over.
"It's really about all of us looking to build on the things over the years that have made our culture so strong," he said.
(Reporting by Deepa Seetharaman)