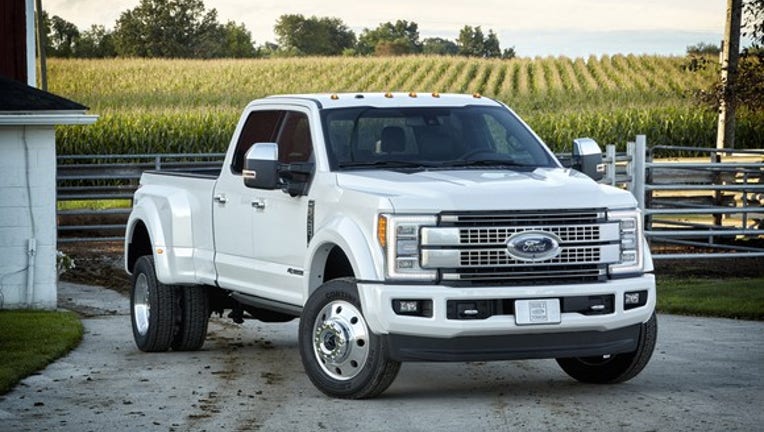 Heavily optioned pickups like this 2017 F-450 Super Duty Platinum are generating big profits for Ford right now. Image source: Ford Motor Company.
Ford Motor Company(NYSE: F) said its U.S. sales fell about 1% in January on a year-over-year decline that was more than explained by the timing of deliveries to some of Ford's big fleet customers.
Ford's U.S. retail sales grew 6% in January froma year agoon continued strong demand for pickup trucks, SUVs, and products from the resurgent Lincoln luxury brand.
Ford's January sales: The raw numbers
Why Ford's fleet sales fell in January
Ford's deliveries to rental-fleet and commercial-fleet customers fell 13% in January from a year ago. Ford's U.S. sales chief, Mark LaNeve, said in a conference call for analysts and media that the drop was explained by a year-over-year difference in the timing of deliveries to big fleet customers.
Ford's deliveries to some of its large fleet customers, particularly rental-car companies, were "front-loaded" in 2016, concentrated in the early part of the year. That made for a tough year-over-year comparison in January (and likely in February as well), but it should level out as the year goes on.
What's working for Ford in the U.S. right now
What's working for Ford in the U.S. right now? The answer is the same as it has been for the last year or more: Trucks and SUVs. Both are in high demand, and Ford has new or recently refreshed products in most of the key segments.
F-Series pickups: Good sales gains and very strong average prices
Ford sold just under 58,000 F-Series pickups in the U.S. last month, up 13% from a year ago -- and up 19% at retail. The retail gains are happening without fat incentives: LaNeve noted that Ford's total F-Series incentives were about $3,800 per truck, significantly lower than incentives on both General Motors' (NYSE: GM) Chevrolet Silverado and GMC Sierra lines and Fiat Chrysler Automobiles' (NYSE: FCAU) Ram pickup line. (GM's were about $1,000 higher; FCA's about $2,000 higher than Ford's.)
Low incentives, strong sales of the all-new Super Duty pickups, and strong retail buyer preferences for higher-trim trucks combined to generate a very strong average transaction price for the F-Series in January: $46,400 per truck, up about $3,800 from a year ago. Ford investors take note: That's a very good sign for Ford's profits.
Ford-brand SUVs: All up at retail
SUVs are continuing to show good sales growth across the industry as more buyers migrate away from sedans to the modern generation of car-based crossover SUVs. Ford's crossovers are well-regarded, and all showed sales growth at retail in January. As a group, sales of Ford's SUVs grew 11% at retail and 6% overall, reflecting the effects of lower fleet orders for models like the midsize Edge.
Ford-brand cars: Still facing a tough road
The flip side of good gains for Ford's SUVs was another month in which its car models took a beating. Sales of the compact Focus (down 26%), midsize Fusion (down 22%), big Taurus sedan (down 9.6%), and Mustang (down 33%) all took a beating, amplified by the year-over-year drop in deliveries to rental fleets.
Only the subcompact Fiesta showed good sales growth (up almost 40%), the result of an aggressive incentive program put in place a few months ago.
Lincoln: A growing success story for Ford
It wasn't that long ago that Ford's old Lincoln luxury brand seemed to have been left for dead. Ford considered killing the brand, but it changed its mind after market research showed that it was surprisingly well-regarded in China -- and after considering the higher margins that competitors' luxury brands have fetched in recent years.
The upshot has been a big investment in product and marketing for Lincoln, guided by well-regarded brand chief Kumar Galhotra. The investment is paying off: Lincoln's U.S. sales rose 22.4% last month, with both cars and SUVs showing double-digit growth.
Sales of the all-new 2017 Lincoln Continental have been strong in its first few months on the U.S. market. Image source: Ford Motor Company.
All Lincoln models are high-profit-margin products. But like their mainstream Ford siblings, higher trim levels are the most profitable variants. LaNeve noted that the top-tier series (Reserve and Black Label) currently account for more than 50% of sales of Lincoln's two newest models, the MKX SUV and big Continental sedan. Again, that's a very profitable situation for Ford.
Ford's inventories are up, but that's probably not bad
Ford made a point of cutting its inventories (the number of vehicles on dealer lots and in transit to dealers) to 70 days' worth at the end of December. That's considered a reasonable level -- but its inventories swooned to 103 days' worth at the end of January. Is that a problem?
It's probably not. LaNeve noted that Ford tends to build up inventories in January and February to ensure that dealers have plenty of stock when retail sales rise in the spring. That's supported by a look at history: At the end of January 2016, Ford had 104 days' worth of inventory.
The upshot: Ford is continuing to make hay in a peaky U.S. market
The overall U.S. market is probably at a cyclical plateau right now, meaning there probably isn't a lot of growth left to be had. Or put another way, this is as good as it gets -- and with buyers favoring high-profit-margin trucks and SUVs, it's quite good for those automakers who have the products those customers want.
Right now, Ford is in that group, and it appears to be making the most of what the market is offering. One-third of the way through the first quarter of 2017, things are still looking bright for Ford's bottom line.
10 stocks we like better than Ford Motor Company When investing geniuses David and Tom Gardner have a stock tip, it can pay to listen. After all, the newsletter they have run for over a decade, Motley Fool Stock Advisor, has tripled the market.*
David and Tom just revealed what they believe are the 10 best stocks for investors to buy right now...and Ford wasn't one of them! That's right -- they think these 10 stocks are even better buys.
Click here to learn about these picks!
*Stock Advisor returns as of January 4, 2017.
John Rosevear owns shares of Ford and General Motors. The Motley Fool owns shares of and recommends Ford. The Motley Fool recommends General Motors. The Motley Fool has a disclosure policy.