Ford Motor Company's Q1 in Europe Looks Pretty Solid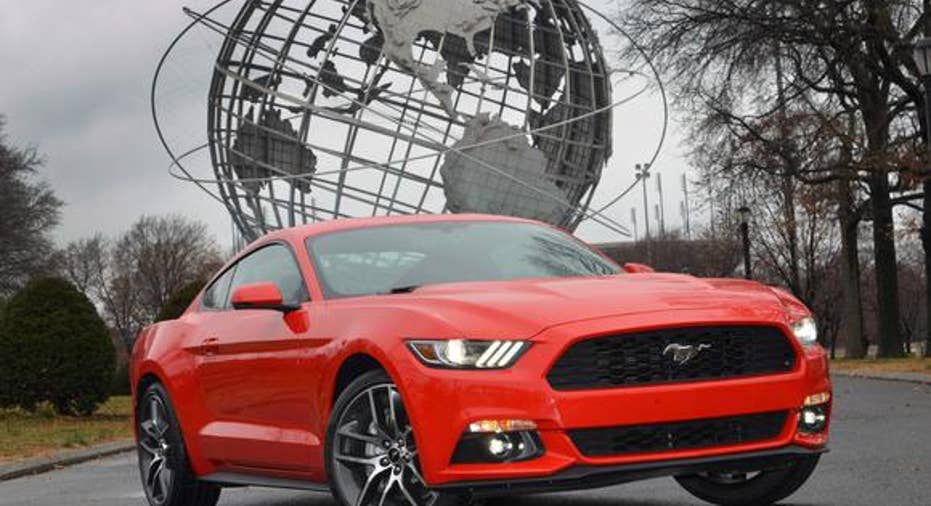 The Mustang has gone global, becoming Germany's top-selling sports car in March. Image source: Ford Motor Company.
It seems like only yesterday that Ford Motor Company surprised investors with Europe's surge in profitability -- though in part because of a pension accounting change -- which helped produce record profits for the Michigan automaker last year. It was a great surprise, as investors had endured years and billions in losses in the region. Time flies when you're having fun, and now with the first quarter already in the books, it's worth taking a look at Ford's results in Europe to better understand what we can expect during its earnings report later this month.
Hint: Things look goodFord sold more than 401,000 vehicles in its total 50 European markets during the first quarter, up 8.4% compared with the industry's average growth of 5.4%. That moves Ford's market share up 30 basis points to 8%. Narrowing it down to Ford's traditional 20 European markets, sales were up 8.5% to 363,500 units, and its market share maintained at 8.2%.
Those sales are increasingly going toward higher value channels, as well, with 75% of its passenger-car sales going to retail and fleet segments. That result is 200 basis points better than the prior year's first quarter, and 600 basis points above the industry average.
Ford also remains Europe's No. 1-selling commercial vehicle brand, posting its best first quarter since 1993. Sales jumped 14% higher, and Ford's market share of the segment was an impressive 13.7%.
Speaking of best ever, Ford's EcoSport and Kuga (Escape) posted their best-ever first-quarter sales, with increases of 50% and 23%, respectively.
Ford's performance line-up continues to gain traction overseas, with the Fiesta ST, Focus ST, Focus ST diesel, Focus RS, and Mustang more than doubling sales compared with the prior first-quarter. Ford expects 2016 to be a record-setting year for sales of its performance lineup.
As icing on the cake, Ford's Mustang, which only recently began selling outside the U.S., became Germany's top-selling sports car in March, according to the German Federal Motor Transport Authority.
Another positive development for investors is that sales of Ford's premium Titanium models were up 800 basis points in its Euro 20 market segment. That means 41% of all Ford's sales are of the premium model, which should help margins in the region.
"There's a growing sense of excitement about Ford in Europe, from the new Mustang and Focus RS, to our growing SUV line-up, to our best-selling commercial vehicles," Roelant de Waard, Ford of Europe's vice president of marketing, sales, and service, said in a press release. "We're reaching more customers, and importantly, we're winning over even more retail and business fleet customers who are increasingly choosing highly equipped Ford vehicles."
The road ahead Ford plans to keep this sales momentum going in Europe by launching the new Kuga and Edge during the second half of 2016. Those rollouts should generate enough demand to grow SUV sales by about 30% this year, compared to 2015, and top 200,000 units sold for the first-time in Europe.
Beyond SUVs, Ford's upscale Vignale brand will expand, with three new models hitting the road this year -- S-MAX, Edge and Kuga -- to join the Mondeo, which began selling in the Vignale model last year. In terms of performance, the all-new Fiesta ST200 will also go on sale later in 2016, which should help Ford's performance lineup sell 50% more models this year compared to 2015.
Ultimately, as more SUVs roll off dealership lots in Europe and Ford continues to expand its Vignale lineup and Titanium sales, all in addition to rising total sales, it should shape up to be a solidly profitable year in Europe for the automaker.
The article Ford Motor Company's Q1 in Europe Looks Pretty Solid originally appeared on Fool.com.
Daniel Miller owns shares of Ford. The Motley Fool owns shares of and recommends Ford. Try any of our Foolish newsletter services free for 30 days. We Fools may not all hold the same opinions, but we all believe that considering a diverse range of insights makes us better investors. The Motley Fool has a disclosure policy.
Copyright 1995 - 2016 The Motley Fool, LLC. All rights reserved. The Motley Fool has a disclosure policy.