Ford Motor Company: Profit Doubles as Restructuring Pays Off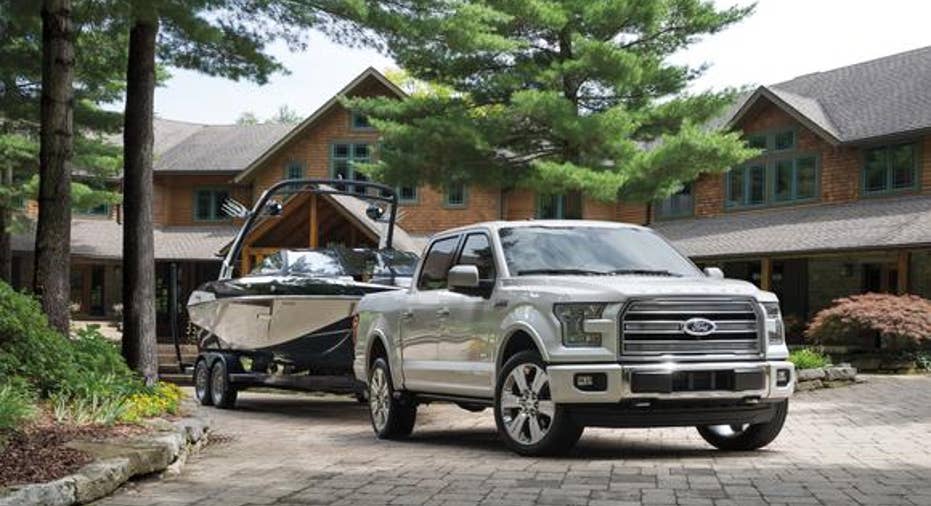 Ford is selling a lot of well-optioned vehicles like this loaded F-150 Limited. The result was an exceptionally strong profit margin in the first quarter. Image source: Ford Motor Company
Ford Motor Company (NYSE: F) reported its first-quarter 2016 earnings before the bell on Thursday, April 28. Here's what investors need to know.
The key numbers
| | Q1 2016 | Q1 2015 |
| --- | --- | --- |
| Revenue | $37.7 billion | $33.9 billion |
| Wholesale Deliveries | 1,720,000 | 1,568,000 |
| Pre-Tax Income | $3.8billion | $1.7billion |
| Pre-Tax Profit Margin | 9.8% | 4.8% |
| Net Income | $2.5billion | $1.2billion |
| Automotive-Related Cash Flow | $2.7billion | $0.5billion |
Data source: Ford.
Ford's calculation of "pre-tax income" differs from GAAP operating income in that Ford excludes special items from its calculation. Special items totaled $186 million in the first quarter of 2016, versus zero in the year-ago period. See below for details.
How Ford's business performed during the quarterFord's pre-tax income of $3.8 billion was the Blue Oval's best-ever quarterly result, "an all-time record quarter for the company," according to CEO Mark Fields.Better yet for shareholders, there were no exceptional items propelling that number. In North America, traditionally the engine of Ford's earnings, the company generated $3.1 billion in pre-tax income with an outstanding operating margin of 12.9%. That compares favorably with the 8.7% and 7.6% margins generated by the North American units atGeneral Motors andFiatChrysler Automobiles, respectively.
That's nearly double the pre-tax income it generated a year ago, and the difference is largely due to trucks. A year ago, Ford was still ramping up production of its then-new F-150 pickup, and supplies were extremely tight. Now, the pipelines are full -- and demand, particularly for highly profitable well-optioned variants, has been very strong.
Europe has also turned into a good story for Ford. The company lost billions in Europe between 2011 and 2014, but after restructuring its operations and expanding its regional product portfolio, Ford has found itself in an enviable position, gaining market share in a recovering market. The upshot: Pre-tax income of $434 million, and an operating margin of 6.3%.
Better yet, CFO Bob Shanks said this is the "new normal" for Ford Europe: While results will be up and down because of the seasonal cadence of Europe's auto business (generally speaking, the first half of the year is stronger than the second), the company is now targeting margins of 6% to 8% on an ongoing basis.
Ford's Asia-Pacific region also performed well, more than doubling its pre-tax profit to $220 million, with an operating margin of 8.2%. Ford's China joint ventures delivered $443 million in income, up $83 million from a year go.
While pricing pressures in China's slowing market have been a factor for Ford (as they have for most global rivals), the Blue Oval has managed to more than offset those pressure with favorable mix: In other words, just as we've seen in the U.S. and Europe, Chinese customers are favoring (more profitable) SUVs over (less profitable) sedans.
On the other hand, South America continues to be a challenge for Ford. While the company has been able to reduce costs, a severe downturn in new-car sales in Brazil has hammered results. Ford lost $256 million in South America in the first quarter, and its full-year guidance is unchanged: 2016's full-year results will be worse than last year's $832 million loss.
Last but not least: Ford Credit, the company's in-house financing arm, earned $514 million, up $31 million from the year-ago period. Credit quality continues to be high and default rates low.
Ford ended the quarter with $24.3 billion in cash, up about $700 million from year-end. Adding in available credit lines, the Blue Oval had $35.2 billion in total available liquidity as of quarter-end, versus $13 billion in well-structured long-term debt. As noted above, Ford took $186 million in special items in the first quarter, including charges related to its new U.S. union contract and costs related to its decision to withdraw from theJapanese and Indonesian markets.
What Ford said about the quarter"The first quarter was outstanding, and we are confident in our ability to drive strong results globally," Shanks said in a statement. "We expect 2016 to be a great year, and we plan to continue rewarding our shareholders through both supplemental and regular dividends as a part of our distribution strategy."
Looking ahead: Ford's guidance for 2016 Ford maintained its earlier guidance. For the full year, Ford expects an operating margin in North America of 9.5% or better (versus 10.2% in 2015), a greater loss in South America as noted above, a better profit in Europe than last year's $259 million, a better profit in Asia Pacific than last year's $765 million, and a better profit for Ford Credit than last year's $2.09 billion result.
The article Ford Motor Company: Profit Doubles as Restructuring Pays Off originally appeared on Fool.com.
John Rosevear owns shares of Ford and General Motors. The Motley Fool owns shares of and recommends Ford. The Motley Fool recommends General Motors. Try any of our Foolish newsletter services free for 30 days. We Fools may not all hold the same opinions, but we all believe that considering a diverse range of insights makes us better investors. The Motley Fool has a disclosure policy.
Copyright 1995 - 2016 The Motley Fool, LLC. All rights reserved. The Motley Fool has a disclosure policy.