Ford Motor Company Continues to Roll in China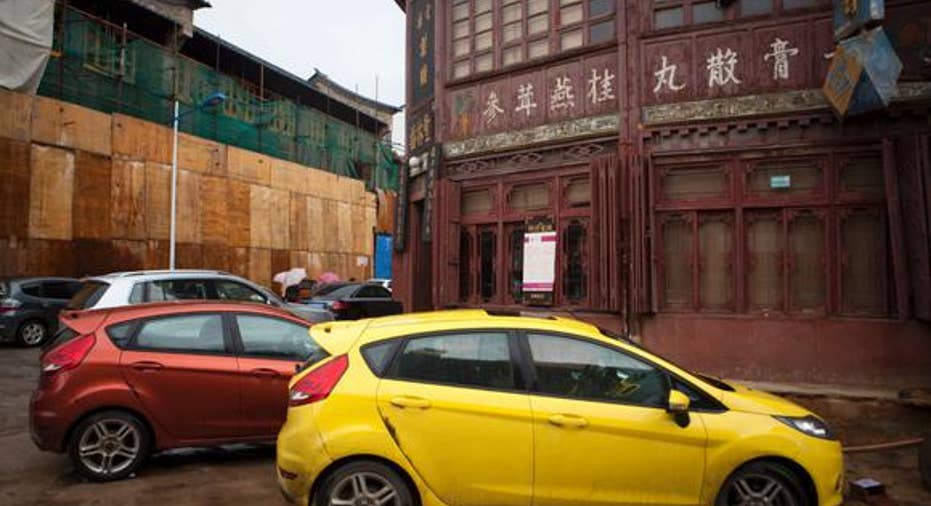 Ford's Fiesta in China during its world tour. Image source: Ford Motor Company.
It was just months ago thatFord Motor Company (NYSE: F) posted very strong profits during its 2015 fourth quarter. One of the driving forces behind that was stronger profitability in its Asia-Pacific region -- and China constitutes the vast majority of that. While some feared that such a strong showing was a fluke, the good news for investors is that Ford just announced its March and first-quarter sales figures in China, and the results were solid. That should give investors a little bit of optimism heading into the first-quarter earnings call, but for now, let's dig into the automaker's results out of China last month.
By the numbers It appears China's decision to cut the tax on vehicle purchases in half is still powering sales during the first portion of 2016, and the good news is the tax incentive will last throughout the remainder of the year. Ford's sales in China were up 5% in March to 114,788 units, compared to the prior year. March and a strong January were enough to offset a strange February in which sales took a nose dive thanks to the Chinese New Year, which disrupted production and sales.
Chart by author. Information source: Ford China sales releases.
For the first quarter, Ford's sales in China jumped 14% higher compared to the same period last year, notching nearly 314,500 units sold. Investors should also keep in mind that the red line in the graph above represents Ford's change to retail sales units rather than wholesale units -- so these sales figures aren't just cars Ford pushed onto dealerships to make a stronger sales figure, these are sales to retail consumers.
"We are pleased with the continued growth and positive customer response our products continue to receive in China," said John Lawler, chairman and CEO of Ford Motor China, in a press release. "We remain committed to offering a great portfolio of vehicles and providing world class service to our valued customers."
Diving into the details There were quite a few bright spots, as well as one surprising decline. Focusing on the bright spots, Ford's SUVs continued to sell very well in China, with combined sales of the Ecosport, Kuga (Escape), Edge, Explorer, and Everest nearly reaching 80,000 units sold during the first quarter. That was a staggering 38% gain compared to last year's first quarter. Singling out March, Ford sold more than 26,000 units, which was a solid 29% gain over last year's March.
But it wasn't just SUVs selling well. Changan Ford Automobile (CAF), Ford's passenger car joint venture, posted a 23% jump in sales compared to the prior year, to 244,411 units during the first quarter. Ford's iconic Mustang also posted a 75% jump in sales during the first quarter, and its performance-oriented Focus ST increased sales 23% during the same period.
Strangely enough, Ford's commercial vehicle investment in China, Jiangling Motors Corporation, sold 60,306 units during the first quarter, which was an 11% decline compared to last year. It's a little strange because Ford's commercial vehicles have been a strong and quickly growing business in the U.S. and European markets. Investors should watch over the next year or two to see if Ford can export its commercial success and strategy to China.
Last but not least, Lincoln also sold nearly 5,500 units during the first quarter, which is a three-fold increase compared to the same period last year. This comparison may not quite be apples-to-apples since Lincoln was fresh into China last year, but its growth story appears to be taking hold as Ford continues to open up more Lincoln dealerships in the country. China will be critical if Ford is to meet its goal of selling 300,000 Lincolns worldwide by the end of this decade, nearly three times what it sold last year.
If Ford's sales are any indication of how its first-quarter earnings call will go, things are looking up. Its profit engine, the U.S. market, is firing on all cylinders still, Europe is improving, and China started the year off strong -- all while SUV sales continue to catch on globally.
The article Ford Motor Company Continues to Roll in China originally appeared on Fool.com.
Daniel Miller owns shares of Ford. The Motley Fool owns shares of and recommends Ford. Try any of our Foolish newsletter services free for 30 days. We Fools may not all hold the same opinions, but we all believe that considering a diverse range of insights makes us better investors. The Motley Fool has a disclosure policy.
Copyright 1995 - 2016 The Motley Fool, LLC. All rights reserved. The Motley Fool has a disclosure policy.