Ford Motor Company Closes Second Quarter With Strong June Sales Result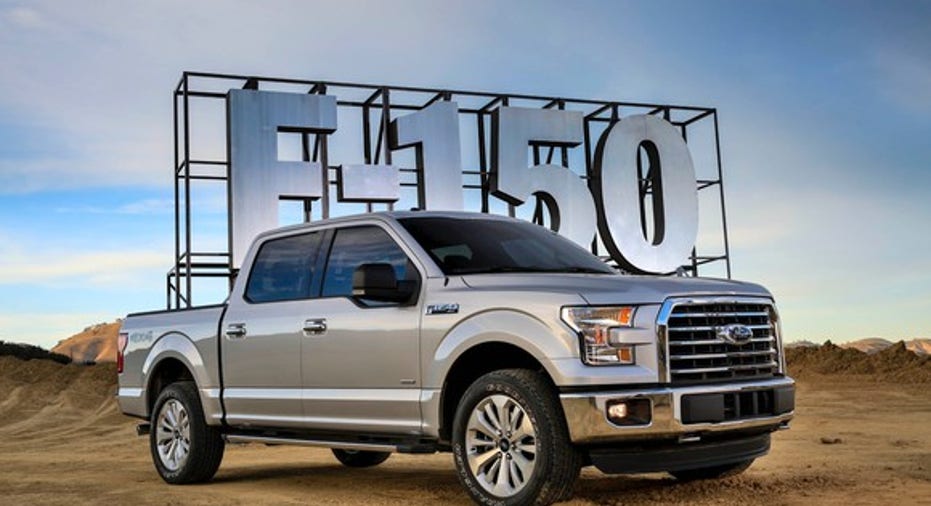 Ford's F-Series sales topped 70,000 in June -- a very strong month. Image source: Ford Motor Company.
Keep your Brexit doom and gloom to yourself, because Ford Motor Company doesn't want to hear it. Detroit's second-largest automaker posted a strong June sales month, noting that the month was fairly average, and once the Brexit news hit the headlines, sales momentum actually picked up. That's an encouraging development, because it doesn't take much to convince consumers to hold back on big-ticket purchases. Let's dig into Ford's sales figures from June and zoom in on some key takeaways.
Starting from the top
Ford's sales last month totaled 240,109 units, which was a 6% gain compared to last year's June. That sales gain was despite a lagging passenger-car segment, which sold12% fewer vehicles (68,478 units)in June compared to the prior year, reflecting an industrywide trend. Offsetting the decline in Ford's car sales was its truck segment, which sold 24% more units (96,354), and its SUV segment, which posted a 7% sales gain (75,277 units). The first-half sales results were the best Ford has recorded in a decade, with sales up 5% to 1.3 million units.
It's all about trucks and SUVs
Coming as a surprise to precisely nobody, trucks and SUVs drove Ford's strong June and year-to-date sales. Ford sold more than 531,000 pickup trucks and vans, a solid 13% gain compared to the first six months of 2015. The F-Series, Ford's bread-and-butter product, posted a staggering 29% increase compared to last June and notched its best June in more than 10 years. Meanwhile, Ford's SUVs posted their best-ever first half of the year, with a 9% gain compared to last year to total 395,116 units.
"Strong customer demand has helped us continue growing our truck leadership position, further widening the gap with our nearest competitor versus last year," said Mark LaNeve, Ford vice president of U.S. marketing, sales and service, in a press release. "Consumer demand for Ford SUVs also continues to surge to all-time highs, allowing us to introduce new levels of capability, versatility and technology to a whole new generation of SUV fans."
A peek at fleet
One data point for investors to keep track of each month is Ford's fleet sales. These have been discussed quite a bit during the first half of 2016 because the sales were elevated. Management has said all along that fleet sales were going to be higher than normal during the first half of the year, and taper off during the second half of the year, to end up only slightly higher than last year's total.
So far, that's been accurate. Ford's fleet sales accounted for 37% of its total sales last month. That breaks down to 13 percentage points from commercial sales, 7 percentage points from government sales, and 16 percentage points from daily rental, which is the less desirable of the fleet segments. For comparison, during the first six months of 2015, Ford's fleet sales accounted for 31% of the total, and 13 percentage points from daily rental.
Ultimately, while Ford's fleet sales remain elevated compared to last year, it hasn't affected the company's operating margins, so management has my vote of confidence that "fleet business" isn't the dirty phrase it used to be.
Lincoln's surge
Investors hoping that Lincoln's revival would be a quick boost to the company's bottom line will have to keep waiting, because that is likely a few years away yet. However, Lincoln has still had a solid year and its progress is encouraging. Last month, sales of Lincoln were up nearly 6%, with its SUV sales rising more than 7%.
Lincoln's SUV segment has been a runaway success this year, with sales up 25% during the first six months of 2016, which offset a 5% decline in the luxury brand's passenger car sales. In total, sales of Lincoln are up 13% through the first half of the year, and the redesigned MKX is the brand's best-selling vehicle after being third through the same point last year -- its sales are up a staggering 72%.
All in all, June was a solid month for Ford, and thanks to accelerating sales of highly profitable trucks, SUVs, and Lincolns, it puts the cap on what should be an excellent, and highly profitable, second quarter.
The article Ford Motor Company Closes Second Quarter With Strong June Sales Result originally appeared on Fool.com.
Daniel Miller owns shares of Ford. The Motley Fool owns shares of and recommends Ford. Try any of our Foolish newsletter services free for 30 days. We Fools may not all hold the same opinions, but we all believe that considering a diverse range of insights makes us better investors. The Motley Fool has a disclosure policy.
Copyright 1995 - 2016 The Motley Fool, LLC. All rights reserved. The Motley Fool has a disclosure policy.