Ford Motor Co.'s Investment in Pivotal Was Anything but a Knee-Jerk Reaction to Its Rivals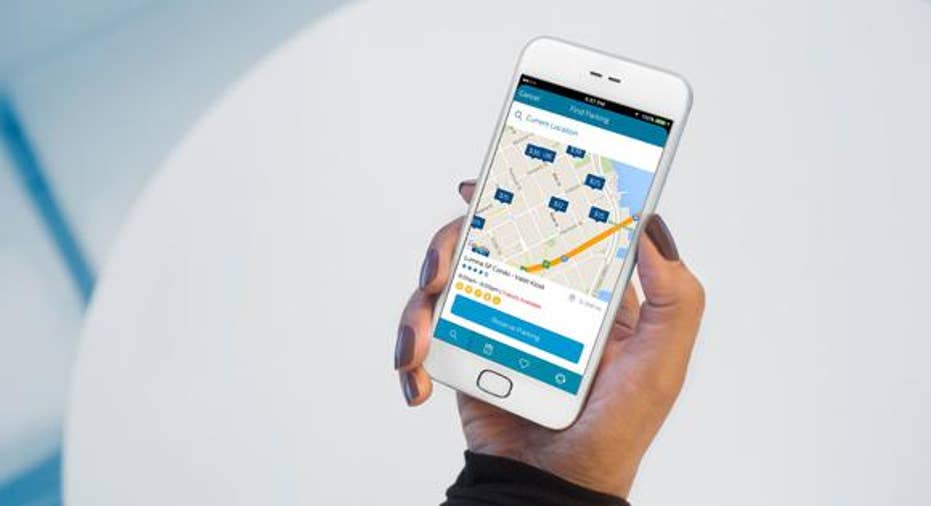 Ford CEO Mark Fields introducing FordPass. Image source: Ford Motor Company.
Based on a glance at the headlines, some investors could be forgiven if their immediate reaction to Ford Motor Co.'s $182.2 million investment in a cloud-based company named Pivotal, was to roll their eyes.
It could be forgiven because some hopefully, only a few will assume that it took its stake in San Francisco-based Pivotal as a PR play after its cross-town rivals recently announced big moves of their own. In case you missed it, Fiat Chrysler inked a partnership with Alphabet's Google unit to advance their goals on self-driving cars, and a few weeks ago, General Motors made a splashy acquisition of Cruise Automotive.
But, Ford and Pivotal already have a history, and this is a strategic move that fits neatly into Ford's plan to become more than just an auto manufacturer.
Three-year collaboration Late last year, Ford announced it would be teaming up with Pivotal in an attempt to give the automaker innovative software capabilities; its three-year collaboration deal with Pivotal was aimed to help expand Ford's digital evolution in coordination with its many smart mobility projects.
With FordPass, advance parking for events is simple. Image source: Ford Motor Company.
One of the projects that came from the collaboration was FordPass, an innovative platform for consumers that will offer services such as remote access to vehicles through a smartphone app, as well as mobility solutions to help customers engage in car sharing, and find and pay for parking.
Apparently, Ford liked the results it was seeing, and believed additional investment into the partnership would bring incremental results on its path to becoming more than just an automaker a plan that could one day unlock value for investors by forcing the market value Ford at a higher forward P/E multiple than its current 6.2.
"Expanding our business to be both an auto and mobility company requires leading-edge software expertise to deliver outstanding customer experiences," said Mark Fields, Ford president and CEO, in a press release.
"Investing in Pivotal builds on our current strengths in software development," said Marcy Klevorn, Ford vice president and CIO, who will join the board of directors at Pivotal, in a press release. "We plan to quickly add new state-of-the-art software engineering capabilities across the Ford enterprise."
Just the beginning Strategic moves like these will become much more frequent in the automotive industry. It's been nothing short of amazing how quickly technology has consumed not only vehicles' interior infotainment systems, but their core functionality consider that the all-new F-150 has more than 150 million lines of software code, compared to a typical smartphone's 12 million lines.
Software is even at the heart of Ford's highly successful EcoBoost engine technology, which will play an increasingly important role for the company as emissions standards continue to increase. In fact, Ford has 275 patents on its EcoBoost technology with another 200 pending -- a majority of them covering aspects of software controls and calibration, according to Ford.
Ford's investment in Pivotal was anything but an attempt to make a splashy tech investment for PR reasons; this was always a part of Ford's goal to help change how the world moves, and to extend itself into new arenas -- all of which is great news for investors, as well as the automotive industry as a whole.
The article Ford Motor Co.'s Investment in Pivotal Was Anything but a Knee-Jerk Reaction to Its Rivals originally appeared on Fool.com.
Suzanne Frey, an executive at Alphabet, is a member of The Motley Fool's board of directors. Daniel Miller owns shares of Ford and General Motors. The Motley Fool owns shares of and recommends Alphabet (A shares) and Ford. The Motley Fool recommends General Motors. Try any of our Foolish newsletter services free for 30 days. We Fools may not all hold the same opinions, but we all believe that considering a diverse range of insights makes us better investors. The Motley Fool has a disclosure policy.
Copyright 1995 - 2016 The Motley Fool, LLC. All rights reserved. The Motley Fool has a disclosure policy.