Ford Motor Co.'s First Quarter: Did Wall Street Get It Right?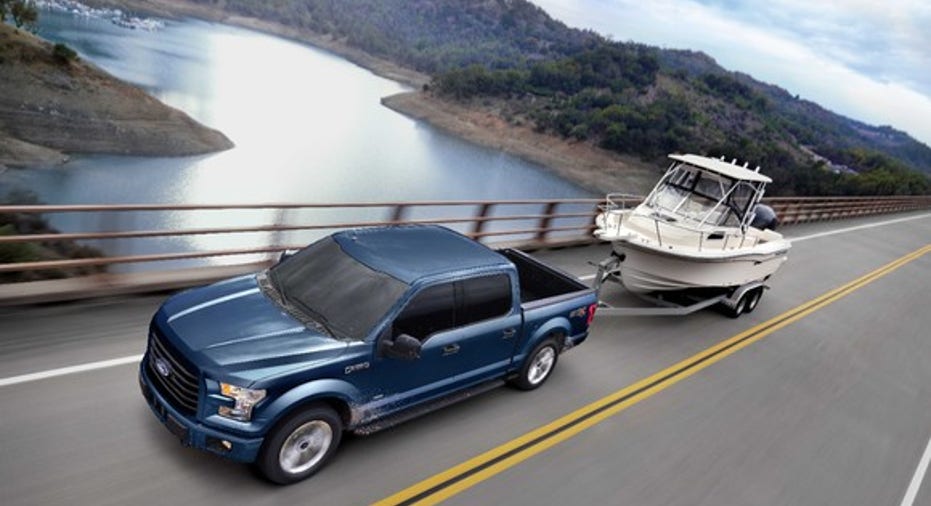 Another Ford Motor Co. (NYSE: F) earnings conference call, and another day of confused and volatile trading!
The market has generally had a tough time digesting Ford's results recently in light of peak auto sales, one-time charges, and other one-off events. Thursday's first-quarter report was no different: In pre-market trading, the stock rose about 2.5% after its initial results topped estimates, then promptly gave back those gains and then some. Here's what's going on with Ford, and some important factors for investors to remember.
One reason for confusion
While investors and analysts were skimming Ford's results, the company's adjusted earnings per share hitting $0.39 looked like a solid beat, given that analysts' estimates had called for $0.35 per share. And it especially looked strong compared to the previous guidance from CFO Bob Shanks, which projected Ford's EPS would check in between $0.30 and $0.35 for the quarter.
However, after the market opened and Ford's management team went through the conference call, it was noted that the result was influenced by timing of certain costs as well as by wholesale volume; this means that those better-than-expected Q1 earnings won't result in a material difference for the full year. That turned Ford's "strong beat" into a "what we expected" type of quarter, which is still good, but partially explains the fluctuation in Ford's share price between the earnings release and conference call.
Ford's F-150. Image source: Ford Motor Company.
Why the massive decline?
Also helping to confuse some investors were headlines calling out massive declines without necessary context. Yes, it's true that Ford's pre-tax automotive segment earnings were down 43% compared to last year, but there are some factors to consider. First, last year was Ford's best-ever first-quarter results, when pre-tax hit a staggering $3.46 billion. Second, we have to recognize some cost implications.
Image source: Ford's Q1 earnings presentation, April, 27, 2017.
Looking at that pre-tax walk, it's pretty easy to pick out the culprits that offset the positives. On the positive side of things, Ford's product mix, which is increasingly heavy on SUVs and trucks, provided much stronger profitability. And while those larger vehicles also drove average top-line prices higher, that was mostly a wash after factoring in the increases in incentive and discounts. The largest negative factor outside of incentives was warranty, due to costs from the two recalls during Q1. Higher costs related to steel and other materials also weighed on the bottom line. What investors need to know, however, is that this will be the worst quarter of 2017 for these cost issues.
The big picture
"This quarter was an investment in Ford's future. From announcing exciting vehicles like the all-new Expedition and Lincoln Navigator, to initiatives such as our investment in Argo AI, we are fortifying our core business, while also investing in emerging opportunities that will deliver profitable growth," said Ford President and CEOMark Fields in a press release.
In a way, you can't blame investors for being apprehensive about major automakers at the moment. This is a capital-intensive industry, and while we cheer and enjoy stories when Ford touts intriguing and optimistic plans such as its $4.3 billion investment in electric vehicles, investors hate seeing the real cost impacts each quarter.
In my opinion, automakers will shock many with their discipline and more-sustainable profitability during the next downturn. Unfortunately, until that happens, and until these major investments start to bear fruit, investors in general appear too apprehensive to buy into Ford's future. The company remains a long-term story: Invest accordingly.
10 stocks we like better than FordWhen investing geniuses David and Tom Gardner have a stock tip, it can pay to listen. After all, the newsletter they have run for over a decade, Motley Fool Stock Advisor, has tripled the market.*
David and Tom just revealed what they believe are the 10 best stocks for investors to buy right now... and Ford wasn't one of them! That's right -- they think these 10 stocks are even better buys.
Click here to learn about these picks!
*Stock Advisor returns as of April 3, 2017
Daniel Miller owns shares of Ford. The Motley Fool owns shares of and recommends Ford. The Motley Fool has a disclosure policy.