Ford Launches Early, Aggressive Holiday Promotion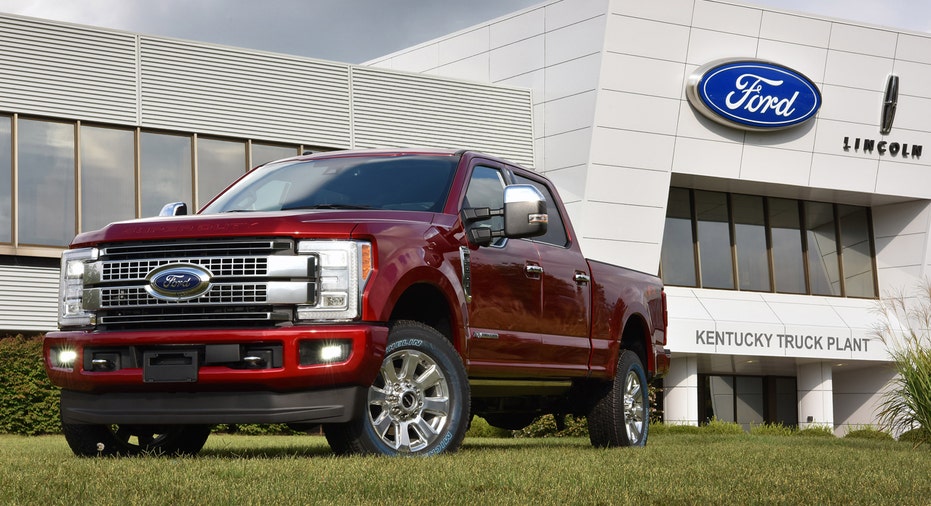 Ford Motor Co., looking to bounce back from a 12% sales decline in October, has launched a Black Friday clearance sale several weeks before those sales typically take place.
The Dearborn, Mich., auto maker is offering $1,000 "Black Friday Cash" rebates on 2016 and 2017 model-year vehicles, in addition to other offers. While retailers selling everything from sneakers to televisions have been trying to lure Christmas shoppers to stores earlier, Ford's promotion is relatively aggressive.
For years, auto makers didn't aggressively participate in Black Friday merchandising, instead relying on year-end clearances. In addition to tagging its sale as a Black Friday promotion, Ford is also calling the sale a "year-end event."
A spate of Black Friday deals staged by several auto makers in 2015 pushed November light-vehicle sales toward a 2015 record, perking up demand in a month that is typically a sluggish one for dealerships.
Ford is ramping up deal making following its report last week of lower third-quarter earnings and pressure on margins in the core North American operation. After years of out-earning crosstown rival General Motors Co. on an operating-profit basis, the Dearborn, Mich., auto maker will likely fall behind GM in 2016.
October sales declines weren't confined to Ford. Autodata Corp. reported Wednesday that light-vehicle sales fell 5.8% compared with October 2015, with declines mostly because of a disparity in selling days. Ford and Fiat Chrysler Automobiles NV were among the bigger decliners in the month as weakness among several of their product lines offset healthy full-size pickup truck sales.
Ford sold 187,692 light vehicles in October, compared with 213,105 in the month a year ago. Ford delayed its report until Wednesday because of a fire at its headquarters that prevented dealers from reporting final-day sales.
Over all, the industry was healthy in October, with Autodata estimating an 18-million seasonally-adjusted annual rate of sales, slightly lower than the prior October's 18.2 million. Although October represented the highest SAAR for any month in 2016, it wasn't enough to keep year-to-date falling slightly below the record pace set in 2015.
As growth stalls, several auto makers, including Ford, are spending more on discounts and rebates. J.D. Power said companies spent an average of $3,723 per car sold on incentives in October, up $400 compared with October 2015 and representing the third-highest level in history.
That represents about a 10% discount off the sticker price, the firm estimates.
Ford is the No.2 seller behind GM, but its namesake Blue Oval brand typically outsells GM's high-volume Chevrolet brand. In October, however, Chevy sales outnumbered those at Ford.
While Ford's overall light-truck sales declined, its popular F-series pickup truck was a bright spot for the auto maker. Sales increased modestly in the month to a total of 65,542 trucks, the vehicle's best October in more than a decade.
Ford spent heavily to lure buyers in October, dishing out $4,060 per-unit sold on average in October 2016 compared with $3,392 in October 2015, according to Autodata,, representing an increase of $668.
GM and Fiat Chrysler Automobiles both offered higher incentives in October, but Ford's increase compared year over year is the largest among domestic auto makers.
Jeff King, vice president and general manager of Bozard Ford Lincoln in St. Augustine, Fla., said while Hurricane Matthew dampened sales slightly, the Ford Super Duty and sport-utility vehicles did well in October. He said volume this year "has slowed just a little bit but is still growing rapidly."
Mr. King's volume is up nearly 10% at the dealership in 2016, compared with a growth rate between 25%-50% for at least the past six years.
Michael Cimino, vice president of Phil Long Dealerships in Colorado, said he is looking forward to a strong finish to 2016 with more inventory and deep incentives.
GM will present a challenge. Chevrolet is largely extending a 20%-off sale on some 2016 models, under the marketing tag line, "You don't have to wait until Black Friday." It is offering several thousand dollars in cash back across many 2016 and '17 models -- a $44,500 Silverado pickup can be had for $33,400, according to a memo sent to dealers.
Mike Colias and Anne Steele contributed to this article.