Ford Invests $182 Million in Silicon Valley's Pivotal: What it Means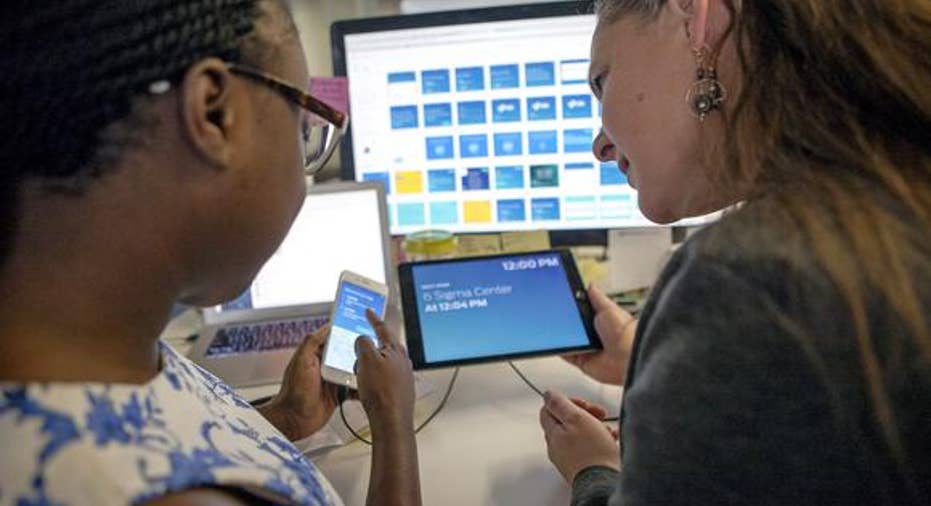 Ford and Pivotalemployees worked together on a new software app at Pivotal's San Francisco headquarters last month. Ford said on Thursday that it had invested $182.2 million inthe cloud-based software services firm. Image source: Ford Motor Company
Detroit's connection with Silicon Valley just got a bit stronger: Ford Motor Company said on Thursday that it has invested $182.2 million in Pivotal.
Pivotal, based in San Francisco, helps established businesses improve their software-development efforts with a cloud-based platform. It began working with Ford last year.
What Ford said: "Ford recently teamed up with Pivotal to deliver FordPass, an innovative consumer experience platform that launched last month," the company said in a statement. "FordPass will offer new customer services, like remote access to vehicles through a smartphone app, and mobility solutions, such as parking and car sharing. Innovating and iterating quickly, Pivotal and Ford IT engineers are working side-by-side to create new consumer experiences for FordPass members.
"Building on this existing relationship, Ford plans to accelerate the incorporation of Pivotal's advanced software development methodologies and technology across the IT, product development, and research and advanced engineering teams. Ford will put Pivotal's next-generation cloud platform and analytics capabilities to use on the company's new mobility projects such as its on-demand Dynamic Shuttle pilot program."
What it means for Ford It's tempting to write this off as a "me too" move after General Motors announced earlier this year that it would acquire San Francisco self-driving start-up Cruise Automation. But this deal between Ford and Pivotal isn't about getting control of a specific technology, as with GM's deal with Cruise.
Instead, Ford is apparently looking to deepen its connection with Pivotal. CEO Mark Fields is determined to transform Ford into a tech-savvy "mobility" company, and he may see Pivotal as a company that can greatly assist that process.
Pivotal specializes in helping big old-school companies develop nimble, up-to-date software-development capabilities. "Today we are at a major inflection point in global business, and Pivotal is at the fulcrum of that change," said Pivotal CEO Rob Mee in a joint statement about the deal with Ford. "We are collaborating with iconic companies like Ford to help transform their businesses with our unique software development methodology and modern cloud platform and analytics tools. We are thrilled to create a deeper partnership with Ford through this investment as we drive its evolution to becoming both an auto and mobility company reinventing yet again how the world moves."
Ford isn't a software slouch. It noted in its statement on Thursday that its in-house software teams already support the programming in EcoBoost engines, the new SYNC 3 infotainment system, and Ford's latest driver-assist technologies, among other things. Pivotal's expertise complements that existing capability well, Ford said -- and it appears that Pivotal offers a path for Ford to dramatically upgrade its software-development chops and processes across the company.
Ford may have just jumped to the head of Pivotal's line Ford isn't the only automaker on Pivotal's client list. Its website notes relationships with BMW and Daimler's Mercedes-Benz unit. Both luxury brands are feeling the pinch of competition from Tesla Motors , putting both under pressure to develop more advanced high-tech features for their upcoming new products.
But while Ford's investment might not make it an exclusive partner of Pivotal, it looks like the Blue Oval sees it as a way to deepen a relationship with a company than can help it realize Fields' vision of a nimble, technologically advanced "mobility" company.
The article Ford Invests $182 Million in Silicon Valley's Pivotal: What it Means originally appeared on Fool.com.
John Rosevear owns shares of Ford and General Motors. The Motley Fool owns shares of and recommends Ford and Tesla Motors. The Motley Fool recommends BMW and General Motors. Try any of our Foolish newsletter services free for 30 days. We Fools may not all hold the same opinions, but we all believe that considering a diverse range of insights makes us better investors. The Motley Fool has a disclosure policy.
Copyright 1995 - 2016 The Motley Fool, LLC. All rights reserved. The Motley Fool has a disclosure policy.