Ford, Google, and Uber Join Up to Push Self-Driving Cars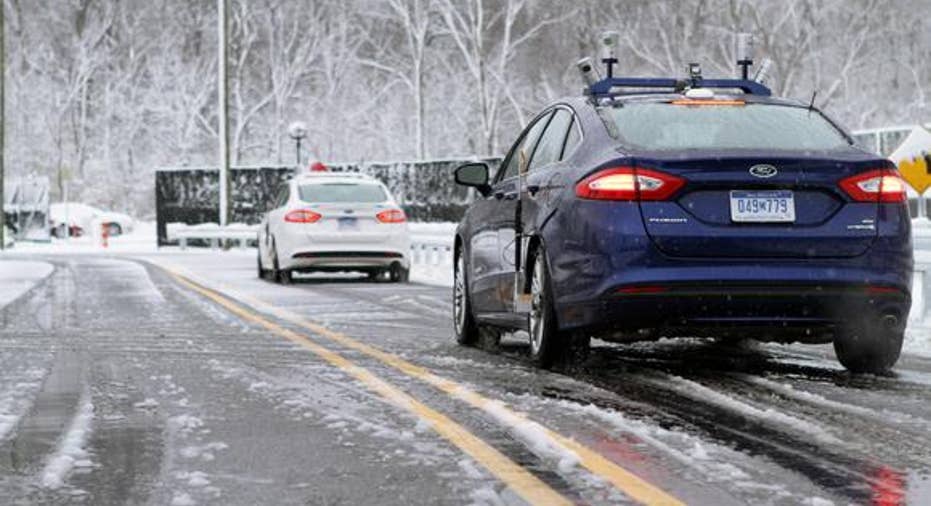 Prototype self-driving Ford Fusions underwent testing in winter weather conditions in Michigan earlier this year. Ford has joined Google and other big-name companies in a new coalition to push for comprehensive rules around self-driving cars. Image source: Ford Motor Company
Ford Motor Company , Alphabet's Google unit, and ride-hailing leaders Uber and Lyft, and Volvo Cars announced on Tuesday that they are forming a coalition to push for U.S. government action to bring self-driving cars to market more quickly.
As is clear from its name, the Self-Driving Coalition for Safer Streets is framing the adoption of self-driving technology as a public safety issue. It said that it will push to "realize the safety and societal benefits of self-driving vehicles."
What the new coalition said: "Founding members Ford, Google, Lyft, Uber, and Volvo Cars established the Coalition to work with lawmakers, regulators, and the public to realize the safety and societal benefits of self-driving vehicles," the group said in a statement. "One of the first tasks of the Coalition will be to work with civic organizations, municipalities and businesses to bring the vision of self-driving vehicles to America's roads and highways. "The U.S. Department of Transportation has projected that self-driving vehicles could help to significantly reduce the severity and frequency of crashes. Last year, there were 33,000 fatalities on America's roads. An estimated 94% of road accidents are caused by human error, and motor vehicle crashes are the leading cause of death among young people, aged 15-29 years.
"Self-driving technology will enhance public safety and mobility for the elderly and disabled, reduce traffic congestion, improve environmental quality, and advance transportation efficiency."
What this new coalition is aboutThe group said that it had retained former National Highway Traffic Safety Administration (NHTSA) chief David Strickland to serve as its counsel and spokesperson. While at NHTSA, Strickland helped create the Administration's first set of policies on self-driving vehicles.
Simply put, these companies have come together to hire Strickland to lobby for a set of rules that will give them the freedom to move forward with self-driving technology. Ford CEO Mark Fields has said more than once that he thinks regulatory and legal concerns could be more of an obstacle to wide adoption of self-driving technology than the technological hurdles that remain. This group is obviously an effort to begin smoothing that potentially bumpy path. "Self-driving vehicle technology will make America's roadways safer and less congested," Strickland said in a statement on Tuesday. "The best path for this innovation is to have one clear set of federal standards, and the Coalition will work with policymakers to find the right solutions that will facilitate the deployment of self-driving vehicles."
From an investors' point of view, it's interesting to note who's in the coalition: Ford, which has recently moved to make its self-driving efforts much more visible, Volvo, which has long sought to be a leader in auto safety, rivals Uber and Lyft, both of which have an obvious interest in self-driving technology, and of course Google, which has been a pioneer of self-driving research.
What's ahead for this coalitionIt's unclear. The group's statement on Tuesday said that "more information will be available soon." We'll be watching.
The article Ford, Google, and Uber Join Up to Push Self-Driving Cars originally appeared on Fool.com.
Suzanne Frey, an executive at Alphabet, is a member of The Motley Fool's board of directors. John Rosevear owns shares of Ford. The Motley Fool owns shares of and recommends Alphabet (A shares), Alphabet (C shares), and Ford. Try any of our Foolish newsletter services free for 30 days. We Fools may not all hold the same opinions, but we all believe that considering a diverse range of insights makes us better investors. The Motley Fool has a disclosure policy.
Copyright 1995 - 2016 The Motley Fool, LLC. All rights reserved. The Motley Fool has a disclosure policy.