Ford Drops and Smith & Wesson Jumps as Stocks Tick Higher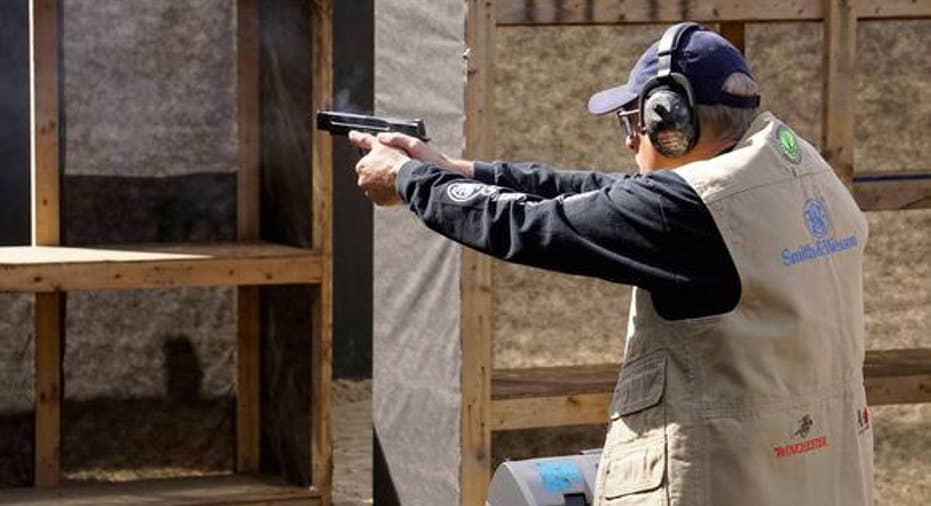 Stocks were largely unchanged today. A day after a 276-point decline to start the new year, the Dow Jones Industrial Average rose by just 10 points, or 0.1%, in today's trading. The S&P 500 tacked on 4 points, or 0.2%.
Individual stocks making unusually large moves included auto manufacturer Ford and firearm producer Smith & Wesson . Both companies revealed fresh data showing spiking demand for their products.
Ford's record December But Ford was among the worst performers in the S&P 500 today, slipping 2%. The automaker announced December sales results that showed 8% more vehicle deliveries than in the prior year and 5% for the full 2015 year. While that surging demand was enough to power Ford's best December since 2005, the growth trailed consensus estimates that were predicting 11% gains for the month.
Image source: Ford.
Still, investors saw plenty of good news in today's report. The F-Series finished as the best-selling vehicle in America for the 34th straight year, with nearly 800,000 delivered in 2015. Meanwhile, the Edge, Escape, and Explorer brands helped profitable SUV sales spike higher by 13% and log their best December showing since 2003.
And the Fusion posted a record month, with sales up 15%. Overall car sales fell for both the month and the year, though, as lower gas prices and popular truck and SUV designs drove buyers away from smaller vehicles.
Still, Ford's overall performance was solid, even if it was just below expectations. "December capped off six straight months of year-over-year sales gains for F-Series, with strong increases coming from both retail sales and the strength of commercial fleet orders, as we closed out 2015," executive Mark LaNeve said in a press release.
Smith & Wesson's spiking demand Firearm manufacturer Smith & Wesson saw its stock spike 11% higher today on heavy trading volume after management raised their sales and profit guidance for the current quarter and for the fiscal year that ends in April. Stronger-than-expected sales have depleted dealer inventories, the company said, and a spike in activity in the National Instant Criminal Background Check System (NICS) suggests that firearm sales rose significantly during the month of December.
Image source: Smith & Wesson.
As a result, Smith & Wesson expects to generate as much as $180 million of revenue in its fiscal third quarter that ends on Jan. 30. It also sees as much as $660 million for the fiscal year that ends on April 30. By comparison, CEO James Debney and his executive team had projected $155 million of Q3 revenue and $635 million of fiscal 2016 revenue less than a month ago as part of their fiscal second quarter earnings announcement. The updated $0.41 per share of expected Q3 profit is also significantly higher than the $0.29 per share that management had forecast just a few weeks ago.
In addition, Smith & Wesson shares likely benefited from a general lift among firearm manufactures on a day when the Obama administration announced executive actions aimed at expanding background checks and strengthening gun-control enforcement mechanisms. The president said in a speech today that, "This is not a plot to take away everybody's guns." Yet any movement to increase gun control tends to boost firearm sales, at least in the short term.
The article Ford Drops and Smith & Wesson Jumps as Stocks Tick Higher originally appeared on Fool.com.
Demitrios Kalogeropoulos has no position in any stocks mentioned. The Motley Fool recommends Ford. Try any of our Foolish newsletter services free for 30 days. We Fools may not all hold the same opinions, but we all believe that considering a diverse range of insights makes us better investors. The Motley Fool has a disclosure policy.
Copyright 1995 - 2016 The Motley Fool, LLC. All rights reserved. The Motley Fool has a disclosure policy.