Ford Continues to Find Sales Growth in China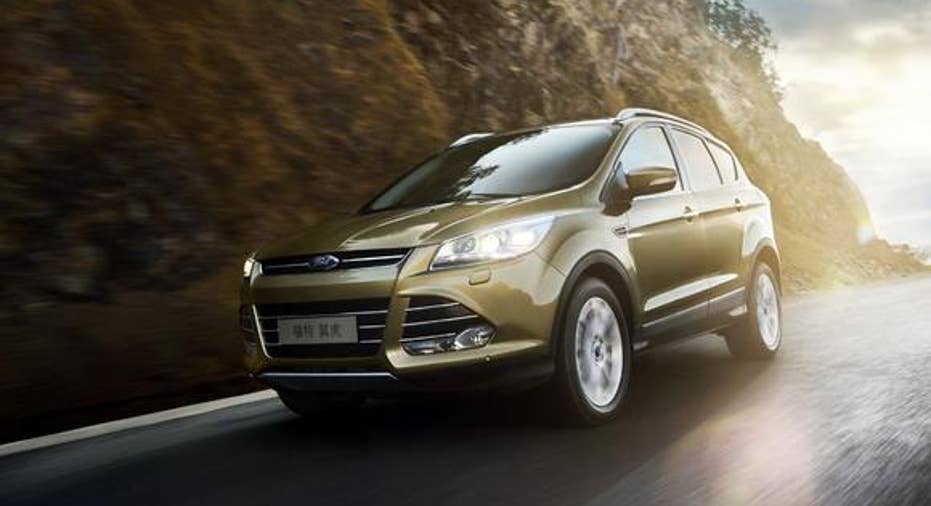 It's an Escape by another name: Ford's Kuga crossover SUV has sold very well in China this year. Image source: Ford Motor Company
Ford said on Monday that its sales in China rose 9% in November, as a big drop in commercial-vehicle sales took a bite out of a strong retail performance.
The detailsFord has two joint ventures with local Chinese automakers that produce most of the vehicles it sells in China. The first, Changan Ford Automobile, produces Ford-brand passenger vehicles, most of which would be familiar to Americans. Changan Ford's sales were up 22% last month.
Several key competitors also posted double-digit percentage gains, but that's still a strong performance. It was driven by good results for the Ford Mondeo sedan (the vehicle Americans know as the Fusion), the Kuga SUV (same as the U.S. Escape), and the Ford Edge, all of which have sold over 100,000 units in 2015 through November.
Ford sells the familiar five-passenger Edge in China, along with this handsome extended-wheelbase seven-passenger version. Image source: Ford
Ford's other joint venture, called Jiangling Motors Corporation, didn't do so well, as its sales fell 20% from the year-ago month. Jiangling builds and sells trucks and commercial vehicles under its own brand, as well as Transit and other commercial vans under the Ford brand.
How key rivals faredGeneral Motors , which has a massive presence in China, posted a 14% sales gain in November on strong demand for its SUVs and crossovers. It saw especially big gains for its premium Buick (up 45%) and Cadillac (up 57%) brands, as well as its value-priced Baojun brand. The Buick Envision and Baojun 560 crossover SUVs have both been big hits for GM in China this year. But its mainstream Chevrolet and inexpensive Wuling brands posted year-over-year declines.
Honda posted a big 33% gain. Like both GM and Ford, it's making hay with crossover SUVs. The Honda Vezel, a twin to the U.S.-market HR-V, and the closely related X-RV have both been big sellers in China.
Toyota also managed a good gain, with sales rising 14% from a year ago. But Toyota's story was a little different. In an effort to spur sales and boost its economy, China recently cut the purchase tax for vehicles with engines smaller than 1.6 liters in half, to 5%. Toyota's compact Corolla has been a big beneficiary: Sales were up 26% last month.
What it means for FordThe Blue Oval's passenger-vehicle lineup is continuing to keep pace with key rivals. Like Ford's U.S. dealers, Ford's fast-growing network of Chinese dealers have strong, competitive entries in the key crossover and midsize sedan segments.
For now at least, this all-new Ford Taurus will be sold only in China. It was launched last month. Image source: Ford Motor Company
A few years ago, Ford promised to bring 15 new vehicles to China by the end of 2015. It has kept that promise: The 15th new model, an all-new full-sized Taurus sedan, began arriving at dealers in November. The Taurus, a new model that is mechanically related to the upcoming Lincoln Continental, is exclusive to China for now.
The article Ford Continues to Find Sales Growth in China originally appeared on Fool.com.
John Rosevear owns shares of Ford and General Motors. The Motley Fool recommends Ford and General Motors. Try any of our Foolish newsletter services free for 30 days. We Fools may not all hold the same opinions, but we all believe that considering a diverse range of insights makes us better investors. The Motley Fool has a disclosure policy.
Copyright 1995 - 2015 The Motley Fool, LLC. All rights reserved. The Motley Fool has a disclosure policy.