For sale: Private island in the San Francisco Bay; $5 million includes mineral rights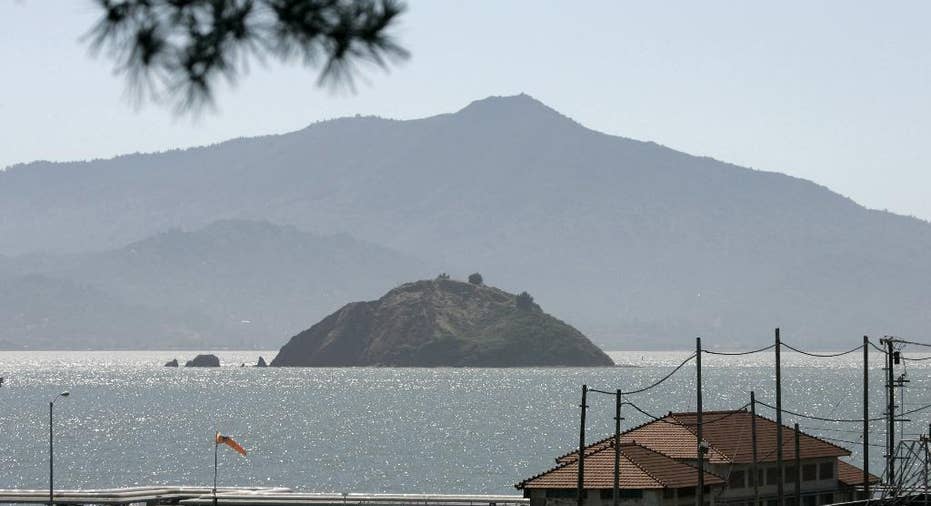 In a city with some of the highest home prices in the country, a private island in the San Francisco Bay is now for sale for $5 million.
Red Rock, a 6-acre mass of rock, sand, vegetation and minerals, was for sale for $22 million in 2012. The price was slashed to $9 million after there were no takers then dropped again.
Red Rock can now be picked up for the price of many homes in San Francisco, and it comes with a secluded beach, stunning views of the San Francisco skyline, and promises of great fishing.
There are no homes or other structures on the island. It is accessible only by boat or helicopter.
Realtor Steven Higbee is offering the property, which comes with mineral rights, including manganese in its rocky outcroppings.
"It's a fair enough price," he said Thursday. "The most somebody could do with it is build a home on it, whether it's a weekend place or a permanent place."
Higbee said a buyer would likely be after the valuable mineral rights. "But the biggest reason would be for the bragging rights," he said.
The island has an interesting history. In the first quarter of the 19th century, Russian hunters landed there to trap otters.
The only person to call Red Rock Island home for any period was Selim Woodworth, who built a cabin on the island and lived there from 1851 to 1856.
The island is currently in the hands of the sons of the last owner, Mack Durning. The late retired businessman took possession of the property from David Glickman in the 1970s.
Glickman had bought the property in the early 1960s with the hope of cashing in on demand at the time for rock and gravel as parts of San Francisco Bay were filled in for development.
Glickman eventually turned over the island to Durning to settle some debts.
Located about six miles north of San Francisco, just off the south side of the Richmond-San Rafael Bridge, it is the only privately owned island in the bay.
The median price of a home in San Francisco is hovering around $1 million.
___
Information from: San Francisco Chronicle, http://www.sfgate.com