For Prada, black nylon is a safe haven in a storm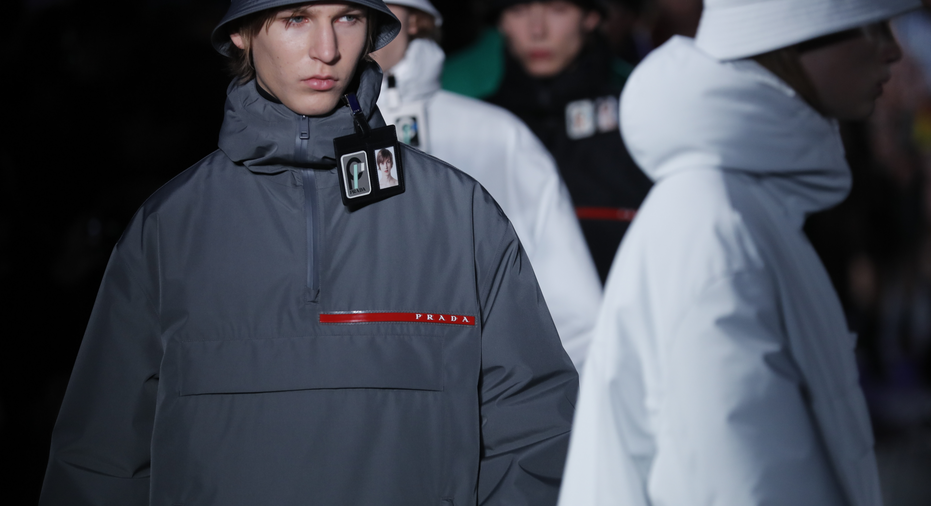 With social and political crises unsettling the globe, Milan Fashion Week was all about slogans this season. "Time For Change" has been a particularly dominant catchphrase, one the fashion world can expect to see branded across sweatshirts, waistbands and accessories next fall and winter.
The ubiquity of the expression does not necessarily denote consensus around the message it's designed to convey. For some, it means back to roots. Others intend it as a call for respect.
But the overall implication seems to be a rejection of the status quo, which really isn't surprising in fashion.
Naturally, Miuccia Prada is the outlier. Prada eschewed words because they have become empty. Where they appeared on prints in her new looks, words were meaningless.
The second day of Milan Fashion Week of mostly menswear previews for Fall-Winter 2018-19 opened with youthful designers focused on urban street wear that tries to capture the zeitgeist of Millennial consumers.
Here are some highlights from Sunday's shows, including Prada, Dirk Bikkembergs, MSGM and DSquared2:
___
PRADA'S STRANGE PACKAGES
In challenging times, it is not unusual to seek the familiar. For Miuccia Prada, there is comfort in black nylon.
The designer generously employs her favored material in her pieces for the next cold weather season, padding them and applying them in protective layers.
The boxy shapes for men and women appear to conceal the wearer in a unisex vein, but it is all for naught: Identity badges suggested a form of surveillance in the runway scenario. That sense of excessive control transforms into a political statement once the garments are on the rack and available to consumers.
"I think we are in a moment when these aspects of control are very relevant," the designer said after the show.
Despite the collection's utilitarian nature creating a sort of uniform of anoraks, jackets, caps, straight trousers and skirts, Prada said she also wanted to convey elegance.
Beyond the dystopian looks, she included tourist-grade short-sleeved knits, or wild print short-shirt combos for men, and slit-skirt suits in bright tones paired with open-toe heels and long leather gloves for women.
Prada enlisted architects to design new accessories, including a padded front pack that could stand in as a form of body amour, and a utility tool apron. Artists came up with the prints, including burning bananas and meaningless strings of words.
"Now they no longer represent concepts, but they are pure decoration," she said.
The runway show was in a newly repurposed industrial building near the Prada Foundation contemporary art space. Unusually shaped and labeled crates were stacked along the walls. Prada promised they concealed strange things "that are preparing for some strange transformation."
The narrow aisles created a sense of disorientation as the fashionistas struggled to find their seats. That seemed an apt metaphor for the state of the world.
"We don't know where we are going, which is of course scary, of course interesting. Because I feel big changes are happening," the designer said. "Some people say beauty will save the world. I think the world will be saved by intelligence, humanity and generosity. And possibly love. But of course the aesthetic can help, a little help, if you can afford it."
___
MSGM GOES TO BACK TO BASICS
Milan university students served as both models and inspiration for the new MSGM collection. Taking their cue, brand founder Massimo Giorgetti found himself making an unexpected turn toward the dapper with hints of classic Milanese styling.
"I studied the attitude of these guys, and it is less street wear than usual without losing modernity," Giorgetti said. "Some are very, very elegant. The concept of elegant Milan, Italy, needs to be restudied also by a brand like mine. There's an evolution going on."
The silhouette veered toward the everyday, neither too slim nor oversized. Looks included snazzy suits with zip-up jackets in pink or red worn with ties, as well as plaid trousers paired with cardigans and jumpsuits. Giorgetti collaborated with Eastpak on a series of graphic printed backpacks and travel bags.
The designer emblazoned the collection with phrases of graffiti he collected from the desks, tables and restrooms of Milan's universities. They included "Tempo per cambiare," Italian for "Time for Change," along with the Italian phonetic rendering of "I love you" as "hailoveiu."
Here, "Time for Change" clearly meant honoring roots and not looking abroad for validation.
"They are very serious, very clever and very positive," the designer said of the Milan students he worked with. "And they love their country."
___
DUTCH MUSINGS AT DIRK BIKKEMBERGS
Dutch style, painting and design were all reflected in Lee Wood's latest collection for Belgian label Dirk Bikkembergs.
And in keeping with the down-to-earth Dutch nature, the collection was full of necessary items. A rain-resistant technical down coat was worn with tailored pants for an urban look merging sportswear with sartorial tradition.
"A man needs to be authentic," Woods said backstage. "We have a thousand things to do and life goes on. They are not heavy garments. They are basics, things we need."
The dark palette of navy blue, black and gray was inspired by paintings in Amsterdam's Rijksmuseum and included contrasts of deep cerulean blue, vermillion red and saffron yellow. The mixing of materials, such as in a nylon parka with a wool back panel and knit waistband, drew from a Rotterdam architectural institute. Straps on pockets echoed the ones on leather footwear.
Wood said he was drawn to the Netherlands by coincidence. The models he was selecting came from there and the music a DJ played at casting sessions was Dutch.
"I said I think I have to go, and visit this world," he said.
___
WESTERN DOINGS AT DSQUARED2
Model Bella Hadid bookended the runway show for DSquared2, the label of Canadian twins Dean and Dan Caten, opening as a cowgirl in plaid over denim and closing as a chic hippie in a tiered handkerchief gown worn with a big fur coat.
DSquared2 adhered to the recent Milan trend of combining the men's and women's shows, scheduling theirs during the less hectic January round focusing on menswear.
Red plaid emerged as the prevailing print in the Western-themed collection. The mood ranged from a little bit country to a little bit rockabilly to a little bit hippie chic. Oversized knitwear served as tableaus for western scenes.
Any classic cowboy would feel at ease in the suede coat with sheepskin linings, while leather vests layered over flowing white peasant shirts for men or dresses for women gave an edge to the usual boho styling.
The accessories of the season: big Double-D belt buckles and sequin neck scarves for men, or shiny sequin cuffs for him or her.
____
MEDITATIVE DESIGNS AT SARTORIAL MONK
Sabato Russo isn't your usual designer making his Milan runway debut, supported by the Italian Fashion Chamber. He has decades of experience behind him, first as a model, and then working in the fashion industry in Japan and New York.
"I was tired of making money and making clothes," Russo said backstage. After taking time off to reflect, he returned to the business with his own brand, Sartorial Monk. In keeping with the name, his Milan debut collection can aptly be described as meditative.
The looks appear simple to the eye, but are full of detail like Middle Eastern draping, that belie a complexity. The pieces seemed to envelop the models.
The show opened in silence, with a model, the actress Violeta Sanchez, walking deliberately in high heels clicking on the runway, wearing a long camel coat over a printed silk velvet dress. The models that followed walked barefoot, giving a Zen sense to the simple flowing pieces: a slate double-breasted jacket over wide, pleated cotton trousers for him, or cropped tailored jackets worn with long clinging skirts for her. While the first half of the collection was more sartorial, the second part was more relaxed and loungey, with long, cozy knitwear and soft velvets.
"It is simple, but it is never simple," Russo said. "I think somebody who has personality can wear this. I don't try to embellish."
___
AMERICAN GOTHIC AT PALM ANGELS
The fashion crowd is this trusting. They filed up a narrow staircase in an apparently abandoned building, then down several levels, past the sort of laser lighting that jewel thieves navigate to their booty, and into a dark barren basement.
It was there that Francesco Ragazzi unveiled his latest looks for Palm Angels. And the fashionistas nary batted an eye at the first look: a red plaid shirt with jeans and parka made alarming by the black facemask with nails sticking out. The accessory was calmly described as "studded baclavas" in the notes, but if it is any comfort, they are more likely a runway gimmick than a commercial proposition.
Tartan and spikes clashed with Western themes and prints of the Grant Wood painting "American Gothic," as punk clashed with Middle American values.
"Palm Angels takes iconic American tropes and puts them out of context, fertilizes them with unexpected insertions, lets them grow and calls the result Neo Classic America," the brand said in notes.