For Interactive Intelligence, the Future Gets Cloudier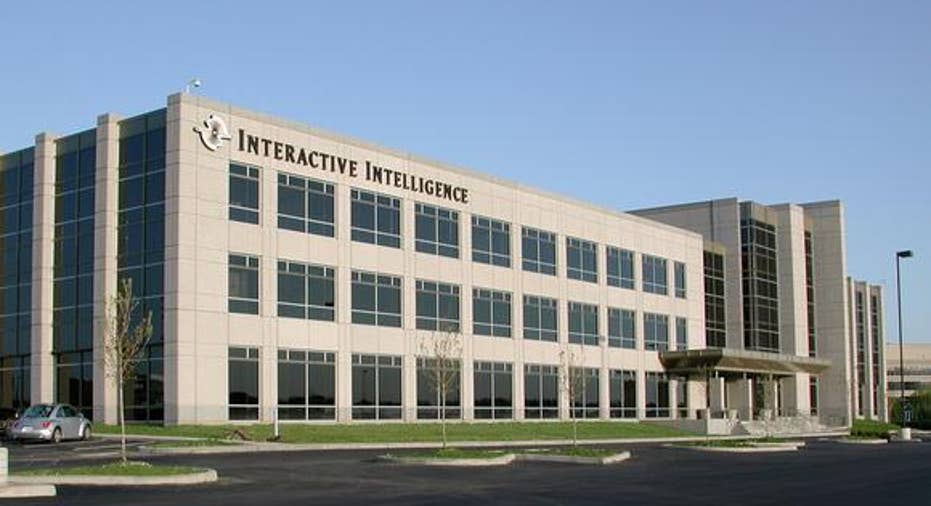 Image: Interactive Intelligence.
Helping companies communicate, collaborate, and engage better is part of what cloud-computing specialist Interactive Intelligence aims to do for its customers. Yet even though the cloud has been one of the fastest growing areas of technology in recent years, the preponderance of companies competing against each other to deliver cloud services has made it increasingly hard to sustain the stellar growth rates that investors have gotten used to seeing. Coming into Monday's first-quarter earnings report, Interactive Intelligence investors were nervous that revenue growth would slow and net losses would increase, and the results were even somewhat worse than people were prepared for. Let's take a closer look at how Interactive Intelligence did and what its latest results say about its future.
A step backward for Interactive IntelligenceInteractive Intelligence's first-quarter results didn't live up to expectations. Revenue growth slowed to just 11%, weighing in at $99.3 million and failing to meet the consensus forecast for 14% growth on the top line. On an adjusted basis, Interactive Intelligence's losses for the quarter widened to $4 million, and the resulting $0.18 per share was $0.07 worse than most of those following the stock were expecting.
A closer look at the numbers reveals some of the same trends that Interactive Intelligence investors have seen in the past, albeit with some signs of slowing growth. Recurring revenue from cloud subscriptions and support fees from on-premises licenses were up 19% and composed almost two-thirds of the company's total revenues. Cloud subscription sales climbed more than 40%, but license and hardware sales were flat to slightly lower than they were during the first quarter of 2015.
Once again, Interactive Intelligence diverted a lot of its financial resources toward research and development. R&D spending soared by almost two-thirds, and the company did a good job of holding its overhead expenses under control. General and administrative costs actually fell during the quarter, and sales and marketing costs rose at a rate consistent with overall revenue.
CEO Dr. Donald Brown highlighted the explosive growth in its key PureCloud product. "We went from 24 PureCloud customers at the end of last year to 142 by the close of the first quarter," Brown said, "and we're still in the very early stages of selling it worldwide." The CEO also pointed to the platform's set of features and flexible monthly licensing model.
Can Interactive Intelligence get things speeding up again?Interactive Intelligence has high hopes for the future. "Overall," Brown said, "we participated in more deals than ever in our history and added a record 163 new customers across all three of our product lines." The company expects to continue using PureCloud to focus on the fastest-growing part of the cloud-computing market, but other offerings will also keep Interactive Intelligence moving higher as well.
In order to help bring in new business, Interactive Intelligence announced late last month that it will launch a two-day tour starting May 3 in Los Angeles and then moving to Dallas on May 10. The purpose of what Interactive Intelligence is calling its TRANSFORUM Tour is to show business leaders about the virtues of the company's PureCloud Engage cloud-2.0 solution. The product is designed for rapid deployment while providing flexible functionality and constant uptime. As modern cloud architectures become more commonplace, Interactive Intelligence hopes it can coax late-adopters into moving forward with its solutions to help potential clients take full advantage of the opportunities in technology.
Interactive Intelligence shares could come under pressure because of sluggish growth, but it's far more important to see how the company responds to reaccelerate its growth. If it can successfully tap into new business opportunities, then any pullback in the stock could present a good opportunity for long-term investors. Yet Interactive Intelligence might have to demonstrate that ability to grow before investors are willing to believe it entirely.
The article For Interactive Intelligence, the Future Gets Cloudier originally appeared on Fool.com.
Dan Caplinger has no position in any stocks mentioned. The Motley Fool recommends Interactive Intelligence. Try any of our Foolish newsletter services free for 30 days. We Fools may not all hold the same opinions, but we all believe that considering a diverse range of insights makes us better investors. The Motley Fool has a disclosure policy.
Copyright 1995 - 2016 The Motley Fool, LLC. All rights reserved. The Motley Fool has a disclosure policy.