For Fiat Chrysler Automobiles, It's 2004 Once Again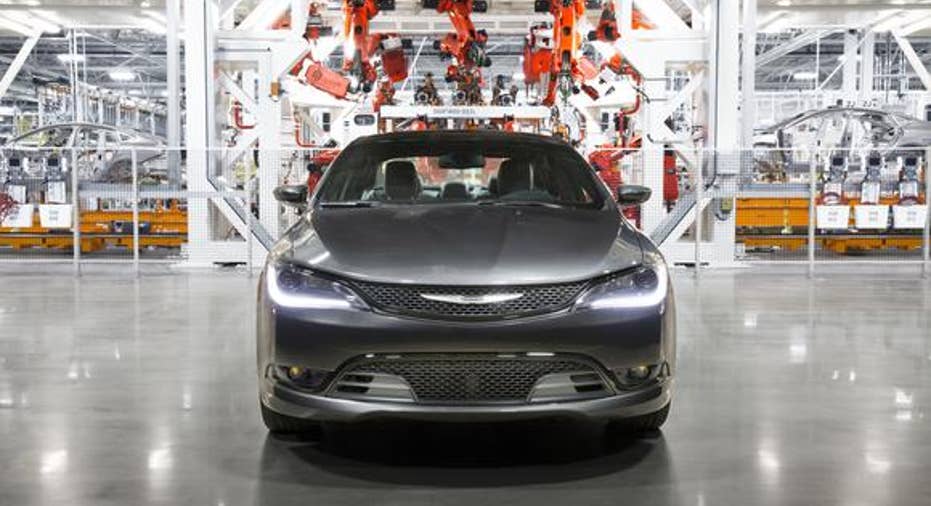 FCA spent a fortune revamping its Sterling Heights Assembly Plant to make the Chrysler 200. But sales of the 200 have slumped, and now FCA plans to discontinue the midsize sedan and spend another fortune to convert the plant to truck production. Image source: Fiat Chrysler Automobiles
Last month, Fiat Chrysler Automobiles said that it will lay off a shift of about 1,300 workers at its Sterling Heights Assembly Plant near Detroit. The job cuts will be effective as of July 5.
Given how strong the U.S. new-car market has been, news of layoffs at an auto plant comes as something of a surprise. Not in this case, though: Sterling Heights builds the Chrysler 200 sedan, and the 200's sales have fallen sharply since last summer.
But there's more to this than a slumping market for sedans: FCA is slowly winding down production of the 200 because it plans to use the Sterling Heights factory to build more profitable trucks instead. A similar story is playing out with the 200's smaller sibling, the Dodge Dart, and its plant in Belvidere, Illinois, which will be making Jeeps instead of sedans before long.
Skimping on cars to go all-in on truck and SUV sales is what the Detroit automakers were doing back in 2004, and it burned them badly when the market turned back toward fuel-efficient cars a few years later. Has FCA not learned from history? Or is this a Hail Mary attempt to boost the struggling automaker's profits?
Not long ago, the Chrysler 200 was a promising productFCA put a lot of effort into the Chrysler 200, and it was hailed as a promising product when it was first introduced. It's a midsize sedan priced to rival entries like Ford's Fusion and Honda's Accord, but with a plusher feel. Reviewers gave it mixed marks for its old-school cushy ride, but it was praised for its long list of luxury-car-like features and an attractive, quiet interior.
Overall, it looked like a success. Sales of the new 200 quickly eclipsed those of its predecessor and were growing sharply. But then, last summer, FCA stopped promoting the sedan. Since then, sales of the 200 have fallen off a cliff.
Data source: Fiat Chrysler Automobiles
Clearly, the 200 didn't have enough momentum to sustain sales on its own. And now, FCA is turning away from the 200 and its sibling.
Why FCA is stepping away from mainstream sedansLike its rivals, FCA is confronting market reality: Car buyers are increasingly choosing crossover SUVs over sedans. That's a trend we've seen unfolding for a while now, and most experts agree that it's likely to be a long-term shift, not just a fad.
For many automakers, that's not a big problem: Sedan sales are down some, but they're (to varying degrees) making up the difference with SUVs. Sedan-heavy rivals like Toyota are losing a bit of ground, while crossover-rich competitors like Fordare seeing gains. But for both, and most others, it's just the winds of the market, not a reason to make radical shifts in production or product lines.
For FCA, which is under heavy pressure to boost its profit margins, it's a different story. Sales of the company's very popular (and presumably very profitable) Jeep line of crossover SUVs have been booming, so much so that its factories are struggling to meet demand. Likewise, the market for full-size pickup trucks has been strong, and FCA has been selling lots of profitable Ram pickups.
While its sedan sales have slumped, FCA is selling all the Jeep Cherokees it can make. That's why it will end production ofthe Dodge Dart and use its factory to make more Cherokees. Image source: FiatChrysler Automobiles
Put simply: Jeep and Ram factories are struggling to keep up with booming demand, while the factories that make the 200 and Dart are running below capacity. Building new factories isn't an answer: New plants would be hugely expensive to build and to run on an ongoing basis, and FCA would almost certainly regret the added fixed costs when sales slump during the next recession. Hence the solution hit on by Marchionne.
Will history repeat itself?FCA has said that it will allow sales of the 200 and the related Dodge Dart compact sedan to "run their course," and that the company will eventually replace the two sedans with vehicles made by a partner (yet to be determined).
But once they're gone, Marchionne and FCA will be all-in on a big bet that strong demand for SUVs and trucks is here to stay. Will FCA get burned by that bet as its predecessor once did? It looks like we'll find out.
The article For Fiat Chrysler Automobiles, It's 2004 Once Again originally appeared on Fool.com.
John Rosevear owns shares of Ford. The Motley Fool owns shares of and recommends Ford. Try any of our Foolish newsletter services free for 30 days. We Fools may not all hold the same opinions, but we all believe that considering a diverse range of insights makes us better investors. The Motley Fool has a disclosure policy.
Copyright 1995 - 2016 The Motley Fool, LLC. All rights reserved. The Motley Fool has a disclosure policy.