Follow the Crowd? 5 Things Investors Should Know About Crowdfunding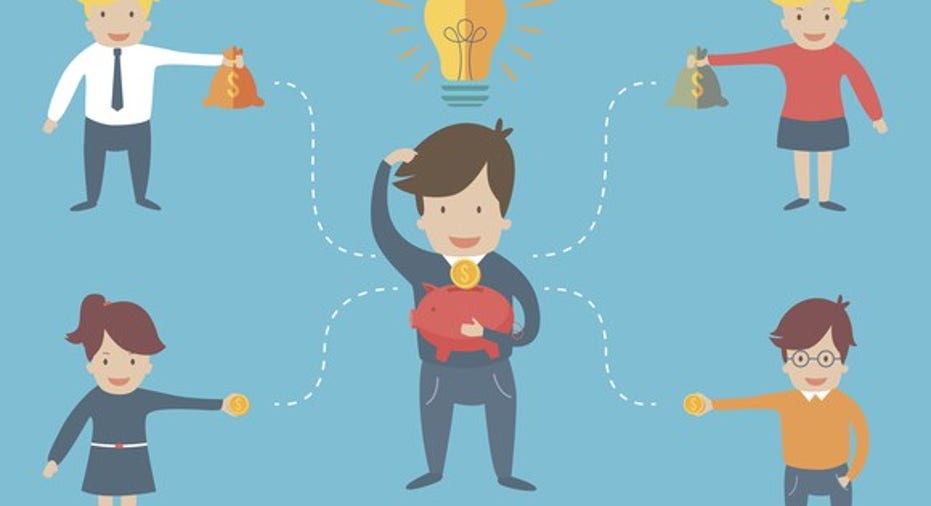 Image source: Getty Images.
The term crowdfunding was once mainly associated with donations made through the internet. Artists, charity fundraisers, and even fledgling entrepreneurs could establish pages online to solicit money for their projects from the general public. Individuals who donated funds to such efforts might feel a sense of personal satisfaction from contributing to a certain project -- but they could expect no tangible reward beyond the occasional thank-you gift or a sample of the product that the entrepreneur develops.
More recently, crowdfunding has expanded to investing. Under the SEC's Regulation Crowdfunding, broker-dealers and funding portals that are registered with the SEC and are FINRA members are permitted to offer and sell securities on behalf of issuers to the general public. Issuers may raise amounts of up to $1 million over a 12-month period, provided the amount raised from any single investor adheres to strict limits (see below). As such, under the new rules, the average investor now has the opportunity to crowdfund early stage start-ups.
If you're interested in investing in a crowdfunded venture, here are five things you should know.
Investing in crowdfunded businesses may be risky
Every investment carries with it a degree of risk. Crowdfunded ventures that are start-up companies might be especially risky, given that 30% to 40% of start-ups lose all or most of their investors' money, while up to 95% fall short of projected investment returns, according to a report byHarvard Business School. In short, if you invest in a crowdfunded start-up, you should be prepared for the possibility that you will lose your entire investment.
It's difficult to sell your holdings in a crowdfunded business
If you invest in a crowdfunded business, generally speaking you are prohibited from reselling your investment for a year. There are a few exceptions to that rule, but the key point to remember is that crowdfunded investments do not have the same liquidity as shares that trade on the stock market.
The amount that you can invest is subject to limits
Because of the risks involved with crowdfunding, investors are limited in how much they can invest during any 12-month period. The cap ranges from $2,000 to $100,000 depending on an investor's annual income and net worth. For a chart and more information illustrating how the limits work, check out thisSEC Investor Bulletin.
Crowdfunded ventures have limited disclosure requirements
Crowdfunded businesses are subject to disclosure requirements that are generally limited compared to those that apply to publicly listed companies. Also, the requirements are tiered depending on how much money a company is raising. For instance, with respect to financial disclosures, a company that looks to raise $100,000 or less must provide specified information from their federal tax returns and financial statements, both certified by the principal executive officers. Companies raising between $100,000 and $500,000 must provide financial statements that have been reviewed by an independent public accountant. If financial statements that have been audited by an independent public accountant are available, then those must be provided.
Meanwhile, a company that raises between $500,000 and $1 million, if it is using crowdfunding for the first time,must provide financial statements that have been reviewed by an independent public accountant. If it has used crowdfunding before, then it must provide financial statements that have been auditedby an independent public accountant. Companies must file such information with the Offering Statement -- Form C -- which investors can find at the SEC'sEDGAR database. You can find out more about the different disclosure requirements in FINRA'sCrowdfunding Investor Alert.
It pays to research crowdfunding portals, not just crowdfunded businesses
As with all investment opportunities, the possibility of fraud is real. Before you invest, you can take basic steps to ensure you are investing through a legitimate channel. Under Regulation Crowdfunding, offerings must be conducted through a registered broker or funding portal. FINRA has a list of funding portal members. And it is always a good idea to useBrokerCheck, FINRA's free tool for researching brokers and brokerage firms.
Excitement often surrounds crowdfunding opportunities. Stories of venture capitalists striking it big with hot start-ups may tempt small investors to dive into crowdfunding as they dream of collecting their own outsize returns. But as with any investment, dreaming should never eclipse thorough research and thoughtful analysis when it comes to deciding whether to put your money in a crowdfunded venture. It's always best to exercise caution before following the crowd
An Alert Investor is a smarter investor.
A secret billion-dollar stock opportunity The world's biggest tech company forgot to show you something, but a few Wall Street analysts and the Fool didn't miss a beat: There's a small company that's powering their brand-new gadgets and the coming revolution in technology. And we think its stock price has nearly unlimited room to run for early in-the-know investors! To be one of them, just click here.
Try any of our Foolish newsletter services free for 30 days. We Fools may not all hold the same opinions, but we all believe that considering a diverse range of insights makes us better investors. The Motley Fool has a disclosure policy.