Flowers Sees Earnings Fall Further From Industry Challenges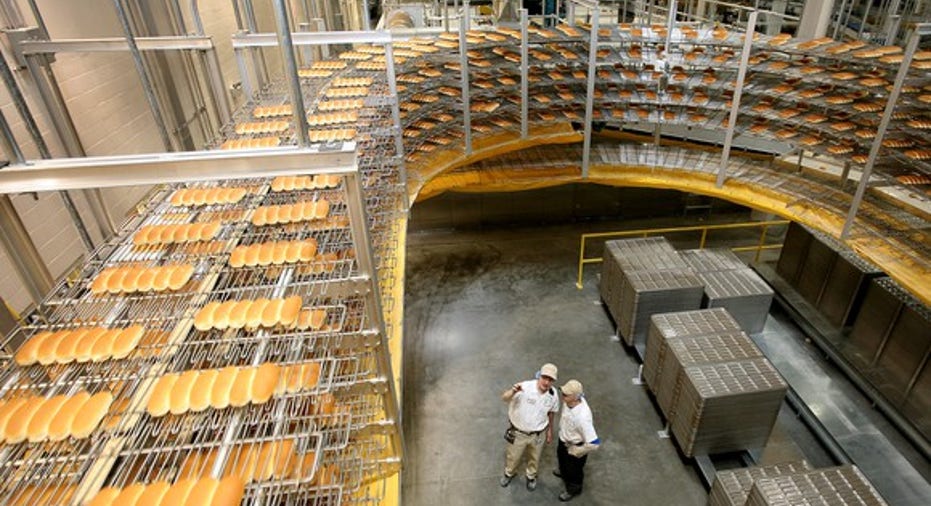 The food industry has gone through substantial changes in recent years, and bakery company Flowers Foods (NYSE: FLO) has worked hard to expand its place within the industry. Using its Wonder, Tastykake, and Nature's Own brands as the backbone of its strategic vision, Flowers has sought to consolidate what has traditionally been a highly local part of the food industry into a national powerhouse, but pressures among its peers have had an impact on profitability. Coming into Thursday's third-quarter financial report, Flowers investors wanted to see sales growth but were prepared for a slight contraction in earnings. Flowers' results were mostly in line with those expectations, but investors still seemed a bit uncertain about the company's prospects. Let's take a closer look at the latest from Flowers Foods and what it says about its future vision.
Image source: Flowers Foods.
Flowers Foods has a sluggish quarter
Flowers' third-quarter results didn't give investors much inspiration. Sales were up 3.8% to $918.8 million, which was just a fraction of a percentage point less than the consensus forecast for $924 million in revenue. Adjusted net income fell 10% to $43.3 million, and that produced adjusted earnings of $0.21 per share, which matched investors' expectations.
Looking more closely at Flowers Foods' results, the sluggish revenue growth we've seen in past quarters has clearly continued. Without the acquisitions of organic leader Dave's Killer Bread as well as Alpine Valley Bread, Flowers' top line would have decreased by about 0.6%. The direct store delivery segment posted revenue growth of 3%, but volume fell by more than 2%, and better pricing and product mix wouldn't have been enough to send segment sales higher without Flowers' acquisitions. The largest declines were in branded soft variety and specialty loaf breads and branded cake sales. Growth in store brand loaf bread and branded buns and rolls helped to offset some of the decline. The segment's bottom line also took a hit from a $1.25 million legal settlement charge related to a class action misclassification lawsuit, along with higher depreciation and amortization charges.
The warehouse segment, on the other hand, kept up its streak of outpacing its retail counterpart. Segment revenue was up 8%, with volume increasing enough to outpace declines in pricing. The Alpine acquisition added some but not all of the sales increase, as Flowers also saw strength in the foodservice, contract manufacturing, and branded retail bakery/deli areas. Pretax operating income posted double-digit percentage gains for the quarter, benefiting from lower input costs and higher sales volumes.
CEO Allen Shiver was measured in his assessment of Flowers' quarter. "While we are pleased with the performance of Dave's Killer Bread, which continues to gain share as America's #1 organic bread brand," Shiver said, "our results in the third quarter were affected by challenging category dynamics and elevated marketing and legal costs." The CEO also pointed to ongoing efforts to try to reverse the slowing growth within the company.
Can Flowers spring forward?
Flowers is working hard to get itself out of its sales malaise. As Shiver explained, "We remain acutely focused on driving growth and increasing efficiencies, including our Project Centennial efforts. ... We are now finalizing our plans to implement strategies intended to grow sales and improve margins."
Even with the sluggish performance during the quarter, Flowers maintained its guidance for the full year. The company still expects to bring in revenue of between $3.93 billion to $3.986 billion, and adjusted earnings should finish between $0.90 and $0.95 per share.
Flowers also celebrated its steps to shore up its capital structure. The company got new financing from issuing $400 million in 10-year notes during the quarter, and Flowers expects that the new debt will improve cash flow as well as helping it lock in low rates and extend debt maturities further into the future.
Flowers Foods' investors didn't seem sure how to respond to the report, initially sending the stock down in pre-market trading following the announcement but then pushing the stock upward soon after the market opened. In the long run, Flowers needs its growth initiatives to work in order to satisfy its shareholders and keep its fundamental business strong.
10 stocks we like better than Flowers Foods When investing geniuses David and Tom Gardner have a stock tip, it can pay to listen. After all, the newsletter they have run for over a decade, Motley Fool Stock Advisor, has tripled the market.*
David and Tom just revealed what they believe are the ten best stocks for investors to buy right now... and Flowers Foods wasn't one of them! That's right -- they think these 10 stocks are even better buys.
Click here to learn about these picks!
*Stock Advisor returns as of November 7, 2016
Dan Caplinger has no position in any stocks mentioned. The Motley Fool recommends Flowers Foods. Try any of our Foolish newsletter services free for 30 days. We Fools may not all hold the same opinions, but we all believe that considering a diverse range of insights makes us better investors. The Motley Fool has a disclosure policy.