Flowers Foods Coasts Ahead, Disappointing Investors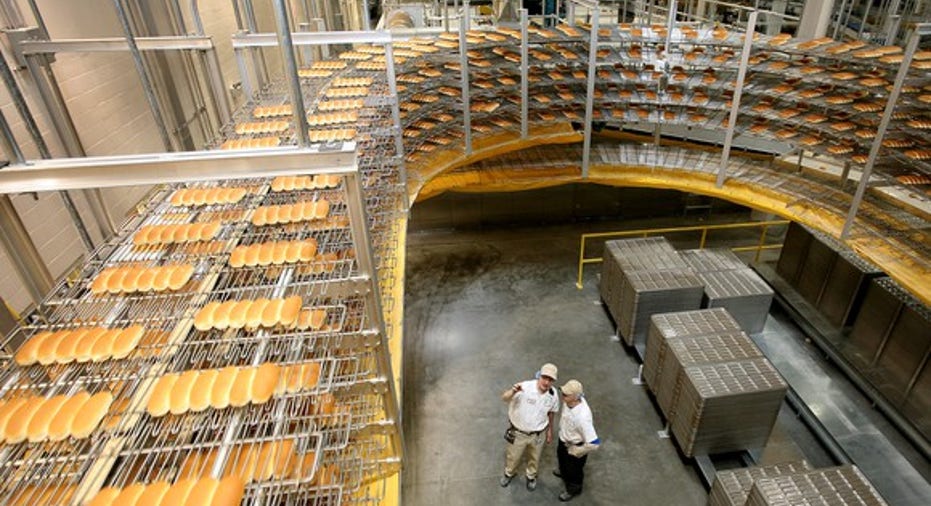 Consumers across the nation know Flowers Foods (NYSE: FLO) from its Wonder bread, Tastykake snack cakes, and Nature's Own bakery brands. Yet the truly novel thing about Flowers is how it has done such a good job of building up a national presence in an industry that is typically dominated by local competition. Coming into Monday's fourth-quarter financial report, Flowers investors were hoping to see at least some growth in sales and earnings, but the bakery company wasn't able to deliver the pace of expansion that most shareholders really want to see.
Let's look more closely at Flowers Foods to see how it did and what's ahead for the baker.
Image source: Flowers Foods.
Flowers Foods limps into 2017
Flowers' fourth-quarter results continued a streak of lackluster performance. Sales grew just 1.2% to $868.7 million, which was even slower than the roughly 2% growth in revenue that investors had hoped to see. Adjusted net income climbed by just 0.5% to $34.1 million, and that produced flat adjusted earnings of $0.16 per share, exactly in line with the consensus forecast among those following the stock.
A closer look at the financial numbers shows that Flowers Foods passed a key milestone. Because the acquisitions of Dave's Killer Bread and Alpine Valley Bread occurred in September and October 2015, respectively, all but two weeks' worth of Alpine sales represents comparable year-over-year organic performance. From that perspective, the minimal gains in revenue were still better than what Flowers Foods had reported in previous quarters after adjusting for acquisition-related growth.
Interestingly, Flowers' segments saw their relative performance reverse. Direct store delivery saw segment sales climb 2.2%, with higher volume contributing the most toward the boost. More favorable pricing and product sales mix also pushed the business higher, with particular success in branded organic bread and store-branded items. Adjusted pre-tax operating income climbed 3.5% on a slight margin boost and falling costs.
By contrast, the warehouse segment lagged behind the rest of the company. Sales fell 3.6% on particularly weak pricing and sales mix for the quarter. Declines in the cake and branded organic bread areas were the sharpest, and that led to an 11% hit to segment pre-tax operating income. Margin was weak as lower sales couldn't pull down costs.
CEO Allen Shiver was focused on the positives in Flowers' Foods performance. "We gained market share," Shiver said, "driven by the solid performance of Dave's Killer Bread, volume improvement by Nature's Own, and growing sales of the Wonder brand." The CEO also noted that lower input costs helped offset higher costs elsewhere in the organization and keep earnings up.
When will the sun come out for Flowers Foods?
Flowers has high hopes that its efforts will make its business more efficient and successful. In the words of Shiver, "With Project Centennial we are taking decisive action to pivot toward the consumer and remove complexity and costs from our business." Cutting costs and growing its brands should be a good strategy for the future.
Flowers also issued its fiscal 2017 guidance. The bakery specialist sees sales of $3.927 billion to $4.006 billion, which would be flat to up 2% from fiscal 2016. Adjusted earnings of $0.85 to $0.95 per share would be at the low end of what investors have been hoping to see, although Flowers did say that some of the savings from its transition efforts won't benefit the bottom line until fiscal 2018. In the longer run, Flowers hopes that its Project Centennial initiative will reinvigorate its core business, capitalize on adjacent products like food services and in-store bakery, reduce costs to produce growth, and develop new capabilities in analytics and other cutting-edge areas.
Flowers Foods' investors weren't entirely happy with the news, sending the stock down more than 2% in after-market trading following the announcement. Until the company proves that it can break out of the doldrums and produce solid growth, Flowers could have trouble making investors feel more confident about its prospects going forward.
10 stocks we like better than Flowers FoodsWhen investing geniuses David and Tom Gardner have a stock tip, it can pay to listen. After all, the newsletter they have run for over a decade, Motley Fool Stock Advisor, has tripled the market.*
David and Tom just revealed what they believe are the 10 best stocks for investors to buy right now... and Flowers Foods wasn't one of them! That's right -- they think these 10 stocks are even better buys.
Click here to learn about these picks!
*Stock Advisor returns as of February 6, 2017
Dan Caplinger has no position in any stocks mentioned. The Motley Fool recommends Flowers Foods. The Motley Fool has a disclosure policy.