Flights resume on tribal land after fatal Grand Canyon crash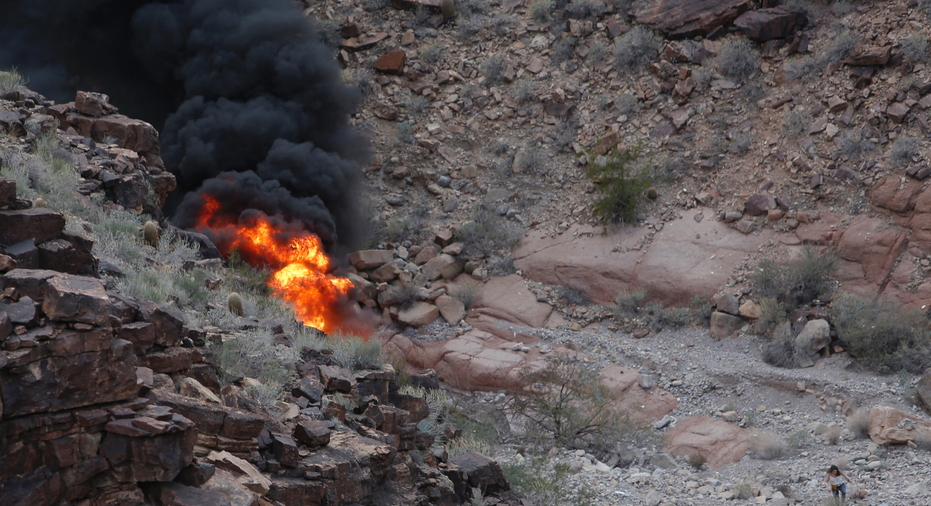 Flight restrictions put in place in the Grand Canyon after a sightseeing helicopter crashed last weekend have been lifted.
Three British tourists were killed in the crash Saturday on tribal land outside the national park. The medical examiner's office where the autopsies were done said Wednesday the friends died of multiple injuries from the crash but did not elaborate.
The pilot and three other Britons were critically injured and taken to a Las Vegas trauma center.
The Federal Aviation Administration had imposed flight restrictions on part of the Hualapai reservation for any aircraft not involved in rescue and recovery efforts. Those restrictions were lifted late Tuesday evening, allowing air tours around the crash site to resume, the agency said.
The cause of the crash is being investigated by the National Transportation Safety Board. Investigators will interview witnesses, survivors, the helicopter operator and manufacturer and others before issuing a full report in more than a year. Preliminary findings are expected before the end of the month.
The wreckage of the helicopter was recovered and taken out of the canyon Tuesday. It's been moved to Phoenix to be examined by the NTSB as part of its investigation, according to authorities.
The Airbus EC130 B4 crashed just before sunset in a section of the Grand Canyon where air tours aren't as highly regulated as in the national park. Guests attending a wedding and people on the canyon's rim saw smoke billowing from the canyon and the aircraft in flames. The same helicopter had sustained minor damage in 2012 when its nose touched the ground as the pilot attempted to land at the bottom of the canyon. No injuries were reported.
The pilot, Scott Booth, suffered a limb injury in Saturday's crash. He has was certified as a commercial pilot in 2008 and as a helicopter flight instructor in 2016. He hasn't been the subject of sanctions or involved in an accident as a pilot, according to the FAA.
The crash killed veterinary receptionist Becky Dobson, 27; her boyfriend Stuart Hill, a 30-year-old car salesman; and his brother, Jason Hill, a 32-year-old lawyer. They were celebrating Stuart Hill's birthday with a trip to Las Vegas and a Grand Canyon sightseeing tour.
The other survivors being treated for critical injuries are Ellie Milward, 29; Jonathan Udall, 32; and Jennifer Barham, 39.
___
Associated Press writer Terry Tang in Phoenix contributed to this story.