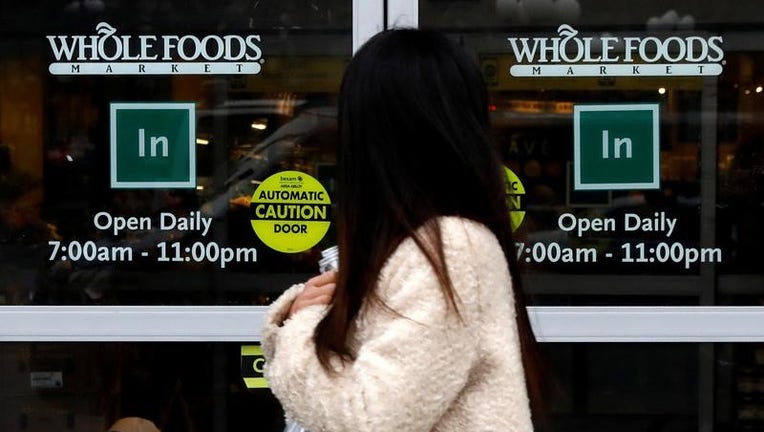 The troubled grocer reports second-quarter earnings on Wednesday, with activist investors demanding sweeping changes at the company.
1. Share Slide
Whole Foods Market Inc. will update investors Wednesday after the markets close, with the consensus forecast for net income of 37 cents a share for the fiscal quarter ended in April, according to the consensus among analysts polled by Thomson Reuters. That is down 16% from the 44 cents earned a year earlier. Revenue is forecast to stay flat at $3.7 billion for the quarter.
2. Activism Angst
Two big investors, mutual-fund manager Neuberger Berman and hedge fund Jana Partners LLC, have called for the Austin-based company to explore a sale following 18 months of flagging sales. The investors, which hold a nearly 12% combined stake in the company, have also called for board changes, with Jana drawing up a list of three potential nominees. Whole Foods is under intense pressure to respond to the activists' push with some concrete measures, such as evaluating a potential sale of the natural and organic chain.
3. Mackey Under the Microscope
Company co-founder John Mackey became Whole Foods's sole chief executive last year after co-CEO Walter Robb agreed to step aside. But Mr. Mackey now faces pressure to perform as Neuberger has questioned his ability to remain as the Austin-based company's head.
4. Top-line Tensions
Whole Foods has slashed store prices and boosted its advertising and promotions to try to improve sales. Investors will be looking for any results from these efforts, which could buy executives some time from activists gunning for wholesale change. Whole Foods in February predicted that its same-store sales -- a key retailer metric -- would fall by up to 2.5% during the year despite the enhanced efforts. Wall Street analysts believe same-store sales will fall by at least 3% during the company's second quarter.
5. Store-Count Questions
The company announced in February that it was closing nine stores and abandoning plans to nearly triple its number of locations from 465 today. It has subsequently shelved some more store openings and canceled others. Analysts said the grocer needs to scale back its pipeline further as part of its efforts to constrain costs, and will be looking for news on more contraction.
Write to Heather Haddon at heather.haddon@wsj.com
(END) Dow Jones Newswires
May 09, 2017 11:31 ET (15:31 GMT)