Five Below Slides Despite Long-Term Growth Optimism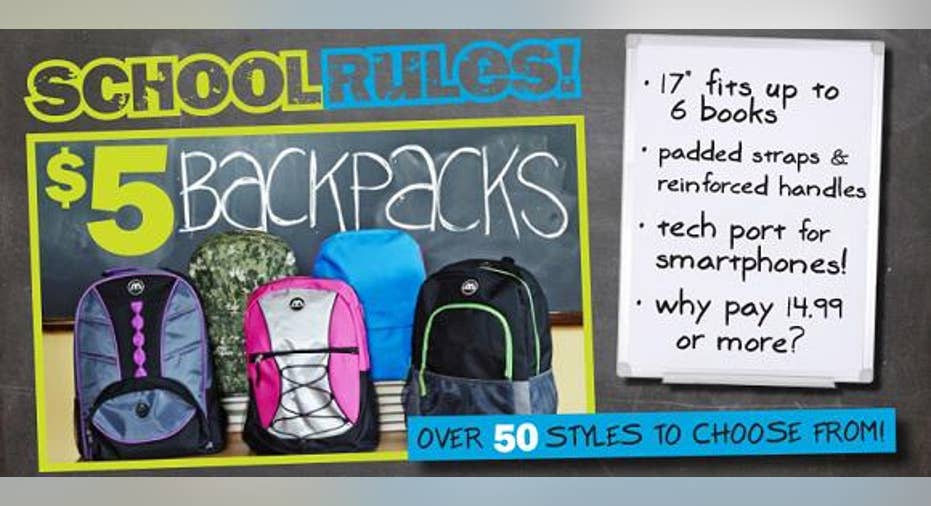 Image: Five Below.
The discount trend has had a huge impact on retail, and helping teens get the products they want at prices they can afford has been part of Five Below's vision since its founding. Just as Dollar General and other dollar-store retailers found ways to open up a new market for cash-strapped shoppers, Five Below appeals to teens trying to stretch their money further. Coming into Tuesday's fiscal fourth-quarter report, Five Below investors expected to see results that indicated a successful holiday season, and for the most part, the company delivered on that vision. Yet uninspiring guidance for the coming year led some investors to shy away from the stock. Let's look more closely at the latest results from Five Below and what they say about its future.
Five Below gives investors a solid holidayFive Below's fiscal fourth-quarter results were even better than optimistic investors had expected to see. Sales rose almost 24% to $326.4 million, topping the consensus forecast among investors for $323.7 million. Net income climbed 26% to $42 million, and that produced earnings of $0.77 per share, which was a penny per share higher than investors were looking to see.
A closer look at Five Below's numbers shows metrics consistent with the favorable results we've seen in past quarters. Comparable-store sales were up 3.6%, which was a slightly slower pace than in the third quarter but was still successful in the company's eyes. Operating income rose 27%, and although the retailer opened just 3 new stores during the quarter, it still finished the fiscal year with 437 locations, 19% more than it had at the start the year. Gross margins also edged higher, hitting 40.5%, and operating margins also benefits from a slower pace of overhead-cost growth than Five Below has seen recently.
CEO Joel Anderson celebrated Five Below's results. Anderson attributed the company's success to "the key initiatives we prioritized in 2015," including "continuing to deliver a fresh and compelling merchandise assortment, developing exciting market campaigns, successfully opening a new East Coast distribution center, and most importantly, building on our strong track record of opening highly productive new stores."
Why investors are worried about Five Below Five Below still sees plenty of potential for expansion in 2016. "We plan to build upon our success," Anderson said, "while continuing to be focused on our strategic priorities." The CEO also promised that the company would deliver on its long-term goals of 20% revenue and earnings growth annually through the year 2020.
However, the nearer-term guidance that Five Below gave investors raised some eyebrows in light of those aggressive goals. Five Below's fiscal first-quarter guidance included sales projections of $186 million to $189 million, with 20 new store openings and a 4% rise in comparable-store sales. Earnings should come in between $0.09 and $0.10 per share. Both ranges extended below the consensus forecasts among investors for the quarter.
Full-year guidance from Five Below also raised some doubts. The company hopes to hit the $1 billion mark in revenue with a range that extends $5 million on either side of that level, but investors had expected a slightly higher number. Similarly, an earnings range of $1.27 to $1.31 per share didn't satisfy investors, even though it would represent success in terms of meeting growth targets for 20% or more.
Five Below investors focused on the negatives of the report, sending the stock down about 5% in after-hours trading following the announcement. Yet if the discount teen retailer can stay on track to reach its goals, then long-term shareholders could easily see the same kinds of long-term rewards that Dollar General and its peers have given investors elsewhere in the discount arena.
The article Five Below Slides Despite Long-Term Growth Optimism originally appeared on Fool.com.
Dan Caplinger has no position in any stocks mentioned. The Motley Fool recommends Five Below. Try any of our Foolish newsletter services free for 30 days. We Fools may not all hold the same opinions, but we all believe that considering a diverse range of insights makes us better investors. The Motley Fool has a disclosure policy.
Copyright 1995 - 2016 The Motley Fool, LLC. All rights reserved. The Motley Fool has a disclosure policy.