Fitbit Inc. Is Running Out of Room to Grow...What's Next?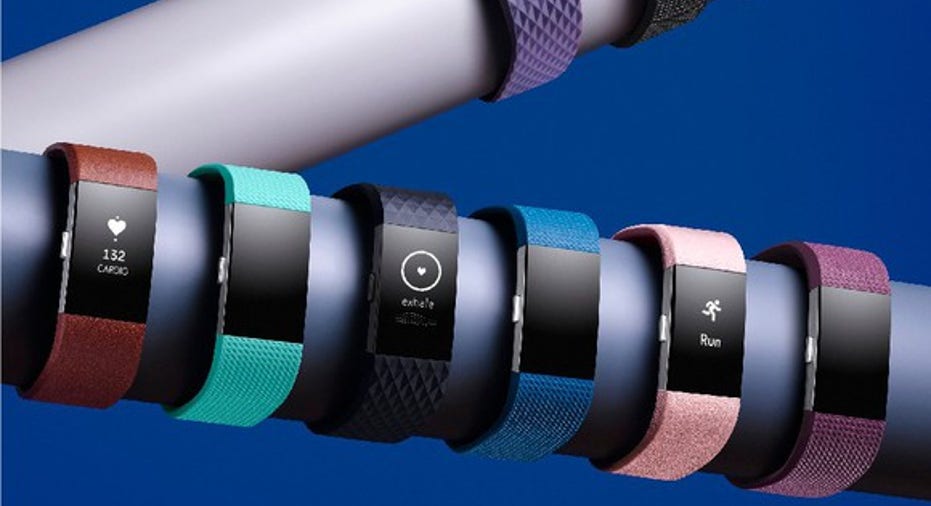 Fitbit(NYSE: FIT)crashed 75% last year on concerns about its slowing sales growth, narrowing margins, and rising competition in the wearables market. Yet IDC claims that Fitbit remains the largest wearables maker in the world, and its market share rose160 basis points annually to23% last quarter, fueled by the launches of the Charge HR and Charge 2.
Image source: Fitbit.
But as Fitbit matures, it's running out of room to grow. Its scattergun strategy of releasing more devices across different price points hasn't reversed its sales declines, cheaper players likeXiaomiare reducing price expectations, and higher spending on R&D and marketing has hurt its bottom line growth.
Analysts expect Fitbit's revenue to rise just 26% this year and3% next year,compared to 149% growth infiscal 2015. But Fitbit isn't oblivious to that slowdown -- it plans to diversify its top line away from fitness trackers with three new strategies.
Corporate and academic wellness programs
To widen its moat against its rivals, Fitbit developed corporate wellness programs for companies and organizations. These programs track employees' personal activity with Fitbit devices, and reward active participants with lower health insurance premiums.
In late 2015,Target(NYSE: TGT)signed onto offer Fitbit devices to 335,000 employees in a bid to lower its healthcare costs. Through the program, Target employees could either receive the basic Zip for free, or buy a pricier device with Target partially subsidizing the cost. Teams of employees competed against each other in month-long competitions, with Target donating $1 million to a charity on behalf of the winning teams.
Fitbit has also been expanding thisprogram to schools.Last year, the Oral Roberts University becamethe first schoolto require all incoming freshmen to wear Fitbit trackers. The students are required to walk 10,000 steps daily, and are graded based on their weekly exercise routines instead of an end-of-semester field test.
Fitbit doesn't disclose exactly how much revenue it generates from these programs, but CEO James Park previously stated that it was less than 10%. But if Fitbit can sign on more corporate or academic partners, it may offset its slowdown in mainstream consumer sales.
Expanding into smartwatches
Fitbit took its first steps into the smartwatch market with the Blaze last year. But Fitbit is also expanding inorganically into that market. Last December, it agreed toacquire smartwatch maker Pebble's IP portfolio and some of its employees for about $40 million. Fitbit claims that the purchase will help it launch new smartwatch-like devices faster and improve its existing devices.
Earlier this month, Fitbit agreed to buy high-end smartwatch start-up Vector for an undisclosed amount. Unlike theApple(NASDAQ: AAPL)Watch, which only lasts about a day on a single charge, Vector's Lunar and Meridian smartwatches lasta full month without recharging.
Vector's Luna smartwatch. Image source: Vector.
The smartwatch market has been a disappointing one thus far, sincemany consumers either stuck with smartphone apps or bought cheaper basic fitness trackers. Apple only sold about 12 millionwatches in2015 -- which completely missed prior estimates ashigh as 60 million.But looking ahead, Fitbit could leverage its position as the top wearables maker in the world to bolster the appeal of smartwatches among mainstream consumers.
Building an app ecosystem
Another soft spot for Fitbit is its lack of an app store ecosystem.
Apple,Garmin(NASDAQ: GRMN), and many other smartwatch makers already let developers populate their app stores. Apple offers clear instructions for watchOS developers, and Garmindoes the samewith its Connect IQ platform. Yet Fitbit creates its own apps, which prevents its platforms from evolving as quickly.
At CES, Park told reporters that Fitbit planned to launch its own app store "as soon as possible." Many industry watchers believe that by buying Pebble's IP, Fitbit can quickly launch an app store for its devices -- which could attract new apps or ported apps from watchOS, Android Wear, or Connect IQ. Taking a cut of paid app sales could also generate a fresh stream of revenue for Fitbit.
But can Fitbit keep growing?
Signing new corporate wellness deals, launching new smartwatches, and building an app ecosystem might diversify Fitbit's top line away from its core devices, but it's a tough uphill battle. To survive, Fitbit must defend a "sports performance" niche between high-end smartwatches and low-end fitness trackers -- but that could be tough, since Garmin and other rivals are already targeting the same market.
10 stocks we like better than Fitbit When investing geniuses David and Tom Gardner have a stock tip, it can pay to listen. After all, the newsletter they have run for over a decade, Motley Fool Stock Advisor, has tripled the market.*
David and Tom just revealed what they believe are the 10 best stocks for investors to buy right now... and Fitbit wasn't one of them! That's right -- they think these 10 stocks are even better buys.
Click here to learn about these picks!
*Stock Advisor returns as of January 4, 2017
Leo Sun has no position in any stocks mentioned. The Motley Fool owns shares of and recommends Apple and Fitbit. The Motley Fool has the following options: long January 2018 $90 calls on Apple and short January 2018 $95 calls on Apple. The Motley Fool has a disclosure policy.