First Solar Sees Brighter 2016 Ahead Despite Falling Stock Price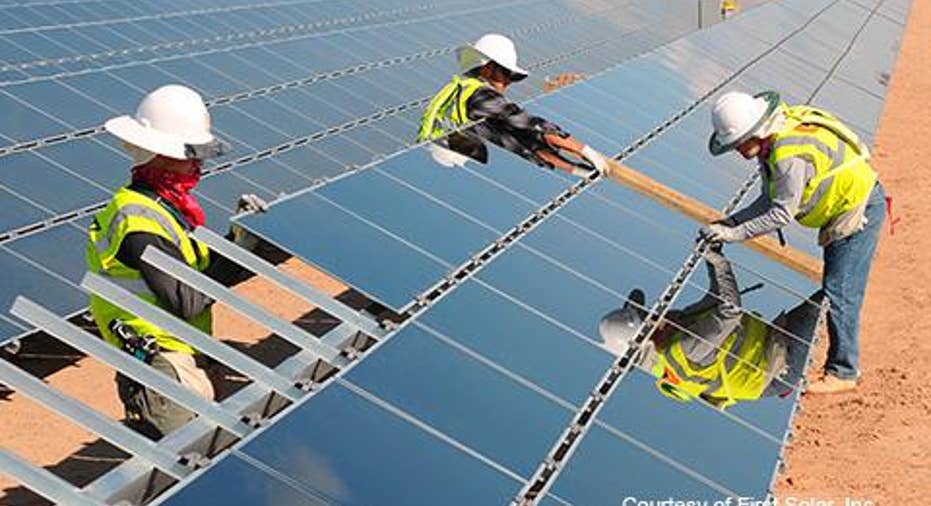 Image source: First Solar.
It is becoming increasingly apparent that long-term growth story that could change energy as we know it. But the companies causing that disruption don't always have a straight line path to success.
We saw that again on Wednesday April 27, 2016, after First Solar reported first quarter earnings and full-year guidance that beat even its own expectations. Surprisingly, shares dropped early Thursday, in part because growth can't come fast enough.
What Q1 2016 showed First Solar's revenue for the first quarter came in at $848.5 million and net income was $170.6 million, or $1.66 per share. Gross margin was an impressive 31% as the company sold an additional 15% stake in the Stateline project to Southern Company, which had the effect of pulling revenue and margin into the first quarter from the second half of the year when the remainder of the project is expected to be dropped down to 8point3 Energy Partners.
The timing of project construction and sales can often lead to lumpy results for First Solar, and that will be no different in 2016. But for the full year, management still expects revenue of $3.8 billion to $4.0 billion, and now expects a 1% higher gross margin of 18% to 19%, raising the bottom end of earnings per share guidance by a dime to $4.10 to $4.50.
Those are the broad numbers First Solar reported -- but they don't really tell the story of the company's position in solar today.
Image source: First Solar.
What's really important to know The technology improvement First Solar has been investing in for a couple of years now has been a big reason for the company's resurgence, but it's basically been on pause for a few months. The conversion efficiency of its best line was flat with a quarter ago at 16.4%, and fleet average increased just 0.1% to 16.2%. That level of efficiency will likely be where the company stays until the second half of the year, when it invests in the next round of capital improvements to improve its product.
On the demand side, it's even harder to see improvement since the solar investment tax credit (ITC) was extended in the final days of 2015. Year to date bookings have only amounted to $300 million, or 600 MW of solar panels, as utilities ponder what their next move will be.
When the ITC extension passed, it made a much longer runway for solar companies to build solid foundations for their business, but it also pulled back some of the industry's urgency. First Solar is still pushing to complete projects it is contracted to build by the end of the year (when the ITC was scheduled to fall from 30% to 10%), but beyond that utilities haven't been eager to sign new power purchase agreements because of the flood of supply hitting the market this year and the lack of urgency. So 2017-2020 may be great years for the solar industry, but that isn't showing up in a company like First Solar's backlog quite yet.
The long-term story hasn't changed I think it's important to look at First Solar with a long-term lens before you read too much into a single quarter's numbers. The first thing I look at when First Solar reports earnings is the direction it's changing full-year guidance. And with an increase in gross margin, operating income, earnings per share, and operating cash flow from its previous guidance, it seems safe to say that the company is heading in the right direction.
I'm also looking for long-term improvements in technology and cost. And on both fronts First Solar continues to make incremental improvements. That should help drive competitiveness and margin expansion going forward.
The final factor investors should like about First Solar is that the solar market looks primed for decades of growth. It may not be straight-line growth, and there may be lumps in the next 18 months as projects designed before the ITC was extended skew the market, but there's no reason to think demand won't be significantly higher five or ten years from now. After all, even in the U.S. solar is only about 1% of the electricity market.
Long-term, First Solar is still well positioned, with great technology and a rock solid balance sheet. With the tailwinds the solar market is seeing, I think that makes it a great stock, especially given the discount given in shares today.
The article First Solar Sees Brighter 2016 Ahead Despite Falling Stock Price originally appeared on Fool.com.
Travis Hoium owns shares of 8point3 Energy Partners LP and First Solar. The Motley Fool has no position in any of the stocks mentioned. Try any of our Foolish newsletter services free for 30 days. We Fools may not all hold the same opinions, but we all believe that considering a diverse range of insights makes us better investors. The Motley Fool has a disclosure policy.
Copyright 1995 - 2016 The Motley Fool, LLC. All rights reserved. The Motley Fool has a disclosure policy.