First Solar and SunPower: Better Off Together?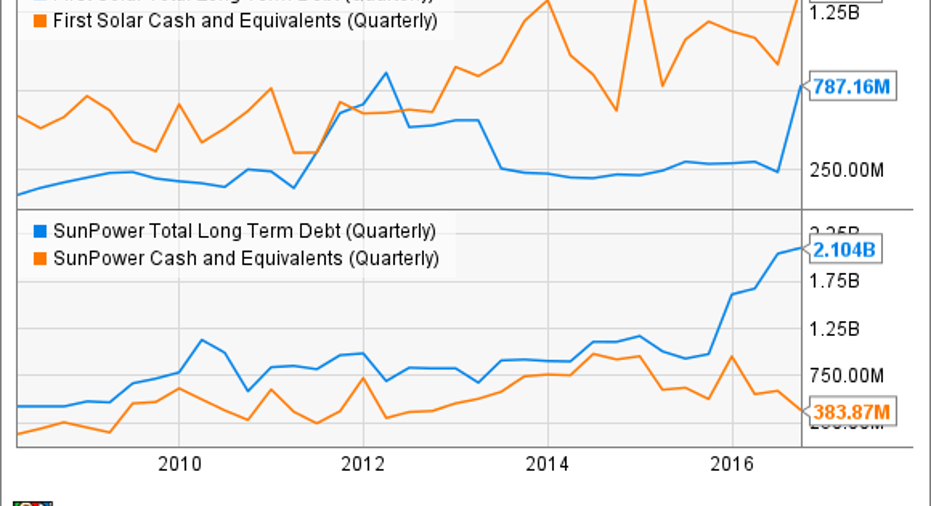 As the solar industry evolves and matures, we're starting to see a handful of companies emerge as power players in different segments of the market. Two of the biggest are First Solar (NASDAQ: FSLR) and SunPower (NASDAQ: SPWR), who are both technology leaders in their respective segments of the industry.
But neither company is winner in every segment of the market, and given their different strengths, First Solar and SunPower may actually be better off as one company than they are separately. Here's a look at the argument for the creation of a new giant in solar energy.
Image source: SunPower.
Dominant players in different markets
SunPower and First Solar are both big players in the solar industry, but that's really where their similarities end.
First Solar makes thin-film solar panels and sells almost entirely into the utility scale market. Its technology has an advantage in harsh environments like deserts and near salt water.
SunPower has the industry's most efficient panels, which are at an advantage in space-constrained locations like rooftops and even island regions. It's traditionally been a big player in utility solar as well, with high-efficiency panels, but it recently acquired a company called Cogenra Solar, which uses commodity solar cells and a shingling process to create panels that are slightly more efficient than those of competitors without a large cost premium. High costs were a drawback of SunPower's high-efficiency panels, so this makes them closer to a commodity supplier on the utility side.
While First Solar and SunPower may compete in some utility markets, they do so with different technologies. And in many ways, having both technologies under one roof in utility-scale solar may be an advantage. Thin film could be a hedge against silicon prices, and vice versa. Plus, SunPower's high-efficiency product could be differentiator in locations where space is constrained.
The balance sheet every solar developer would dream of
First Solar and SunPower would also fit together well financially. First Solar currently has a balance sheet flush with cash, but it's in the midst of upgrading its manufacturing equipment. As a result, it'll be stepping back from the development business in the next couple of years to focus on manufacturing.
FSLR Total Long Term Debt (Quarterly) data by YCharts.
SunPower has a lot of development opportunities in residential and commercial solar, but a more limited balance sheet. Together, the two companies could exploit growth opportunities in small-scale solar as they wait for utility projects to emerge in 2018 and beyond.
As a combined company, they would also have full control of 8point3 Energy Partners (NASDAQ: CAFD), a yieldco they co-sponsor today. This would give them a lot of flexibility in financing projects going forward.
Building the technology for the future
The last advantage First Solar and SunPower would have together would be combining forces in developing solar equipment and technology. Today, they're separately designing racking equipment and power plants. Combining forces would reduce costs and likely improve the design of utility projects overall.
There are also future advancements like energy storage and smart energy solutions that the companies are currently researching separately, but they could be combined into one larger R&D effort. As a combined company, First Solar and SunPower could do more to lower costs and advance the capabilities of their solar products -- and do so at a lower cost than they have today.
Consolidating solar powers just makes sense
First Solar and SunPower may not actually combine forces, but in many ways, I think they would be better off together. Their products compliment each other well, and combining both balance sheets and R&D would be a benefit to both companies. Time will tell whether or not a deal happens, but it makes a lot of sense given the ups and downs in solar today.
10 stocks we like better thanWal-MartWhen investing geniuses David and TomGardner have a stock tip, it can pay to listen. After all, the newsletter theyhave run for over a decade, the Motley Fool Stock Advisor, has tripled the market.*
David and Tomjust revealed what they believe are the10 best stocksfor investors to buy right now...and Wal-Mart wasn't one of them! That's right -- theythink these 10 stocks are even better buys.
Click hereto learn about these picks!
*StockAdvisor returns as of December 12, 2016.The author(s) may have a position in any stocks mentioned.
Travis Hoium owns shares of 8point3 Energy Partners, First Solar, and SunPower. The Motley Fool has no position in any of the stocks mentioned. The Motley Fool has a disclosure policy.