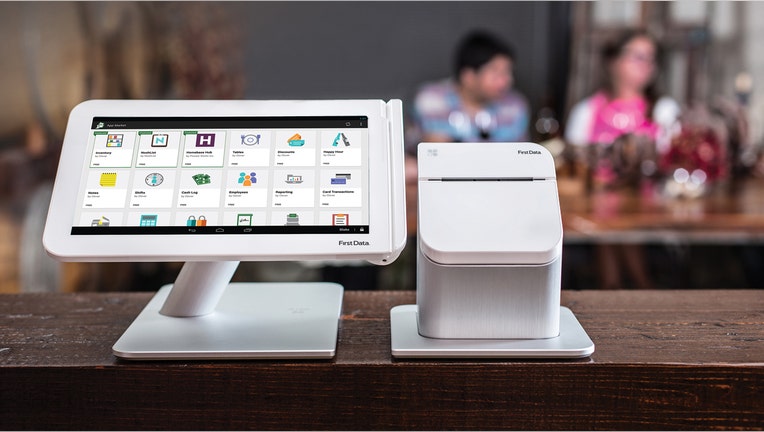 Shares of payment-processing giant First Data Corp., the largest initial public offering of the year, opened higher in their trading debut after pricing below expectations late Wednesday.
The stock opened at $16.39, after going public at $16 a share, and rose 2% in early trading.
A strong trading debut could restore some confidence in the IPO market, which has struggled through the summer as sharp stock-market swings in August and early September trimmed investors' appetite for risk.
First Data, which processes trillions of dollars annually of credit-card, debit-card and other payments, raised $2.6 billion in its offering. It is the largest U.S. listing of the year, according to Dealogic, topping the $1.4 billion IPO in May of Tallgrass Energy GP LP. First Data has a market value of $14 billion at the IPO price.
First Data's IPO price of $16 a share was below the expected range of $18 to $20 a share. The company's private-equity owner, KKR & Co., wasn't selling any stock in the offering, and the money raised will be used to pay down some of the company's $21 billion in total debt, according to its IPO filings.
The deal is among KKR's biggest investments, and its return to the public markets will still be something of a victory. KKR at one point had marked First Data at 60 cents on the dollar, but the company recovered after turning its first profit in more than seven years at the end of 2014, under new Chief Executive Frank Bisignano.
Among the recent hiccups in the IPO market, Albertsons Cos. delayed its plan to sell stock late Wednesday as retailers' shares got pummeled amid disappointing forecasts from rival retailer Wal-Mart Stores Inc. And luxury retailer Neiman Marcus Group Inc. recently decided it needed to wait as well.
The continuing concern for First Data and Albertsons, as well as for other private-equity backed companies looking to go public, is that investors are beginning to sour on shares of highly indebted companies. Investors had warmed to such deals in recent years, with near-zero interest rates and growing corporate earnings helping those firms refinance debts at lower rates and pay them down.
More broadly, the amount of capital raised from U.S. offerings is set to close 2015 at a level well below last year, which was the best year for listings since 2000. U.S. listings had raised about $30 billion through the end of Tuesday, compared with $82 billion by that point last year and $42 billion in that period of 2013, according to Dealogic.
Volumes of new issues are down, and a number of technology companies are trading well below their IPO prices, sparking concerns that high-profile companies could put off plans to go public in the months ahead.
There are still high-profile deals that could come later this year, including Square Inc., the online payments provider and lender, which revealed its offering plans in a filing on Wednesday night, seeking to raise as much as $275 million. Luxury auto maker Ferrari NV is expected to price a potential $893 million IPO next week, and Spanish-language media company Univision Holdings Inc. and pet-retail chain Petco Holdings Inc. are also on file for possible 2015 listings.
Write to Telis Demos at telis.demos@wsj.com and Corrie Driebusch at corrie.driebusch@wsj.com
Subscribe to WSJ: http://online.wsj.com?mod=djnwires
Copyright © 2015 Dow Jones Newswires