First CEO at R. Lauren not named Ralph Lauren is unsaddled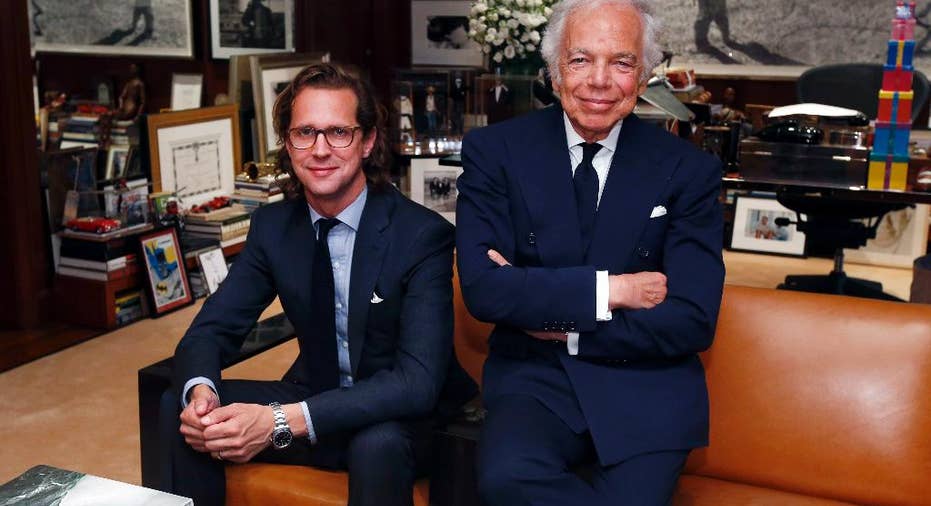 Stefan Larsson, who took over as CEO at Ralph Lauren Corp. less than two years ago in hopes of revitalizing the iconic brand, is leaving the company.
The namesake founder, who said at the time that Larsson "understands what dreams are," maintains that he pushed the company in the right direction.
However, the two clashed largely over creative control. Lauren says the decision to part ways is mutual. Larsson — who also serves as president — will remain with the New York company until May. The search for a new chief executive is underway. The company's chief financial officer, Jane Nielsen, will lead the company's plan to turn around its business while a successor is found.
"Stefan and I share a love and respect for the DNA of this great brand, and we both recognize the need to evolve," said Lauren, executive chairman and chief creative officer, in a statement. "However, we have found that we have different views on how to evolve the creative and consumer-facing parts of the business."
During a conference call Thursday with investors, Larsson said that the differences came down to different views on product, marketing and the shopping experience. He noted that he spent his entire career in family-controlled businesses and "worked hard to find common ground." That didn't happen and that's what led the mutual decision, he said.
Prior to joining Ralph Lauren, Larsson was global president of Gap's Old Navy business, transforming the brand into a bright spot within a couple of years. He also worked at Swedish fast-fashion chain H&M for 15 years, moving swiftly through the ranks of the company to serve as head of global sales.
Ralph Lauren shares, which have fallen more than 20 percent in the past year, dropped more than 11 percent Thursday.
The announcement overshadowed Ralph Lauren's fiscal third-quarter results that showed the company was making some inroads. Its adjusted profit of $1.86 per share easily beat the $1.64 that Wall Street had expected, according to a poll by Zacks Investment Research expected. Revenue fell to $1.71 billion.
Lauren started the company half a century ago selling ties and built a vast empire that includes women's, men's and children's clothing, home decor, accessories and now restaurants. It became the arbiter of preppy cool. But after years of surging growth, Ralph Lauren has seen its revenue slow down as the brand has lost its cachet, particularly with younger shoppers as the name can be found everywhere. Clothing companies like Ralph Lauren have also struggled because of different shopping behavior and preferences. Increasingly, shoppers are buying online and spend more on experiences like beauty treatments. Like other traditional brands, Ralph Lauren has also wrestled with sluggish performance at major department stores like Macy's — its main distribution channel — as shoppers increasingly go to Amazon.com or discounters like TJ Maxx to buy name brands. The iconic label got attention when First Lady Melania Trump wore a pale-blue dress and jacket combination by the designer on Inauguration Day.
When Larsson took over as CEO in late 2015, he was the first chief executive at the iconic company not named Ralph Lauren. He acted quickly, slashing costs to improve the balance sheet and tightening the company's focus on the brands that made Ralph Lauren known worldwide. The company made strategic changes, lowering inventories and reducing early commitments to major retailers so that it could better react to trends. But, Larsson didn't have free rein over the creative process.
"This sudden departure gives the impression of a brand in crisis, and we believe it signals significant internal wrangling over the future direction of the firm," said Neil Saunders, managing director of GlobalData Retail. "It also demonstrates the founder's continued dominance over the business. As much as Ralph Lauren should be respected for his significant achievements and his undeniable design talent, we are concerned by the orthodoxy of his leadership, under which questioning and fresh thinking are relatively rare. This, in our view, is not the way to reinvent a brand that has clearly lost its way."
Shares dropped $10.43 to $76.94 in afternoon trading.
______
Follow Anne D'Innocenzio: http://twitter.com/ADInnocenzio