Firms marketing $1 million in gold coins from 1715 shipwreck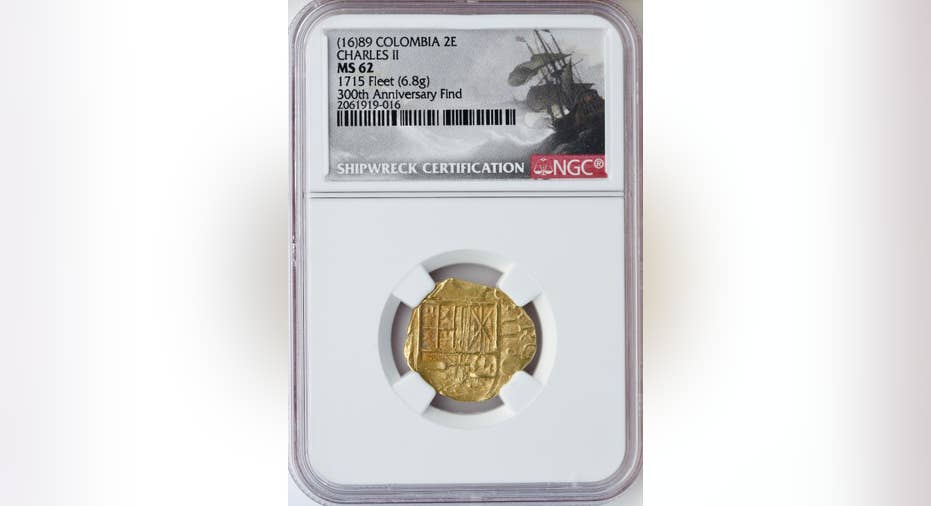 A New Orleans investment firm has begun marketing gold coins from a 300-year-old shipwreck discovered off Florida's coast.
Blanchard and Co. is one of two dealers offering the coins from an area where 11 treasure-laden ships of a Spanish fleet were smashed onto reefs by a hurricane on July 31, 1715. The other dealer is California-based Monaco Rare Coins.
John Albanese, a New Jersey-based coin expert who brokered the sales, said in an interview Friday that most of the 295 coins being offered were found by divers exploring the area last year on the 300th anniversary of the disaster.
Albanese said a few are from earlier expeditions in 2010 and 2013. He said the combined market value of the coins is more than $1 million.
The coins vary in denomination, size and shape. "They were very crudely made. They were handmade," said Albanese, who added that the coins' worth at the time they were made was based on their weight.
A Blanchard news release says the coins were struck in Columbia, Mexico and Peru. They were dated between 1692 and 1715. Most are from a discovery made in 6 feet of water about 100 feet off the coast of Vero Beach, Florida.
Albanese said the coins sold quickly once they were available at the wholesale level.
Craig Baudot, an executive vice president at Blanchard, said his company began marketing the coins over the past two weeks. He said the coins are marketed at prices ranging from about $2,000 to $9,000. He said interest has been high at the retail level as well.
"You're dealing with something that's over 300 years old," Baudot said. "Everybody dreams about walking down the beach and finding treasure."
Ships of the 1715 fleet were heading to Spain from Havana when they encountered the hurricane near what is now Vero Beach. Some 1,000 people died in the maritime disaster.