'Finding Dory' Scores Record $136.2 Million Opening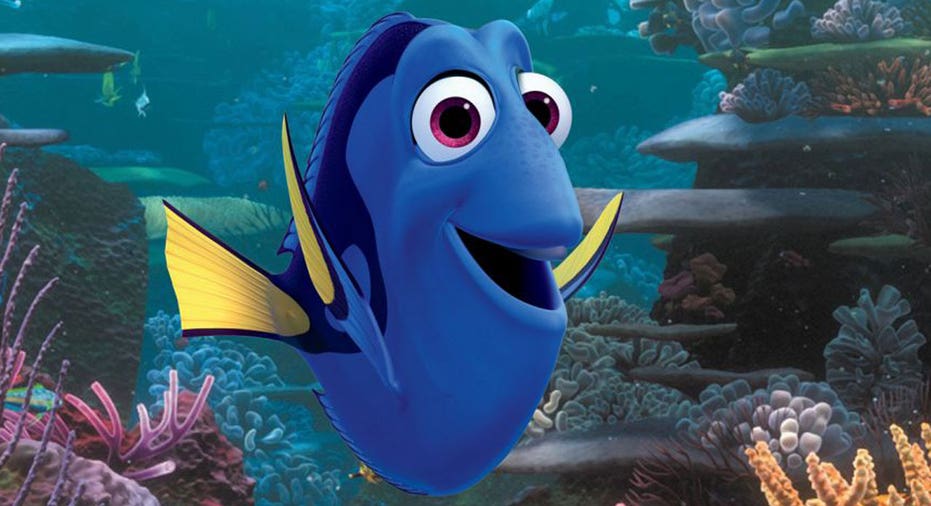 Audiences had no trouble "Finding Dory" this weekend.
The Pixar Animation Studios sequel set a box-office weekend record for an animated film with an estimated $136.2 million opening in the U.S. and Canada.
The follow-up to 2003's "Finding Nemo" puts the sidekick Dory (voiced by Ellen DeGeneres) front-and-center as the forgetful fish who sets off to reunite with her parents. Other members of the voice cast include Albert Brooks, Diane Keaton and Idris Elba.
The weekend's other new release, "Central Intelligence," collected a solid $34.5 million in second place.
The previous record for an animated opening belonged to "Shrek the Third, " which grossed $121.6 million in 2007. The previous record for the Walt Disney Co.-owned Pixar belongs to "Toy Story 3," which opened to $110 million and went on to gross $415 million in 2010.
It is also welcome timing for Pixar after a rare disappointment last year. The opening weekend of "Finding Dory" has already exceeded the domestic gross of Pixar's last movie, "The Good Dinosaur," which collected $123 million in its total run.
"Finding Nemo" opened to $70.3 million in 2003, went on to gross $340 million and has remained one of Pixar's most popular movies. "Finding Dory" attracted a more diverse mix of moviegoers than most Pixar films, said Dave Hollis, Disney's executive vice president of distribution.
The 13 years between installments meant younger moviegoers attended alongside older patrons who saw the first film as children. (Disney executives refer to that latter group as "generation Nemo," said Mr. Hollis.)
"The composition of the audience is a bit more general," said Mr. Hollis. "It's a testament to the movie's broad appeal." Evening showtimes pulled in almost double the business of Pixar's "Inside Out," he said -- an indication of older moviegoers showing up.
"Finding Dory" had a budget of about $200 million. It will have only one more weekend of little competition for the family market, until Disney's own "The BFG" comes out on July 1 and the animated feature "The Secret Life of Pets" hits screens on July 8.
Overseas, "Finding Dory" grossed $50 million after opening in about 32% of the international marketplace. China led the way with a $17.5 million opening -- an impressive showing in a country that had a much smaller box-office market in 2003 and therefore had little exposure to "Finding Nemo."
There was more good news to spare in Hollywood with the performance of "Central Intelligence." The movie stars Dwayne Johnson and Kevin Hart as two former high-school classmates who form an unlikely CIA duo. Its opening is in line with other recent movies starring Mr. Hart.
"Central Intelligence" was co-financed by Time Warner Inc.'s Warner Bros. and Comcast Corp.'s Universal Pictures, with Universal handling domestic distribution and Warner Bros. handling international.
Both new movies fared well with audiences, which should help word-of-mouth recommendations in the weeks to come. "Finding Dory" received an "A" grade and "Central Intelligence" received an "A-," according to the CinemaScore market research firm.
In other box-office news, "Warcraft" continued its lopsided performance around the world. In China, the videogame adaptation has been the No. 1 film for 12 consecutive days and saw its total gross rise to $205 million. But North American returns fell a steep 73% in its second week, bringing its domestic total to a puny $37.7 million.
Year-to-date box office is up 2.5%, according to comScore.
Write to Erich Schwartzel at erich.schwartzel@wsj.com