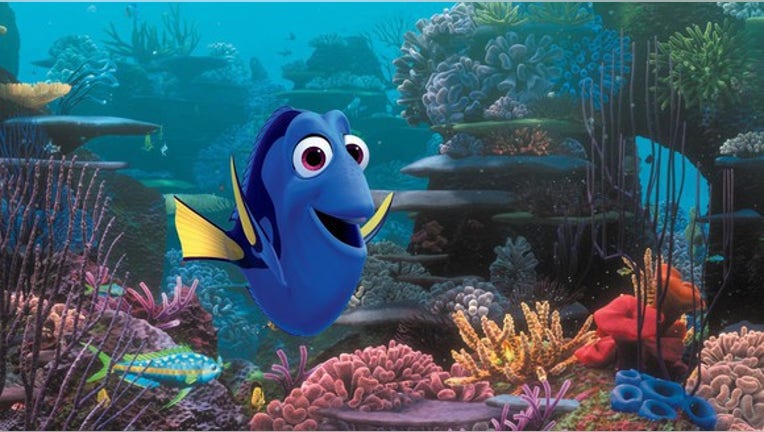 Walt Disney Co.'s Finding Dory raked in $135.1 million in box-office receipts last weekend in North America, making it the all-time best domestic opening for an animated film.The long-awaited Pixar-produced sequel to 2003's belovedFinding Nemo swam past Shrek the Third's $121.6 million opening in May 2007 to clinch the record.
Image source: Disney.
How much of a splash wasFinding Dory's opening?
Let's dive into more numbers from Box Office Mojo to provide greater context for the whimsical film's success:
Opening take was nearly four times as much as Time Warner's Central Intelligence, which pulled in $35.5 million last weekend.
Opening take was nearly twice as much as predecessor Finding Nemo's $70.3 million in May 2003.
Dory ranks 19th for top opening of all time among all (not just animated) films, with Disney's Star Wars: The Force Awakens($248 million in December 2015) and Comcast's Universal Studios'Jurassic World's($208.8 million in June 2015) ranking No. 1 and No. 2.
The film's powerful opening coupled with its overwhelmingly positive reviews suggests that it's going to be another fish in Disney's school of movie successes this year.
Disney's the big fish in the 2016 movie business sea
The following two charts show how amazingly well the entertainment giant's movies are doing in theaters in 2016:
| | | | |
| --- | --- | --- | --- |
| Rank | Movie | Studio Parent Company | 2016 Worldwide Total Gross (Millions) |
| 1 | Captain America: Civil War | DISNEY | $1,145 |
| 2 | Zootopia | DISNEY | $1,012 |
| 3 | The Jungle Book | DISNEY | $922.8 |
| 4 | Batman v Superman: Dawn of Justice | Time Warner | $872.7 |
| 5 | Deadpool | Twenty-First Century Fox | $778.2 |
Data source: Box Office Mojo; data to June 19.
Disney films occupy the top three slots for total worldwide theatrical receipts in 2016.Its Marvel-produced Captain Americasuper-hero film opened in North America on May 6, and began rolling out internationally on April 27. The animated buddy-cop flickZootopia -- titled Zootropolis in some European countries -- was released domestically on March 4, while the fantasy action-adventure movie TheJungle Book was released in numerous international markets a week ahead of its North American debut on April 15.
This trifecta, combined with the current success of Finding Dory, demonstrates the company's move-making depth and breadth. As for depth, Disney is capturing the popular animated film category with both Pixar, which it acquired in 2006, and its Disney Animation Studios, which produced Zootropolis. The breadth of its big screen offerings owes much to its acquisitions of Pixar in 2006, Marvel in 2009, and Lucasfilm (which brought the Star Wars franchise into the fold) in 2012.
| | | | |
| --- | --- | --- | --- |
| Rank | Studio Parent Company | Market Share | 2016 North American Total Gross (Millions) |
| 1 | DISNEY | 31.5% | $1,628.5 |
| 2 | Twenty-First Century Fox | 18.2% | $949.9 |
| 3 | Time Warner (Warner Bros.) | 12.9% | $669.4 |
| 4 | NBCUniversal | 10.9% | $562.7 |
| 5 | Viacom (Paramount) | 7.5% | $387.8 |
Data source: Box Office Mojo; data Jna. 1 to June 19, 2016.
The House of Mouse is dominating the competition, with its Buena Vista capturing 31.5% of all dollars moviegoers in North America have spent at the box office so far in 2016. Moreover, this percentage will likely rise once Finding Dory swims further along in theaters.
Disney's studio business is performing swimmingly well in fiscal 2016
Not surprisingly, the financial performance of Disney's studio entertainment business -- the third-largest by revenue of its four segments -- has been on a roll. Here are the segment's results for the first half of fiscal year 2016, ended on April 2:
| Metric | First Half Fiscal 2016 | First Half Fiscal 2015 | YOY Growth |
| --- | --- | --- | --- |
| Revenue | $4,783 million | $3,543 million | 35% |
| Operating Income | $1,556 million | $971 million | 60% |
| Operating Margin | 32.5% | 27.4% | 510 basis points |
Data source: Disney Q2 earnings report and author's calculations (margin). YOY = year over year.
Revenue won't have a straight line relationship with box-office results in 2016 not only because of the lag in reporting quarterly results, but also -- in Disney's case -- the fact that its fiscal year starts about a quarter before each calendar year. So, its fiscal year 2016 will include all theatrical receipts for the phenomenally successful Star Wars: The Force Awakens, which opened domestically on Dec. 18.
Disney's results for the second half of fiscal year 2016 should be robust, though they're not going to be as out-of-the-ballpark as the first half, which was heavily driven by The Force Awakens. Zootopia was released domestically on March 4, which means that box-office receipts after its first month in theaters will be included in the company's third-quarter results.Captain America: Civil War and The Jungle Book, which openeddomesticallyon May 6 and April 15,respectively,will be the main contributors to third-quarter results, while Finding Dory'sbig splash will be divided between the third and fourth quarters, with about two weeks of theatrical receipts included in the third quarter.
Disney's studio as part of the whole
Disney's movie business is killing it, but how much does it matter to the overall company?
Short answer: a ton.
It matters considerably more than current numbers will show because movies are the cornerstone upon which Disney's empire is built. Successful movies flow through all the company's businesses, becoming lucrative home entertainment products, the basis for attractions in the company's parks, andthe foundation for toys and a gazillion other paraphernalia in the consumer products/interactive media segment.
With that said, here are some relevant numbers:
| | | |
| --- | --- | --- |
| Segment | Percentage of Total Revenue First Half Fiscal 2016 | Percentage of Total Segment Operating Profit First Half Fiscal 2016 |
| Media Networks | 42% | 45.9% |
| Parks & Recreation | 29.1% | 19.8% |
| Studio Entertainment | 17% | 19.2% |
| Consumer Products/Interactive Media | 11% | 15% |
Data source: Disney's Q2 results.
So, while studio entertainment accounted for 19.2% of the company's profits in the first half of fiscal year 2016, this segment is also contributing to results in all the other segments, as per the preface above.
Wrap-up
There's been a good amount of naysaying about the company's challenges in media networks, specifically ESPN,related to cord-cutting -- and there are some legitimate concerns.Investors, however,should keep in mind that studio entertainment is performing exceedingly well and it's theengine behind more than half of the company's revenue and operating results, as it drives results in the parks and consumer products segments and also contributes to media networks' results.
The article "Finding Dory" Had a Record-Breaking $135.1 Million Opening Weekend. Here's the Bigger Picture for Disney originally appeared on Fool.com.
Beth McKenna has no position in any stocks mentioned. The Motley Fool owns shares of and recommends Time Warner and Walt Disney. Try any of our Foolish newsletter services free for 30 days. We Fools may not all hold the same opinions, but we all believe that considering a diverse range of insights makes us better investors. The Motley Fool has a disclosure policy.
Copyright 1995 - 2016 The Motley Fool, LLC. All rights reserved. The Motley Fool has a disclosure policy.