'Fight for $15' Protests Underway at Airports, Restaurants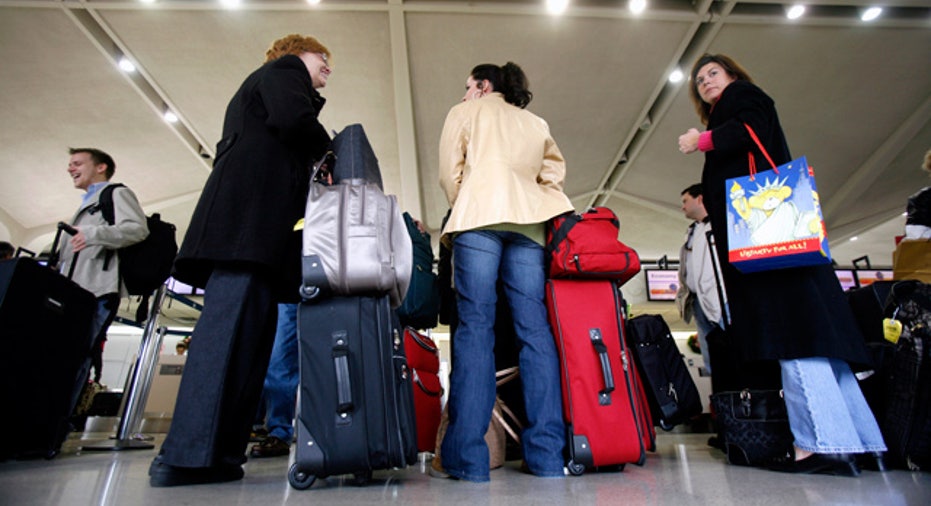 Scores of demonstrators were arrested on Tuesday as U.S. workers from fast-food chains staged nationwide protests for higher pay, union rights and immigration reform in their first major action since Donald Trump was elected president.
McDonald's Corp restaurants in 340 cities were prime rally targets, while baggage handlers, cabin cleaners and sky caps at Chicago's O'Hare and Boston's Logan international airports planned to demonstrate in support of workers demanding starting pay of $15 per hour, organizers of the "Fight for $15" campaign said.
More than 200 protesters gathered before dawn at Zuccotti Park in New York City's Financial District, the site of a camp set up in 2011 by Occupy Wall Street demonstrators, where they banged drums and chanted slogans.
About a dozen protesters were arrested after blocking rush-hour traffic near a McDonald's restaurant.
"When we started demanding $15 ... people thought we were crazy, but we were just demanding the basic minimum to survive," said protestor Alvin Major, 50, a Guyanese immigrant who lives in Brooklyn and works at a KFC restaurant.
"Right now I can barely pay my bills," said Major, who has four children and a sick wife.
Some 34 people were arrested in Cambridge, Massachusetts, when they blocked traffic following a march that began at a McDonald's, the city's police department said. The march, which drew about 100 people, was otherwise peaceful, police said.
There were also 39 protesters arrested in Detroit, according to local media reports, and 49 demonstrators were taken into custody in Los Angeles after disregarding officers' orders to clear a street, city police Detective Meghan Aguilar said.
"I want to earn more an hour," said protester Rogelio Hernandez, 72, as he watched the Los Angeles arrests from sidewalk outside a McDonald's. He said he works at a Carl's Jr restaurant in nearby Santa Monica.
Home health and child care providers, as well as some drivers for ride service Uber Technologies Inc were expected to join the action, which is backed by the Service Employees International Union.
'LIVING IN POVERTY'
Trump said last year that U.S. workers' wages were "too high" and made the nation uncompetitive, but this year, he has said the minimum wage should rise, with states taking the lead.
McDonald's said in a statement that it invested in its workers by helping them to earn degrees and on-the-job skills. Franchisees, which own most U.S. fast-food restaurants, set wages for their employees.
Former Democratic presidential candidate Bernie Sanders backed the protests. "If someone in America works 40 hours a week, that person should not be living in poverty," Sanders wrote on Twitter on Tuesday. "#Fightfor15."
Hopes for an increase in the $7.25-per-hour federal minimum wage were dashed earlier this month by the election of a Republican-controlled Congress. But advocates say they will continue to press for increases at state and local levels.
Voters in Arizona, Colorado, Maine and Washington raised their state minimum wages in November, and labor groups are considering campaigns in states including New Jersey, Pennsylvania and New Mexico.
Hector Figueroa, president of the property service workers union 32BJ SEIU in New York, said Trump had won the election by promising jobs for voters who could not see a way toward success for themselves or their children.
"There is no question to us that this is a moment that working people need to take action, mobilize, organize, and that (Trump) needs to be held accountable for his promises," Figueroa said.
Protest organizers have also criticized Trump's pledge to deport up to 3 million undocumented workers with criminal records, as well as his treatment of women and Muslims.
(Reporting by Lisa Baertlein in Los Angeles and Timothy Mclaughlin in Chicago; Additional reporting by Alexander Besant and Amy Tennery in New York, Scott Malone in Boston, and Lucy Nicholson in Los Angeles; Editing by Bill Rigby and Lisa Von Ahn)