Fiat Chrysler Idles a Car Factory While Its Jeep Plants Work Overtime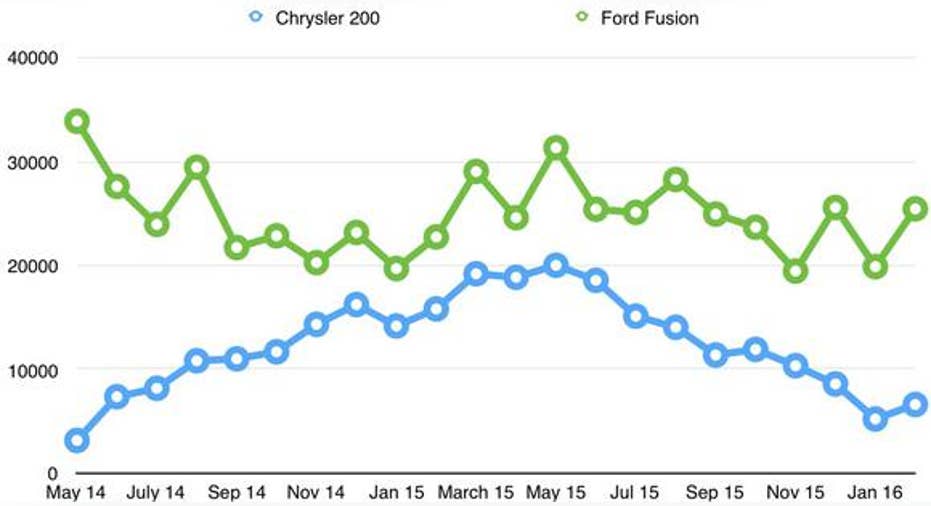 The Chrysler 200 was launched with high hopes and an appealing "Imported from Detroit" ad campaign. But sales have collapsed, and FCA has idled the factory that makes the sedan. Image source: Fiat Chrysler Automobiles.
What's happening: Fiat Chrysler Automobiles said this week that it will keep its Sterling Heights Assembly Plant closed until April 4. The factory, which makes the slow-selling Chrysler 200 sedan, has been closed since the beginning of February.
What it means: FCA CEO Sergio Marchionne has what must be a frustrating conundrum. FCA's Jeep SUVs are selling so briskly that the company can't make enough to keep up with demand -- while sales of its mainstream sedan models have slumped.
The factory in question, located just north of Detroit, was given an expensive high-tech overhaul just before production of the current 200 sedan started in the spring of 2014. FCA had hoped that the 200 would be a high-volume seller, competing with cars like Ford's Fusion and Toyota's Camry -- and it scaled the Sterling Heights factory's assembly line in anticipation of strong demand.
The 200 was well-received initially, but steady demand never really arrived. The chart below shows monthly U.S. sales of the current-generation 200 since its launch in the spring of 2014, alongside sales of the rival Ford Fusion. While the Fusion's sales have bounced up and down within a steady range, the 200's rose to a peak early last year that proved to be unsustainable.
Data sources: Fiat Chrysler Automobiles, Ford Motor Company.
A similar slump in sales of the 200's compact sibling, the Dodge Dart, has led Marchionne to a dramatic decision: That FCA can't (or at least shouldn't) compete in the high-volume compact and midsize sedan segments in the United States.
Instead, he said during the fourth-quarter earnings call that the company will make a "permanent shift" away from manufacturing high-volume sedans in the United States and will instead use the production capacity it currently devotes to the 200 and Dart to produce more SUVs and pickups.
FCA will still need to sell small cars in order to meet tightening fuel-economy regulations. But it won't be making them: Marchionne said that he will seek a partner to manufacture sedans that can be rebadged as Dodges or Chryslers.
What's next for FCA: The Sterling Heights factory will presumably stay closed until FCA sells down its substantial inventory of Chrysler 200 sedans. It had a whopping 217 days' supply of the model when it shut down the plant on Feb. 1. That inventory had fallen to 147 days' supply as of March 1, according to Automotive News, but that's still well above the roughly 60 days' supply that most automakers prefer with a mainstream sedan.
The article Fiat Chrysler Idles a Car Factory While Its Jeep Plants Work Overtime originally appeared on Fool.com.
John Rosevear owns shares of Ford. The Motley Fool owns shares of and recommends Ford. Try any of our Foolish newsletter services free for 30 days. We Fools may not all hold the same opinions, but we all believe that considering a diverse range of insights makes us better investors. The Motley Fool has a disclosure policy.
Copyright 1995 - 2016 The Motley Fool, LLC. All rights reserved. The Motley Fool has a disclosure policy.