FEMA chief Long a veteran of gov't disaster response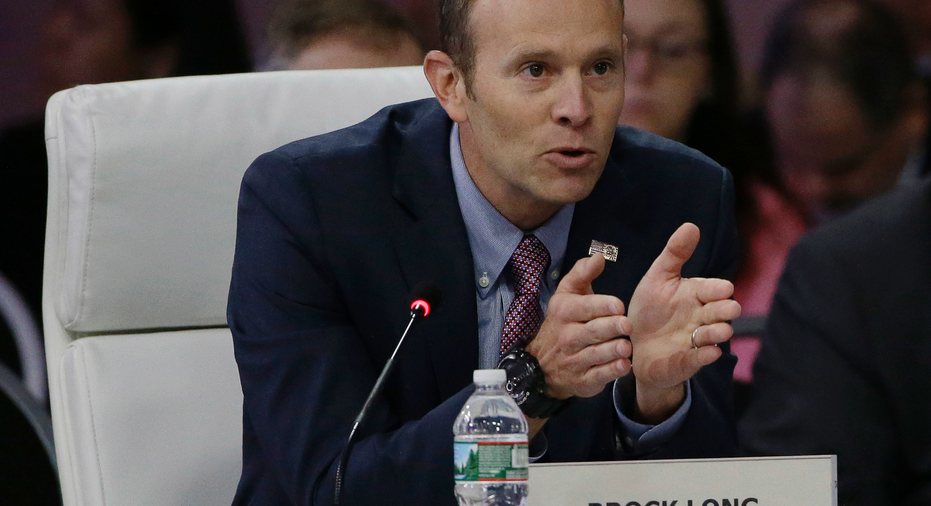 Hurricane Katrina. Deepwater Horizon. And now, perhaps the worst disaster Texas has ever seen.
Brock Long, the man directing the Trump administration's response to Hurricane Harvey, is a veteran of disaster management in government and the private sector. But the newly confirmed FEMA administrator is facing a new scale of problems to solve in the historic devastation of the nation's fourth-largest city. And if the past is any indication, political storms could loom on the horizon.
"We have not seen an event like this. You could not draw this forecast up," Long said Monday in Washington, amid a storm and flooding the National Weather Service called "unprecedented." Trump himself placed the stakes on Long's shoulders, tweeting that his FEMA administrator since June was doing "a great job" managing this critical test of the often troubled administration.
"The world is watching!" Trump tweeted over the weekend, harking back to the delicate politics of post-storm devastation. In 2005, FEMA director Michael Brown was pushed out amid controversy over his qualifications and the agency's response to Hurricane Katrina.
At a news conference Monday ahead of Trump's visit to the Gulf Coast, the president gave Long a shout-out for his "outstanding" work so far.
Hurricane Harvey is far from Long's first time managing disaster response, but it's shaping up to be one of the nation's most devastating storms. The National Weather Service forecast that before Harvey moves on, some places in and around Houston could get as much as 50 inches (1.3 meters) of rain. That would be the highest amount ever recorded in Texas. The result, Long said Monday, was likely to be 30,000 people in shelters temporarily and as many as 50 counties affected by the flooding. A tremendous amount of rainfall is headed for southwest Louisiana, too. Several deaths were reported.
Flood damage from Harvey is likely to reach into the tens of billions of dollars, and the storm is expected to cause the region's economy to shrink, at least in the near term.
Trump was expected to join Long and other officials in Texas on Tuesday.
"He's a planner. Brock, he leans forward," said Joe Myers, who has served as the emergency management chief in North Carolina and Florida. "He's like a coach. He guides them. He's not a loud person, he doesn't browbeat 'em. He's well-organized."
Long, a 42-year-old father of two boys, has spent his career in emergency management, including as a regional hurricane program and evacuation leader for FEMA, where he worked from 2001 to 2006.
He also was Georgia's school safety coordinator. And as director of Alabama's Emergency Management Agency, Long coordinated the state's work with the federal government and other states during 14 disasters. He was Alabama's on-site commander after the 2010 Deepwater Horizon oil spill in the Gulf of Mexico.
Long's private sector experience gave him some familiarity with now-flooded Houston. He listed the city as an emergency management client while he was executive vice president at Hagerty Consulting, an emergency management consulting firm in Washington. In June, the Senate confirmed Long to lead FEMA and its 16,000 employees.
"Brock's been in every one of these jobs ... So he walks into this event, Harvey, probably one of the best prepared (people) that the country could ask for," said Mark Merritt, a former FEMA official and co-founder of DCMC Partners, consultants for large-scale disaster cleanup operations. "His task is to get everybody to play nice together. He's good at that."
The current response phase, which tends to be nonpolitical, is nearly certain to give way to second-guessing and politics as it morphs into the longer process of recovery and rebuilding, experts said. Long and other experts said Monday that Harvey's path is likely to cost years of recovery work.
"Is there somebody who's going to attack Brock Long two weeks from now? I'm quite sure of it. Will it be reasonable and fair? Probably not," said Barry Scanlon, director of corporate affairs for FEMA under President Bill Clinton and currently Merritt's partner.
Asked on CNN about how unfilled positions at FEMA and the Department of Homeland Security might affect the response to Harvey, Long replied:
"I don't even have time to worry about it right now," Long said. "I have no concern. We are doing our job."
___
Follow Kellman on Twitter at http://www.twitter.com/APLaurieKellman