Fed's Kashkari again says raising rates a mistake given weak inflation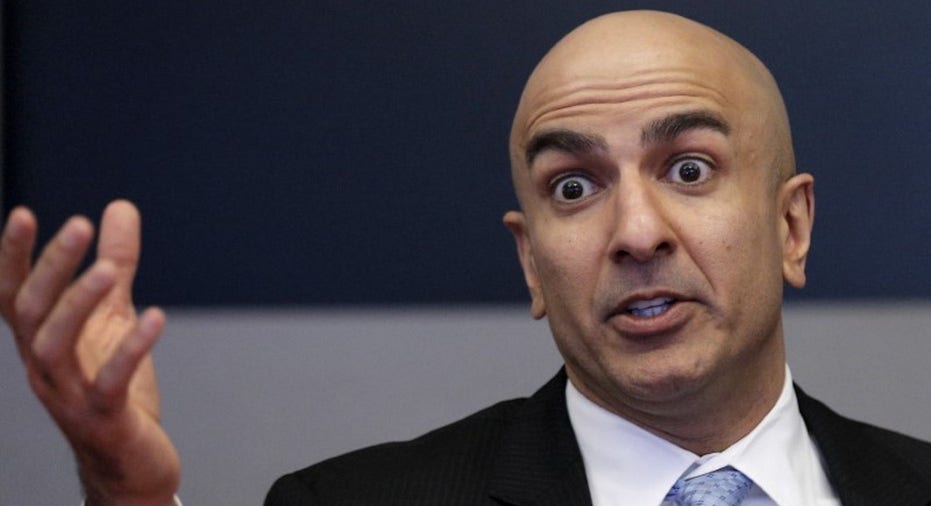 Federal Reserve Bank of Minneapolis President Neel Kashkari reiterated Monday that he believes raising rates right now is a bad idea.
"The Fed should be under no pressure to raise rates. We have time to let inflation climb back to target," Mr. Kashkari said.
Mr. Kashkari spoke during an appearance at the University of North Dakota. The official is a voting member of the interest-rate setting Federal Open Market Committee, which met last week and maintained its short-term interest rate target at 1% and 1.25%. It also announced the start of a long-touted program to allow its $4.5 trillion balance sheet to start shrinking.
Mr. Kashkari voted in favor of the Fed's decision last week. But even as he joined with his colleagues, he has been the most prominent critic of the Fed's plan to raise interest rates. Mr. Kashkari has voted against the Fed's two rate rises this year, believing they are unjustified in light of unexpectedly weak inflation that's fallen well short of the Fed's 2% price rise target.
"When I look at the economy, I don't see any signs the economy is close to overheating," Mr. Kashkari said Monday. "I see no need to tap the brakes" and attempt to moderate the economy with higher short-term rates.
Mr. Kashkari said low inflation may be the product of a weaker-than-it-appears labor market and a weakening in inflation expectations by the public and markets.
While Mr. Kashkari has offered the only dissenting votes and served as a prescient voice on inflation matters, he's not entirely alone as the central bank weighs the prospect of raising rates again. The central bank's official forecasts once again indicated an increase is likely this year. The Fed's official forecasts showed four unnamed officials expecting no more rate increases this year.
Earlier Monday, Chicago Fed leader Charles Evans, who is also an FOMC voter, expressed his own anxiety over the outlook. "I think we need to see clear signs of building wage and price pressures before taking the next step in removing accommodation," he told an audience in Grand Rapids, Mich.
Still, there are plenty of Fed officials who think the Fed will be able to press forward with rate increases and that the forces that have kept inflation too low are fixed to abate soon.
"We are in a pretty good place" with the economy moving forward "on a trajectory of slightly above-trend growth, which is gradually tightening the U.S. labor market," Federal Reserve Bank of New York President William Dudley said earlier Monday. "I expect inflation will rise and stabilize around the FOMC's 2% objective over the medium term," he said, adding "in response, the Federal Reserve will likely continue to remove monetary policy accommodation gradually."
In his remarks, Mr. Kashkari said low market-based long-term rates are largely a function of international investors rating the U.S. outlook as stronger than other countries. But he added that if the U.S. doesn't address long-term fiscal challenges, investors could eventually flee.
Mr. Kashkari also said he believes Chairwoman Janet Yellen has done a great job leading the Fed, and that as a new leader is considered for the Fed, "I hope she gets reappointed."
By Michael S. Derby