FedEx Earnings: Profit Growth Soars Past Expectations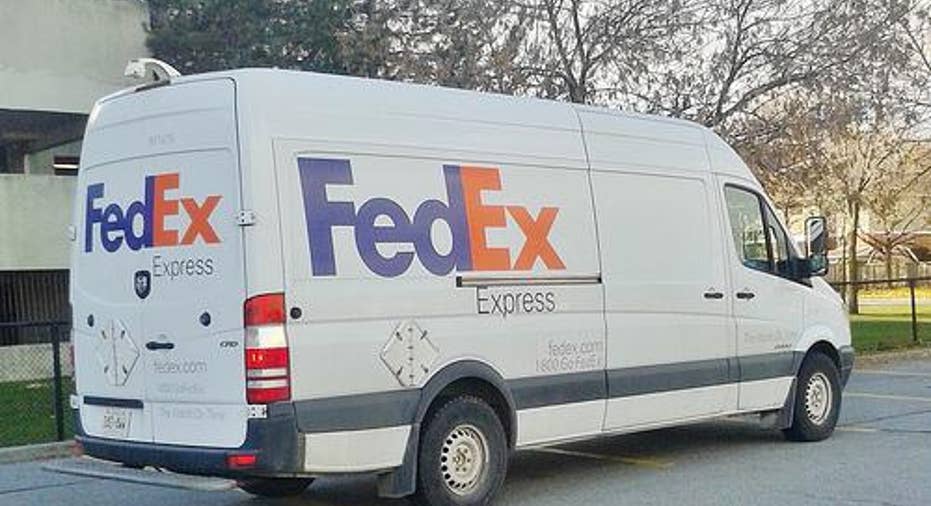 FedEx released its third-quarter earnings report on Wednesday, covering the three-month period from December to February. The company reported a 24% year-over-year jump in earnings per share, driven entirely by margin expansion at the express division.
The FedEx Express division posted huge profit growth last quarter. Photo: The Motley Fool.
This strong earnings report shows that FedEx remains a solid investment candidate despite facing some headwinds in its ground and freight businesses.
Profit continues to climbFor the third quarter, FedEx reported revenue of $12.65 billion, up from $11.72 billion a year earlier and 2% ahead of the average analyst estimate. Net income fell to $507 million from $628 million in Q3 of fiscal 2015.
However, FedEx reported nearly $300 million in special charges last quarter, mainly because of one-time legal settlements. Excluding those special items, FedEx's adjusted net income rose 18% year over year -- from $586 million to $692 million -- driven by a 90-basis-point operating margin increase.
EPS rose from $2.03 to $2.51, driven by the underlying adjusted net income growth as well as FedEx's share buybacks. (FedEx's diluted share count was down about 4% year over year during Q3.) This performance blew by the average analyst EPS estimate of $2.34.
Back in December, FedEx warned investors that it would post slower earnings growth in Q3 than in Q4 because of tough comparisons. Most analysts remained cautious throughout the quarter, despite a steep drop in oil prices during the first half of Q3 that was clearly bound to bolster FedEx's profitability. Clearly, Wall Street should have adjusted its expectations, as the macro-environment changed during the quarter.
Segment by segmentThe FedEx Express segment was responsible for all of FedEx's earnings growth last quarter. While segment revenue slipped from $6.66 billion to $6.56 billion because of lower fuel surcharges and exchange-rate fluctuations, segment profit soared from $393 million to $595 million, mainly because of a $224 million decline in FedEx's jet fuel bill.
FedEx paid 37% less per gallon for jet fuel last quarter than it did a year earlier. Photo: The Motley Fool.
For the FedEx Ground segment, revenue jumped 30%, from $3.39 billion to $4.41 billion. However, some of that gain came from an accounting change, as well as the acquisition of reverse logistics specialist GENCO. This revenue growth was offset by a lower profit margin, leading to segment net income of $557 million, down slightly from $559 million in the prior-year period.
Lastly, the FedEx Freight segment continued to struggle with high costs. Revenue inched up 1%, from $1.43 billion to $1.45 billion, but segment profit slipped to $56 million from $67 million a year earlier.
Looking aheadFor the 2016 fiscal year, which ends in May, FedEx now expects adjusted EPS of $10.70 to $10.90, excluding any potential pension adjustments. That would be up 20%-22% year over year. This is at the high end of the previous $10.40-$10.90 guidance range.
Longer term, FedEx clearly has additional profit growth opportunities. FedEx has set a goal of earning double-digit operating margins in each of its three major business segments. On a year-to-date basis, only the ground segment has met that objective, with a 13.2% operating margin. Even that is well below historical levels, as FedEx has been investing heavily to prepare for e-commerce growth.
Meanwhile, the express segment has made significant progress, but its year-to-date operating margin remains at 8.9%, somewhat below the long-term target. Finally, FedEx Freight is the real laggard, with a year-to-date operating margin of 6.3%. The freight division got caught off guard by a slowdown in U.S. industrial production, but it is working to cut costs.
As FedEx completes its restructuring initiatives, profit should improve at all three segments. The company's pending acquisition of TNT Express also should help its long-term earnings trajectory by giving FedEx greater scale in Europe.
Not surprisingly, investors reacted positively to all this news, sending FedEx shares up about 6% in after-hours trading. If FedEx maintains its earnings momentum, there will be plenty more upside.
The article FedEx Earnings: Profit Growth Soars Past Expectations originally appeared on Fool.com.
Adam Levine-Weinberg has no position in any stocks mentioned. The Motley Fool recommends FedEx. Try any of our Foolish newsletter services free for 30 days. We Fools may not all hold the same opinions, but we all believe that considering a diverse range of insights makes us better investors. The Motley Fool has a disclosure policy.
Copyright 1995 - 2016 The Motley Fool, LLC. All rights reserved. The Motley Fool has a disclosure policy.